NASA STS-132 Report #20 Monday, May 24, 2010 – Midnight CDT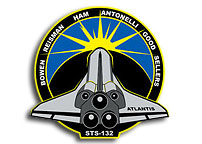 Mission Control Center, Houston, Texas
HOUSTON -Today, the shuttle crew performs a final inspection of Atlantis' heat shield. The crew of six will also pack up spacesuits and have some time off.
Atlantis' crew was awakened at 11:50 p.m. CDT. The music was the theme to "Wallace and Gromit" played for Mission Specialist Steve Bowen.
Bowen and fellow spacewalker Mission Specialist Mike Good will start their day by cleaning up the spacesuits and stowing them.
Commander Ken Ham, Pilot Tony Antonelli and Mission Specialists Garrett Reisman and Piers Sellers will work on inspection activities. They will again use the shuttle robotic arm and the 50-foot-long orbiter boom and its camera's to scan Atlantis' nose and starboard, or right, wing. They will break for lunch and then finish the task by scanning the port wing.
Exercise sessions will be interspersed throughout the day for each of the crewmembers in order to help prepare them for their return to Earth's gravity Wednesday.
They will also have some off-duty time. Crew sleep is scheduled for 3:20 p.m.
The next status report will be issued after the end of the crew workday or earlier if events warrant.