NASA STS-132 Report #07 3:30 p.m. CDT Monday, May 17, 2010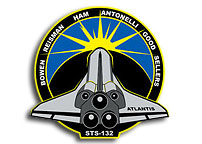 Mission Control Center, Houston, Texas
HOUSTON – Atlantis astronauts completed a 7-hour, 25 minute spacewalk Monday, installing a second antenna for high-speed Ku band transmissions and adding a spare parts platform to Dextre, a two-armed extension for the station's robotic arm.
Mission Specialists Garrett Reisman and Steve Bowen also loosened bolts holding six replacement batteries. The 375-pound batteries are to be installed during the mission's second and third spacewalks, on Wednesday and Friday. The antenna and the batteries came to the station on Atlantis on a cargo carrier, which was moved to the station's main truss on Sunday.
Monday's spacewalk began at 6:54 a.m. CDT when Reisman and Bowen switched their suits to battery power. After setup they removed the antenna's nearly nine-foot-long boom from the cargo carrier and Reisman, on the end of station's Canadarm2, carried it high above the station and then to the Z1 truss.
Intravehicular officer and Atlantis Pilot Tony Antonelli coached them through their activities. Mission Specialist Piers Sellers and station Flight Engineer Tracy Caldwell Dyson operated the arm.
After the spacewalkers attached and connected the boom, Reisman made a return trip to the cargo carrier on the end of the arm sometimes fully extended in a windshield-wiper-like maneuver. He removed the six-foot-diameter dish antenna, then held it as the arm took him back to the Z1 truss. There he and Bowen installed it, then refastened bolts and hooked up balky connections.
Because of a gap that remained between the dish and the boom, spacewalkers did not remove dish launch locks, to keep it from rotating. They also used a tether to strap the spare antenna's dish and boom together.
While Bowen recharged his suit's oxygen supply, Reisman removed the spare-parts platform from the cargo carrier, took it to Dextre atop the U.S. laboratory Destiny, and installed it.
More than six hours after the start of the spacewalk, Reisman and Bowen both said they were willing to work beyond the 6.5 hours planned for the activity. Bowen moved on the cargo carrier to loosen bolts on the six 375-pound batteries while Reisman did cleanup work on Canadarm2, removing a foot restraint and retrieving an adapter from the arm's latching end effector.
As the spacewalkers were wrapping up their work, Mission Control reported that the shuttle's arm had successfully grappled the Russian Mini-Research Module-1 in Atlantis' cargo bay. The 19.7-foot module, named Rassvet, is scheduled to be installed Tuesday on the Zarya service module.
Today's spacewalk was the second for Reisman and the fourth for Bowen. It was the 144th spacewalk for station assembly and maintenance. Those spacewalks total 900 hours, 58 minutes
The next shuttle status report will be issued after crew wakeup or earlier if warranted.