NASA STS-132 Report #05 3:30 p.m. CDT, Sunday, May 16, 2010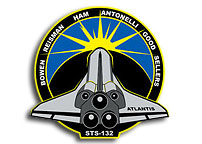 Mission Control Center, Houston, Texas
HOUSTON – Atlantis docked with the International Space Station at 9:28 a.m. Sunday about 220 miles above the far South Pacific Ocean to begin more than seven days together. Hatches between the two were opened at 11:18 a.m.
The shuttle approach and docking went smoothly. Commander Ken Ham flew the shuttle through the rendezvous pitch maneuver, the backflip to enable three station crew members in the Zvezda service module to take 398 photos of Atlantis' thermal protection system. Flight Engineers Tracy Caldwell Dyson, T.J. Creamer, both U.S. astronauts, and Russian station Commander Oleg Kotov used cameras with 400- and 800-mm lenses.
The photo session was more intense than usual because an equipment malfunction had altered the standard inspection process Saturday. A backup procedure was used, but time prevented completion of the port wing survey. Additional inspections are being considered.
Ham, helped by Pilot Tony Antonelli and other crew members, maneuvered Atlantis to a point ahead of the station and then back toward the docking port.
After a brief welcoming ceremony by the station crew, Atlantis' astronauts got the standard station safety briefing. Then the crew, Ham, Antonelli and Mission Specialists Garrett Reisman, Michael Good, Steve Bowen and Piers Sellers, promptly got to work with initial transfers of equipment and supplies. Spacesuits were among the first items to go to the station.
Monday, Reisman and Bowen are scheduled to do the first of three 6.5-hour spacewalks scheduled for the week. In preparation, all Atlantis' crew members gathered for an hour-long spacewalk procedure review before their Sunday bedtime. Reisman and Bowen will spend the night "camped out" in the Quest airlock, with pressure reduced to 10.5 psi to avoid formation of nitrogen bubbles in their blood in the vacuum of space.
During the spacewalk they will install a second station space-to-ground Ku-band antenna and a spare parts platform on Dextre, the two-armed robotic Special Purpose Dexterous Manipulator. They also will loosen battery bolts on the port-6 truss segment in preparation for the other spacewalks. Atlantis brought to the station six new 375-pound batteries, to be installed there during the second and third spacewalks.
Sellers and Caldwell Dyson used the station's robotic arm to transfer a cargo carrier from Atlantis to the arm's mobile base system to prepare for the spacewalks.
A piece of orbital debris that had been followed closely by flight controllers passed the station at a distance of more than 10 miles just over an hour after docking.
The next shuttle status report will be issued after crew wakeup or earlier if warranted.