NASA STS-132 Report #03 4:50 p.m. CDT Saturday, May 15, 2010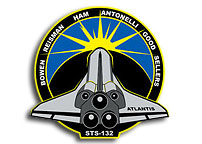 Mission Control Center, Houston, Texas
HOUSTON Atlantis astronauts checked out spacesuits and rendezvous tools in preparation for Sunday's docking with the International Space Station, scheduled for 9:27 a.m. CDT. They also did a modified thermal protection system inspection.
The shuttle and its crew of six, Commander Ken Ham, Pilot Tony Antonelli and Mission Specialists Garrett Reisman, Michael Good, Steve Bowen and Piers Sellers are bringing six new 375-pound batteries to the station, along with the Russian Mini-Research Module and other equipment, supplies and experiments. They will spend about seven days at the station. Reisman, Bowen and Good will perform a total of three spacewalks.
Good and Bowen spent several hours Saturday checking out spacesuits and preparing them for transfer to the station's Quest airlock, where the spacewalks will originate. Reisman, who spent much of his day working with Antonelli and Ham on the thermal protection system survey, did manage to spend some time helping with the suit and spacewalk equipment checkouts.
Before the thermal protection checkout began, the crew encountered a problem with a cable snagging the pan-tilt unit on the end of the 50-foot orbiter boom sensor system. It is the mount for senor package 1, the Laser Dynamic Range Imager and the intensified video camera.
As a result, mission control decided to switch to sensor package 2, a laser camera and a digital camera mounted near the end of the boom. That system, which requires daylight or another light source, has a resolution of a few millimeters and can scan at about 2.5 inches per second. Its images of the right wing, the nose cap and much of the left wing were sent to the ground for detailed analysis. Additional images will be available after the rendezvous pitch maneuver and from station assets. The change is not expected to affect Sunday's rendezvous and docking or otherwise impact the mission.
Managers in mission control decided not to perform a debris avoidance maneuver that would have taken place Saturday a little after 8 p.m. Flight controllers had been carefully monitoring a piece of orbital debris that had threatened to come near the station Sunday, but updated tracking information showed the object will remain a safe distance away and the maneuver is not needed.
The station crew, Commander Oleg Kotov and Russian Flight Engineers Alexander Skvortsov and Mikhail Kornienko, Soichi Noguchi of the Japan Aerospace Exploration Agency, and NASA Flight Engineers T.J. Creamer and Tracy Caldwell Dyson, are shifting their sleep schedule in preparation for welcoming Atlantis astronauts.
The next shuttle status report will be issued after crew wakeup, scheduled for 2:20 a.m., or earlier if warranted.