NASA STS-132 Report #02 Saturday, May 15, 2010 – 4 a.m. CDT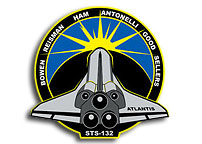 Mission Control Center, Houston, Texas
HOUSTON Space shuttle Atlantis' crew of six are awake and ready to embark on their first full day in space for the mission. Today, the crew will focus on a routine inspection of the orbiter and preparations for their docking to the International Space Station.
The crew awoke at 3:20 a.m. CDT to "You're My Home" performed by Billy Joel. The song was played for Commander Ken Ham, who is on his second spaceflight.
The main focus of the day will be the six-hour-long inspection of Atlantis' wing leading edges and nose cap. Ham, Pilot Tony Antonelli and Mission Specialists Garrett Reisman and Piers Sellers will use the shuttle's robotic arm and specialized cameras to downlink the detailed views of the thermal protection system for analysis by specialists on the ground.
Meanwhile, Michael Good and Steve Bowen are scheduled to unpack and ready the spacesuits that will be used for the three planned spacewalks. Later in the day, Bowen will join Reisman will perform a checkout of the tools needed for the rendezvous and docking to the station, which is planned for 9:27 a.m. Sunday.
The Expedition 23 Commander Oleg Kotov and Russian Flight Engineers Alexander Skvortsov and Mikhail Kornienko, Flight Engineer Soichi Noguchi of the Japan Aerospace Exploration Agency, and NASA Flight Engineers T.J. Creamer and Tracy Caldwell Dyson are likewise making preparations for the arrival of the shuttle crew.
As part of the Daily Planning Conference, the station crew was informed of a possible debris avoidance maneuver. The team is still assessing if a maneuver will be required, but if so, they could implement it remotely during crew sleep Saturday evening. A final decision is expected to be made by 4 p.m. If a maneuver is executed, it would be a 0.5 meter-per-second retrograde burn at 8:08 p.m., and would not affect rendezvous with Atlantis on Sunday.
The next shuttle status report will be issued after crew sleep or earlier if warranted.