NASA STS-132 Report #01 3 p.m. CDT Friday, May 14, 2010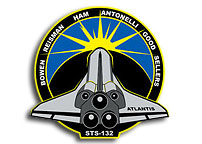 Mission Control Center, Houston, Texas
HOUSTON With a mission emblem featuring a sunset and a new International Space Station module named Dawn in its cargo bay, Atlantis launched under an almost clear Florida sky Friday afternoon on its final planned mission.
The shuttle and its crew of six launched from the Kennedy Space Center at 1:20 p.m. CDT with a cargo of replacement batteries and the small Russian module, as well as equipment and supplies for the station.
Commander Ken Ham, Pilot Tony Antonelli and Mission Specialists Garrett Reisman, Michael Good, Steve Bowen and Piers Sellers are scheduled to spend more than seven days at the station. During that time Reisman, Bowen and Good will perform a total of three spacewalks.
The focus of the first of the three 6.5-hour spacewalks, by Reisman and Bowen, is installation of a spare space-to-ground antenna and a spare parts platform on Dextre, the robot-like Special Purpose Dexterous Manipulator. They also will loosen battery bolts on the port-6 truss in preparation for the other spacewalks.
The second spacewalk, by Good and Bowen, will be devoted to replacement of three of six batteries on the port truss with new ones brought up by Atlantis. The third spacewalk by Reisman and Good will swap out the final three batteries.
The Russian station component, the Mini-Research Module-1 (named Rassvet, the Russian word for dawn) is to be installed on the Earth-facing port of the stations Zarya module by Reisman and Sellers, using the stations Canadarm2.
Aboard the station waiting to welcome Atlantis after its scheduled 9:27 a.m. Sunday docking are Expedition 23 Commander Oleg Kotov and Russian Flight Engineers Alexander Skvortsov and Mikhail Kornienko, Soichi Noguchi of the Japan Aerospace Exploration Agency, and NASA Flight Engineers T.J. Creamer and Tracy Caldwell Dyson.
The next shuttle status report will be issued after crew wakeup or earlier if warranted.