NASA STS-130 Report #04 Tuesday, February 9, 2010 – 6 pm CST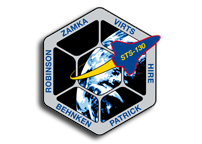 Mission Control Center, Houston, Texas
HOUSTON – The astronauts on space shuttle Endeavour and the International Space Station are just hours from a meeting in space as they work toward tonight's docking of the shuttle to the orbiting outpost.
The shuttle crew's wakeup song at 4:14 p.m., "Katmandu" by Bob Seger, was played for Commander George Zamka, who will have his hands on the stick tonight as Endeavour docks to the station's Pressurized Mating Adapter 2 at 11:06 p.m.
Starting early this evening Zamka and Pilot Terry Virts will fire shuttle jets to refine the orbiter's approach to the station, with Mission Specialists Kay Hire, Steve Robinson, Nicholas Patrick and Bob Behnken supporting them on the shuttle flight deck. At 10:05 p.m., after Endeavour arrives at a point 600 feet directly below the station, Zamka will command the shuttle to slowly rotate so that its underside is facing the station, and Expedition 22 Commander Jeff Williams and Flight Engineer Oleg Kotov will photo-document the shuttle's heat shield tiles. That imagery will be sent to the ground for study by specialists looking for any damaged tiles.
After the rendezvous pitch maneuver Zamka will move his ship directly in front of the station before slowly backing in to a docking. Once leak checks are completed, the hatches between the vehicles are scheduled to open at 1:04 a.m. Wednesday to begin the joint operations.
Among the first items to be transferred to the station are the spacesuits that Behnken and Patrick will wear during their three spacewalks and hardware for the replacement and checkout of the new Distillation Assembly that Williams will install in the station's Water Recovery System Wednesday evening.
The next shuttle status report will be issued at the end of the crew work day, or earlier if events warrant.