NASA STS-130 Report #03 6 a.m. CST Tuesday, Feb. 9, 2010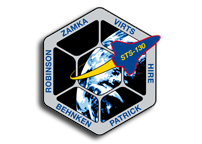 Mission Control Center, Houston, Texas
HOUSTON –  Endeavour astronauts inspected the space shuttle's thermal protection system, checked out spacesuits and prepared to dock with the International Space Station during their first full work day in space.
Much of the day for Commander George Zamka, Pilot Terry Virts and Mission Specialists Kay Hire, Stephen Robinson, Nicholas Patrick and Robert Behnken was devoted to inspection of the shuttle's heat-resistant tiles and reinforced carbon-carbon surfaces on the wing leading edges and the nose.
Zamka, Hire and Patrick used the shuttle's arm and its Orbital Boom Sensor System extension to survey Atlantis' right wing. Subsequently Virts and Robinson joined the commander for the nose cap survey. Hire replaced Zamka for the port wing survey.
While the port wing survey continued, Patrick and Behnken checked out the spacesuits they will use on three during three spacewalks at the station. Next they prepared spacewalk equipment and supplies for transfer to the station.
Among the last activities of the crew day was a checkout of rendezvous tools by Hire and Robinson and installation of a centerline camera by Patrick and Behnken, who then extending the shuttle's docking ring.  The camera looks out through the center of the ring to help Zamka and other crew members guide Endeavour to the station's pressurized mating Adaptor 2 docking port. The ring is the first part of the shuttle to contact the station and helps to firmly attach them to one another.
Endeavour is scheduled to dock with the station a little after 11 p.m. CST today.  The shuttle crew is scheduled to begin its sleep period at 8:14 a.m. and be awakened at 4:14 p.m. for docking day.
Station Expedition 22 crew members, Commander Jeff Williams, cosmonaut flight engineers Max Suraev and Oleg Kotov, Japanese astronaut Soichi Noguchi and NASA astronaut T.J. Creamer, were getting ready to welcome Endeavour. They will photograph the shuttle's heat shield during its back flip on its approach.
The next shuttle status report will be issued after Endeavour crew members are awakened, or earlier if events warrant.