NASA STS-127 Report #32 Friday, July 31, 2009 – 11:30 a.m. CDT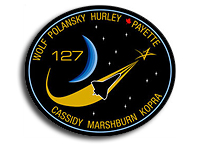 Mission Control Center, Houston, Texas
Space shuttle Endeavour and its seven-member crew landed at 9:48 a.m. CDT Friday at Kennedy Space Center in Florida, capping off a 16-day mission to complete assembly of the International Space Stations Japanese research laboratory.
Endeavours main landing gear touched down at 9:48:08 a.m., followed by the nose gear at 9:48:21 a.m. The shuttles wheels stopped at 9:49:13 a.m., bringing the missions elapsed time to 15 days, 16 hours, 44 minutes, 58 seconds. Endeavour traveled 6,547,853 statute miles over 248 orbits.
Endeavour Commander Mark Polansky, Pilot Doug Hurley and Mission Specialists Chris Cassidy, Dave Wolf, Tom Marshburn, Julie Payette of the Canadian Space Agency and Koichi Wakata of the Japan Aerospace Exploration Agency left the shuttle less than an hour after landing to return to crew quarters.
Wakata is returning after serving aboard the International Space Station as a flight engineer for the past four months. Wakata spent 138 days in space, including 133 days aboard the space station. Astronaut Tim Kopra launched aboard Endeavour and remains on the station as a member of the Expedition 20 crew.
Endeavour's crew completed the construction of the stations Japanese Kibo science laboratory by joining a new external experiment platform to the primary science enclosure and separate stowage module. The platform, called the Japanese Exposed Facility, will serve as a type of porch for experiments that require direct exposure to space. Five spacewalks were conducted to install that platform and to swap out six batteries for the stations oldest set of solar array wings. The crew also delivered spare parts needed for the space station's future operations.
Endeavours crew is scheduled to return home to its Houston base on Saturday, arriving at Ellington Fields Hangar 990 about 4 p.m. The public is invited to the ceremony.