NASA STS-127 Report #27 5 p.m. CDT Tuesday, July 28, 2009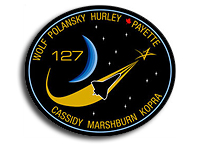 Mission Control Center, Houston, Texas
HOUSTON – The record-size space crew of thirteen split up as Endeavour and the International Space Station undocked from each other at 12:26 p.m.
Commander Mark Polansky and the shuttle crew, Pilot Doug Hurley and mission specialists Chris Cassidy, Julie Payette, Tom Marshburn, Dave Wolf and Koichi Wakata boarded Endeavour to begin their trip home. Wakata spent 133 days onboard the space station.
After undocking, Hurley flew Endeavour around the station at a distance of 400 feet and completed a separation maneuver from the orbiting outpost at 2:09 p.m.
The shuttle crew will complete an inspection of Endeavour's heat shield and test out its entry systems over the next two days, aiming for landing Friday morning at Kennedy Space Center.
The six-person Expedition 20 crew, including new member Tim Kopra, will turn its attention to another visiting spacecraft. The ISS Progress 34 supply vehicle is due to dock at the station Wednesday at 6:16 a.m. The crew also will continue on with research in the orbiting laboratory.
As the station and shuttle orbit the Earth separately this evening, people in many U.S. cities may be able to see them, weather permitting. The Progress vehicle may be visible trailing behind them as well.
To check for local sighting opportunities, visit:
http://spaceflight.nasa.gov/realdata/sightings/index.html
The newly separated crews will begin their sleep periods about 6 p.m. The shuttle crew is due to wake up about 2 a.m. Wednesday.
The next status report will be issued after the shuttle crew wakes, or earlier if warranted.