NASA STS-127 Report #26 2:30 a.m. CDT Tuesday, July 28, 2009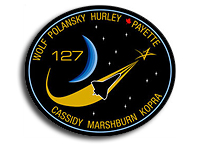 Mission Control Center, Houston, Texas
HOUSTON – The crews of Endeavour and the International Space Station will part company today, with all of the docked mission's objectives complete.
The shuttle crew was awakened at 2:03 a.m. CDT to the strains of "Proud to Be an American" performed by Lee Greenwood. The song was selected for spacewalker Chris Cassidy, a former Navy SEAL, who now has 18 hours, five minutes of extravehicular activity to his credit over three spacewalks.
Commander Mark Polansky and his team will begin checking out the laser rangefinders and other equipment that will be used to provide precise readings on the distance between the two spacecraft at 6:03 a.m.
The joint crew – the largest ever assembled on one space vehicle – will transfer the last frozen science samples from the station to the shuttle at 9:08 a.m. Then, farewells will commence at 9:23 a.m., and hatches will close at 9:38 a.m.
The Expedition 20 crew on the station will be losing one crewmember and gaining another. Japan Aerospace Exploration Agency Astronaut Koichi Wakata will be returning home on Endeavour after four months as a member of the Expedition 18, 19 and 20 crews. He will do so after providing a thorough handover to the station's new NASA flight engineer, Tim Kopra, who arrived aboard Endeavour.
The station will be reoriented for undocking by 11:38 a.m., and docking latches will open at 12:26 p.m. allowing Endeavour to drift free. Pilot Doug Hurley will guide Endeavour on a fly-around of the station at a distance of 400 feet, with final separation from the orbiting outpost at 1:41 p.m.
The station's Carbon Dioxide Removal Assembly is once again working in automatic mode following a software update that was uplinked by Mission Control on Monday. Commander Gennady Padalka and his crew will now turn its attention to preparations for the arrival of the Progress 34 cargo craft at 6:16 a.m. Wednesday.
The newly separated crews will begin their sleep periods about 6 p.m.
The next status report will be issued at the end of the crew day or earlier if warranted.