NASA STS-127 Report #25 3 p.m. CDT Monday, July 27, 2009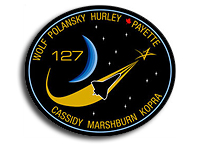 Mission Control Center, Houston, Texas
HOUSTON – Spacewalkers Tom Marshburn and Chris Cassidy conducted a four-hour, 54-minute spacewalk and completed the mission's work on the outside of the Japanese Kibo laboratory.
The pair installed video cameras on the front and back of the new Japanese Exposed Facility. The cameras will provide views to help with rendezvous and berthing of the H-II Transfer Vehicle (HTV) scheduled to make its first deliveries to the station in September.
Marshburn and Cassidy also completed miscellaneous tasks around the station. They secured multi-layer insulation around the Special Purpose Dexterous Manipulator known as Dextre, split out power channels for two space station Control Moment Gyroscopes, tied down some cables and installed handrails and a portable foot restraint to aid future spacewalkers. The deployment of the Payload Attach System on the S3 Truss was deferred to another spacewalk sometime in the future.
This was the fifth and last planned STS-127 spacewalk, bringing the mission's total to 30 hours, 30 minutes. Tuesday's spacewalk was the 130th in support of International Space Station assembly and maintenance, totaling 810 hours, 36 minutes. It was the 102nd spacewalk out of space station airlocks and the 218th American spacewalk in history. It was the third for both Marshburn and Cassidy. Marshburn's spacewalk time totals 18 hours, 59 minutes and Cassidy has spent 18 hours, five minutes outside.
This was the second space station assembly mission to conduct five spacewalks. STS-123 also performed five spacewalks in March 2008. The five STS-123 spacewalks totaled 33 hours, 29 minutes.
The station crew is scheduled to begin its sleep period about 5:30 p.m. followed 30 minutes later by the shuttle crew. Both crews will awaken around 2 a.m. Tuesday to prepare for undocking. They will bid each other farewell and close the hatches at 9:23 a.m., followed by undocking at 12:26 p.m.
The next shuttle status report will be issued after crew wake, or earlier if warranted.