NASA STS-127 Report #23 2:30 p.m. CDT Sunday, July 26, 2009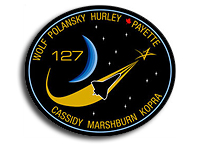 Mission Control Center, Houston, Texas
HOUSTON – In yet another deft handoff maneuver, the space shuttle robotic arm this morning grabbed the Japanese Exposed Section cargo carrier from the International Space Station robotic arm and carefully placed the cargo carrier back into Endeavour's payload bay bringing to close this mission's robotics work on the space station's new porch.
The 13 crew members aboard the space station and space shuttle today transitioned back to work by tucking the Exposed Section away, hosting a joint crew news conference and studying the new procedures for tomorrow's fifth and final spacewalk.
Endeavour Commander Mark Polansky, Pilot Doug Hurley and Mission Specialist Julie Payette, along with Expedition 20 Flight Engineer Tim Kopra, used the shuttle and station robotic arms to return the cargo carrier to the shuttle's bay, concluding robotic activities until after undocking.
Meanwhile, spacewalkers Chris Cassidy and Tom Marshburn prepared their spacesuits and tools, and reviewed procedures for the last planned spacewalk of the mission. The spacewalk will focus on four tasks and is expected to run about six and a half hours.
The Carbon Dioxide Removal Assembly (CDRA), which along with a similar Russian system removes carbon dioxide from the station's atmosphere, is continuing to operate in manual mode. The primary heater tripped a circuit breaker Saturday afternoon, and since then the ground team has been manually operating the backup heater.
Engineers are continuing to analyze data on the primary heater. A second CDRA will be delivered to the station on STS-128 as part of the Air Revitalization System rack.
The station crew is scheduled to begin its sleep period at 6:03 p.m. followed 30 minutes later by the shuttle crew.
The next shuttle status report will be issued following crew wake up or earlier if warranted.