NASA STS-127 Report #20 Saturday, July 25, 2009 – 5:00 a.m. CDT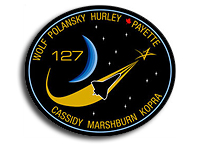 Mission Control Center, Houston, Texas
HOUSTON – The combined crew of space shuttle Endeavour and the International Space Station will enjoy a day off to rest up after a challenging first half of the STS-127 assembly mission.
The song "In Your Eyes," by Peter Gabriel, was played as a wake-up call for the crew at 4:46 a.m. CDT. It was selected for Tom Marshburn, who completed his second spacewalk on Friday with Chris Cassidy.
The spacewalkers completed the final four battery swaps for the Port 6 Truss structure, and those batteries are now being charged. Later in the day, the new batteries are expected to be integrated into the station's power grid.
Commander Mark Polansky, Pilot Doug Hurley and Mission Specialists Chris Cassidy, Julie Payette, Tom Marshburn and Dave Wolf will answer reporters' questions in an interview set for 7:03 a.m. CDT.
Expedition 20 Commander Gennady Padalka and Flight Engineers Mike Barratt, Tim Kopra, Roman Romanenko, Bob Thirsk and Frank De Winne will have a standard weekend schedule that includes time off and routine station housekeeping.
The crew is scheduled to begin its sleep period about 7 p.m.
The next mission status report will be issued at the end of the crew's day or earlier if warranted.