NASA STS-127 Report #18 Friday, July 24, 2009 – 6:30 a.m. CDT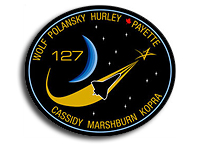 Mission Control Center, Houston, Texas
STS-127 Mission Specialists Chris Cassidy and Tom Marshburn will tackle a challenging 7 1/2-hour spacewalk today to finish swapping out batteries for the International Space Station's oldest set of solar arrays.
The joint crew of Endeavour and the station was awakened at 4:03 a.m. CDT by Pink Floyd's "Wish You Were Here," offered up for lead spacewalker Dave Wolf.
Endeavour's spacewalkers are scheduled to float out the Quest airlock hatch at 8:58 a.m. Their outing will be devoted entirely to finishing the work started on the third spacewalk of the mission – removing old batteries from the Port 6 truss structure and transferring new batteries from the Integrated Cargo Carrier on the end of the station's robotic arm to the empty sockets on the truss.
Pilot Doug Hurley and Mission Specialist Julie Payette will position Canadarm2 near the truss for the spacewalk and, once all of the battery swaps are complete, maneuver the carrier back into Endeavour's cargo bay. That maneuver will require them to hand off the carrier to the shuttle's arm for re-berthing by Hurley and Commander Mark Polansky.
The Progress 34 cargo ship launched on time today from the Baikonur Cosmodrome in Kazakhstan at 5:56:56 a.m. (4:56:56 p.m. Baikonur time) to begin its five-day journey to the International Space Station. Less than 9 minutes later, the unpiloted cargo ship reached orbit and deployed its solar arrays and navigational antennas. Two rendezvous burns of the Progress engines are scheduled today and another burn is planned for tomorrow to fine-tune the Progress' path to the station.
At the time of launch, the shuttle/station complex and its 13 crew members were flying 218 statute miles over Sapporo, Japan.
Carrying 2½ tons of food, fuel and supplies for the station crew, the Progress is scheduled to dock to the aft port of the Zvezda service module at 6:16 a.m. Wednesday, July 29, one day after Endeavour undocks from the outpost.
Expedition 20 Commander Gennady Padalka and Flight Engineers Mike Barratt, Tim Kopra, Roman Romanenko, Bob Thirsk and Frank De Winne will continue to maintain station systems and work with onboard experiments.
The station crew is scheduled to begin its sleep period about 7 p.m., and the shuttle crew at 7:30 p.m.
The next mission status report will be issued at the conclusion of the spacewalk, or earlier if warranted.