NASA STS-127 Report #16 Thursday, July 23, 2009 – 6:30 a.m. CDT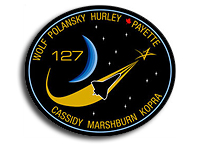 Mission Control Center, Houston, Texas
Japan's Koichi Wakata will inaugurate the use of Kibo's robotic arm for scientific purposes today to install a trio of components on the station's new "front porch."
Starting about 7:33 a.m. CDT, Wakata and Expedition 20 Flight Engineer Tim Kopra will begin the experiment transfers, moving the equipment from the Japanese payload carrier to the Japanese Exposed Facility outside Kibo. They'll have help along the way from STS-127 Commander Mark Polansky and Canadian Mission Specialist Julie Payette.
The combined STS-127 and Expedition 20 crew was awakened at 4:33 a.m. with the song "Tiny Dancer," performed by Elton John. The song was selected for Polansky.
On Wednesday spacewalkers Dave Wolf and Chris Cassidy removed insulation covers from the Kibo module and readied the Japanese Exposed Section payloads for their transfer to the Exposed Facility.
Today, the Monitor of All-sky X-ray Image experiment will be moved first, then the Inter-orbit Communication System and the Space Environment Data Acquisition Equipment-Attached Payload.
After the robotics are complete, the entire shuttle crew will field questions from television reporters in North Carolina, Maine and Florida at 3:23 p.m. Polansky and Mission Specialists Payette and Wolf will participate in a second set of television interviews at 4:58 p.m.
The crew also will configure spacesuits and tools, and review the updated procedures for the fourth spacewalk before going to bed about 7:30 p.m.
While the crew slept, Mission Control updated Friday's spacewalk plan. Mission Specialists Cassidy and Tom Marshburn will swap all four of the remaining Port 6 batteries on the fourth of five spacewalks. In addition, they'll install a camera on the Kibo porch that was deferred from the first spacewalk. Cassidy and Wolf completed two of the battery swaps on the third spacewalk, but had to end the excursion early because of rising carbon dioxide levels in Cassidy's suit.
The crew also will transfer experiment samples to be returned home to Earth in the General Laboratory Active Cryogenic ISS Experiment Refrigerator.
The next mission status report will be issued at the end of the crew's day, or earlier if events warrant.