NASA STS-127 Report #14 Wednesday, July 22, 2009 – 6:30 a.m. CDT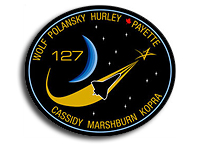 Mission Control Center, Houston, Texas
The third spacewalk of the STS-127 mission is scheduled to start at 9:58 a.m. CDT today and focus on the first set of battery replacements for the oldest solar array assembly on the International Space Station.
The crew was awakened at 5:03 a.m. to the song "Santa Monica," performed by Everclear, for Endeavour's pilot, Doug Hurley.
Mission Specialists Dave Wolf and Chris Cassidy camped out in the Quest airlock module overnight, and will resume preparations for the excursion at 5:43 a.m. Mission Specialist Tom Marshburn will help coordinate their activities from inside the complex.
Before the spacewalkers step outside, Hurley and Canadian Space Agency astronaut Julie Payette will use the station's Canadarm2 to maneuver the Integrated Cargo Carrier containing the new batteries into close proximity to the Port 6 truss, which was delivered to the station in November 2000.
The cargo carrier was kept at a distance overnight to avoid interfering with solar array rotation to track the sun. Over the past several days, flight controllers have discharged the old batteries to ensure there's no danger of electrical shock for the spacewalkers. The batteries store electricity generated by the solar arrays for use when the station is in the shadow of the Earth and the arrays are not able to generate power.
Wolf and Cassidy also will remove multilayer insulation from the Kibo module and prepare the Japanese Exposed Section payloads for transfer from the Japanese cargo carrier to the scientific front porch.
Expedition 20 Commander Gennady Padalka and the rest of his multinational crew will continue maintaining station systems and performing experiments. Flight Engineer Bob Thirsk is scheduled to work with the Bodies in Space Experiment, which looks at how the human body perceives up and down in microgravity.
Station Flight Engineer Tim Kopra, the newest member of the Expedition 20 crew, will continue handover activities with off-going Flight Engineer Koichi Wakata.
The space station crew goes to sleep a little earlier tonight, about 8 p.m., followed 30 minutes later by the shuttle crew. The next mission status report will be issued following the spacewalk, or earlier if events warrant.