NASA STS-127 Report #12 Tuesday, July 21, 2009 – 6:30 a.m. CDT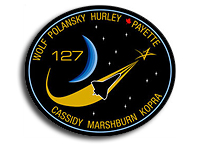 Mission Control Center, Houston, Texas
With two of five spacewalks and some of the most challenging robotics operations of the mission complete, the pace will let up briefly today for the international crews of STS-127 and Expedition 20.
Robotic operations and spacesuit preparations will pave the way for the third spacewalk of the mission on Wednesday, but the International Space Station crew will enjoy an afternoon off.
The crew was awakened at 5:03 a.m. CDT to the sounds of "Life Is a Highway," performed by Rascal Flatts. The tune was played for Tom Marshburn, who completed his first spacewalk Monday.
The main objective Tuesday is the transfer of the Japanese Experiment Logistics Module-Exposed Section from Endeavour's cargo bay to the station's new "front porch." Endeavour Commander Mark Polansky and Mission Specialist Julie Payette will use the shuttle's robotic arm to remove the experiment carrier from Endeavour's payload bay and hand it off to the station's robotic arm, operated by Pilot Doug Hurley and Mission Specialist Koichi Wakata. They'll position the structure and its experiments near the Japanese Exposed Facility, where they'll be ready for transfer to the station on flight day 9.
Polansky, Hurley, Payette and lead spacewalker Dave Wolf will answer questions posed by visitors on YouTube and Twitter. Polansky is providing regular updates on the mission's progress from space via Twitter.
The station's Waste Hygiene Compartment toilet continues to work well following maintenance work by Expedition 20 Commander Gennady Padalka and Flight Engineer Frank De Winne.
The combined crew will have several off-duty hours, then prepare for the mission's third spacewalk by checking out spacesuits and tools, and reviewing procedures for a challenging set of solar array battery replacements on the Port 6 truss structure Wednesday.
The crew sleep period begins about 9 p.m. with wake-up set for 5:03 a.m. Wednesday. The next mission status report will be issued at the end of the day, or earlier if events warrant.