NASA STS-127 Report #11 Monday, July 20, 2009 – 9 p.m. CDT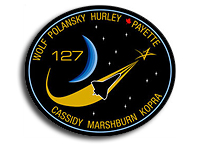 Mission Control Center, Houston, Texas
HOUSTON – The crews aboard the International Space Station and space shuttle Endeavour honored the legacy of Apollo 11 by conducting a spacewalk on the same day that 40 years ago captured the world's attention when Neil Armstrong and Buzz Aldrin walked on the Moon for the first time.
The fifth day of the shuttle mission focused on the second of five planned spacewalks of the mission – this one performed by Dave Wolf and Tom Marshburn.
Mission Specialists Dave Wolf and Tom Marshburn performed the six hour, 53 minute extravehicular excursion to complete a number of station hardware installation tasks.
Exiting from the Quest Airlock at 10:27 a.m., Wolf removed three hardware spares – a Ku-Band Space-to-Ground Antenna, a Pump Module and a Linear Drive Unit, from an Integrated Cargo Carrier. With each spare in hand, Wolf rode the space station robotic arm to the P3 Truss where a stowage platform awaited. There he and Marshburn attached them for long-term storage.
Julie Payette and Doug Hurley operated the robotic arm. Marshburn mounted a grapple bar onto an ammonia tank assembly so that the next space shuttle crew of STS-128 can move the tank by robotic arm. Marshburn also attached two insulation sleeves for external power connectors to the Station to Shuttle Power Transfer System. Wolf and Marshburn completed most of the planned tasks, but deferred a video camera installation.
The spacewalk concluded at 5:20 p.m. CDT. It was Wolf's sixth spacewalk and the first for Marshburn.
Expedition 20 commander Gennady Padalka and Flight Engineer Frank De Winne replaced components of the Waste Hygiene Compartment toilet in the Destiny laboratory. The system's dose pump failed Sunday. After Padalka and De Winne replaced the separator pump, control panel and the COT, a container that holds liquid, the system was activated and performed normally.
Meanwhile, Tim Kopra continued with his familiarization of the space station, having recently replaced Koichi Wakata as an Expedition 20 Flight Engineer.
The crew sleep period begins about 9 p.m. with wake up set for 5:03 a.m. Tuesday. The next mission status report will be issued following crew wake up, or earlier if events warrant.