NASA STS-127 Report #10 6 a.m. CDT Monday, July 20, 2009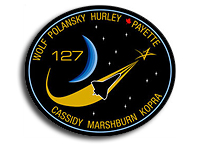 Mission Control Center, Houston, Texas
HOUSTON – A day of spacewalking and plumbing repair are in store for the Endeavour and Expedition 20 crews aboard the International Space Station.
The 13 spacefarers were awakened at 5:33 a.m. CDT to the theme from the 1960s television series "Thunderbirds," by composer Barry Gray, for Canadian Space Agency astronaut Julie Payette.
Preparations for the second of five spacewalks will resume at 6:13 a.m. in the Quest airlock module. Spacewalkers Dave Wolf and Tom Marshburn are scheduled to start their six and a half hour excursion at 10:28 a.m.
While the spacewalk team is getting ready, Expedition 20 commander Genady Padalka and Flight Engineer Frank De Winne will begin replacing components of the Waste Hygiene Compartment toilet in the Destiny Laboratory. The system's dose pump failed after running for about 15 minutes Sunday. The pump introduces the correct amount of chemicals into the system to help separate liquids from solid waste.
Since then the station crew has been using the toilet in the Zvezda service module and the shuttle crew has been using the shuttle commode, but the temporary shutdown has no significant impact on joint docked operations.
Flight controllers powered up the station's robotic arm at 5 a.m. today. Mission Specialist Julie Payette will use Canadarm2 like a space-aged "cherry picker," moving Wolf between an Integrated Cargo Carrier and one of the station's External Stowage Platforms so he can stage for key station replacement parts. The pair also will install a television camera on the newly delivered Japanese Exposed Facility.
Today's spacewalk will take place on the anniversary of the first moon walk by Apollo 11 astronauts Neil Armstrong and Buzz Aldrin on July 20, 1969.
Tim Kopra, the newest member of the Expedition 20 crew, will spend several hours adapting to his new home on orbit with help from off-going Flight Engineer Koichi Wakata, who will be returning to Earth with Endeavour's crew after four months on the station as a member of the Expedition 18, 19 and 20 crews.
The next shuttle status report will be issued following the spacewalk, or earlier if events warrant.