NASA STS-127 Report #08 6 a.m. CDT Sunday, July 19, 2009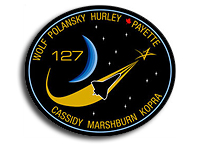 Mission Control Center, Houston, Texas
HOUSTON – The astronauts and cosmonauts aboard the International Space Station complex will take a break from spacewalking today, but continue their robotics work to prepare for the following day's excursion.
The joint crew was awakened at 5:33 a.m. CDT with the song "Learning to Fly," by Tom Petty and the Heartbreakers, for former Navy SEAL Chris Cassidy, who is making his first space flight aboard the space shuttle Endeavour.
With focused inspection of Endeavour's heat shield no longer necessary, the crew will have additional time to complete transfers of supplies and equipment from the shuttle to the station and review plans for Monday's second spacewalk of the mission.
Commander Mark Polansky and Pilot Doug Hurley will begin the day by grappling the Integrated Cargo Carrier in the rear of Endeavour's cargo bay, lifting it and handing it off to the station's robotic arm. Mission specialists Julie Payette and Tim Kopra will guide the station's arm as it accepts the carrier and installs it on the mobile base system. This placement will allow spacewalkers to transfer the spare parts to an external stowage platform on the station.
Spacewalkers Dave Wolf and Tom Marshburn will configure their space suits and tools, and review the procedures for Monday's spacewalk.
Departing Expedition 20 astronaut Koichi Wakata, now a member of Endeavour's crew, will work on the station's Advanced Resistive Exercise Device. He'll replace a shock absorber, known as a "dashpot," that helps prevent vibrations from simulated weightlifting from interfering with sensitive science experiments on the station.
Mission specialist Julie Payette and Flight Engineer Bob Thirsk will talk with Canadian dignitaries and news media in a 20-minute event starting at 5:08 p.m.
Expedition 20 Commander Genady Padalka will take temperature, humidity, air flow and surface temperature readings in the station's Russian segment.
The crew is scheduled to go to bed at 9:33 p.m. and wake up at 5:33 a.m. on the 40th anniversary of the first human moon landing.
The next shuttle status report will be issued at the end of the crew's day, or earlier if events warrant.