NASA STS-127 Report #07 9 p.m. CDT Friday, July 18, 2009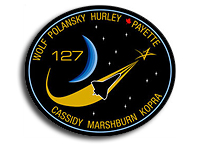 Mission Control Center, Houston, Texas
HOUSTON – In a complex and choreographed activity, the crews of Endeavour and the International Space Station installed the Exposed Facility on the Japan Aerospace Exploration Agency's Kibo laboratory today, the top priority for the mission, and completed the first of five spacewalks planned.
Early in the day, space shuttle managers notified the crew of Endeavour that a Focused Inspection of the orbiter's heat shield will not be required.
Though plagued by communication problems, crew members Dave Wolf and Tim Kopra completed all of their primary tasks during a 5 hour, 32 minute spacewalk. STS-127 lead spacewalker Dave Wolf and the newest space station crew member Tim Kopra began the spacewalk at 11:19 a.m., when they switched their spacesuits to battery power. The spacewalk ended at 4:51 p.m.
The Japanese Exposed Facility is the space station's new porch and will expose science experiments to the extreme environments of space. The JEF was installed by Shuttle Commander Mark Polansky and Mission Specialist Julie Payette, who operated the shuttle robotic arm, and by Pilot Doug Hurley and Mission Specialist Koichi Wakata, who operated the station robotic arm.
Spacewalkers Wolf and Kopra began by preparing the berthing mechanisms on the Kibo laboratory and the JEF for the installation. The two also completed deploying an unpressurized cargo carrier attachment system (UCCAS) on the Port 3 truss that had failed to unfurl during STS-119 in March. The UCCAS will be used in the future to store equipment and supplies on the outside of the station.
After a series of robotic arm "hand offs," the JEF was officially latched to the Kibo laboratory at 6:29 p.m. The process involved three robotic arm systems. The space station and shuttle arms moved JEF from Endeavour's payload bay to the Kibo laboratory and Kibo's robotic arm was used to view the installation.
The station crew is scheduled to go to bed at about 9 p.m. with the shuttle crew following about 30 minutes later. Wake up Sunday is scheduled for 5:33 a.m.
The next shuttle status report will be issued after crew wake, or earlier if events warrant.