NASA STS-127 Report #06 Saturday, July 18, 2009 – 7:00 a.m. CDT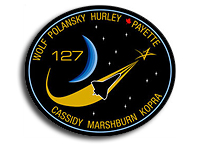 Mission Control Center, Houston, Texas
HOUSTON – The third and final piece of Japan's Kibo laboratory will be assembled on orbit Saturday, a symphony of robotic and spacewalking performances by the 13 member orchestra aboard the International Space Station complex.
The players awakened at 6:03 a.m. to the strains of "Home", by Marc Broussard, played for lead spacewalker Dave Wolf, who heard the call while camped out in the Quest airlock with Tim Kopra, the newest addition to the Expedition 20 crew.
Spacewalk preparations resume at 6:43 a.m., followed by the start of robotic operations by Mission Specialist Koichi Wakata and Endeavour Pilot Doug Hurley, who will use the station's Canadarm2 to grapple the Japanese Exposed Facility at 9:38 a.m. and lift it out of the payload bay at 12:43 p.m. They'll hand the facility to the shuttle's Canadarm at 1:43 p.m. and move the station's arm into position for installation at 2:53 p.m. The shuttle arm will hand off the new Kibo component to the station arm at 4:23 p.m., and then the station arm will be used to move the new porch into position for installation to the Kibo pressurized module at 4:38 p.m.
Wolf and Kopra are set to begin their six and a half-hour spacewalk at 10:58 a.m. They'll remove insulation from Kibo's berthing mechanism, disconnect power cables providing electricity to the shuttle's Integrated Cargo Carrier, apply a specially designed tool to release the station's Earth-facing Unpressurized Cargo Carriers Attachment System, secure covers on the Harmony and Unity modules' common berthing mechanisms, and set up a payload attach system on the station's backbone. Mission Specialists Chris Cassidy and Tom Marshburn will help coordinate the spacewalk from inside.
STS-127 Commander Mark Polansky will help out with the exposed facility arm-to-arm handoff and work with cargo, water and nitrogen transfers, and Mission Specialist Julie Payette will assist with robotic and camera operations.
Expedition 20 Commander Genady Padalka and Flight Engineers Mike Barratt, Bob Thirsk, Roman Romanenko and Frank De Winne will focus on station maintenance and exercise, helping out as needed with the spacewalk and robotics tasks.
Meanwhile, imagery experts and mission managers continue to review data and photos to assess the health of Endeavour's heat shield.
The next shuttle status report after the spacewalk or earlier if events warrant.