NASA STS-127 Report #04 Friday, July 17, 2009 – 7:00 a.m. CDT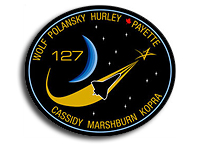 Mission Control Center, Houston, Texas
The International Space Station population will grow to a record 13 today once the space shuttle Endeavour completes its orbital chase and docks at 12:55 p.m. CDT.
Today's wake-up call, "Here Comes the Sun" by The Beatles, was chosen for Commander Mark Polansky. He and the rest of the shuttle crew – Pilot Doug Hurley and Mission Specialists Chris Cassidy, Tim Kopra, Tom Marshburn, Canadian Julie Payette and Dave Wolf – were awakened at 6:03 a.m.
The astronauts aboard Endeavour will begin rendezvous preparations at 7:23 a.m. and perform the terminal initiation engine burn at 10:17 a.m. to begin the shuttle's final approach. All of the tools the crew will use to accomplish the rendezvous checked out as expected Thursday.
Meanwhile, on the station, Expedition 20 Commander Gennady Padalka and Flight Engineer Mike Barratt are ready to document the condition of Endeavour's heat protection tiles with photos as Polansky guides the shuttle through a slow back flip at a distance of 600 feet. Those digital images will be downlinked to Mission Control and evaluated along with data from Thursday's 3-D scans of the shuttle's reinforced carbon-carbon thermal protection materials.
Once docked, Koichi Wakata of the Japan Aerospace Exploration Agency, Roman Romanenko of Russia, Bob Thirsk of the Canadian Space Agency and Frank De Winne of the European Space Agency will join their Expedition 20 colleagues in opening hatches at 2:03 p.m. to begin 11 days of docked operations.
After a brief greeting and thorough safety briefing for the visiting crew, Kopra's specially fitted seat liner will be transferred to one of the two Soyuz spacecraft docked to the station and he will become the newest Expedition 20 crew member. Wakata will be returning home aboard Endeavour after more than four months aboard the station.
The next status report will be issued near the end of the joint crew's day, or before, if events warrant.