NASA STS-127 Report #01 Wednesday, July 15, 2009 – 6 p.m. CDT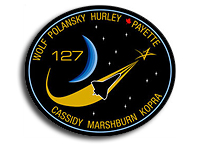 Mission Control Center, Houston, Texas
On the eve of the 40th anniversary of the launch of Apollo 11 on the journey to put humans on the moon, space shuttle Endeavour blasted off at 5:03 p.m. CDT today from the Kennedy Space Center. Endeavour is on a 16-day mission to the International Space Station packed with spacewalks, robotics work and science experiments to complete the assembly of the Japanese segment of the orbital outpost.
Commander Mark Polansky, Pilot Doug Hurley and Mission Specialists Chris Cassidy, Tom Marshburn, Dave Wolf, Tim Kopra and Julie Payette of the Canadian Space Agency reached orbit less than nine minutes after launch. At the time of Endeavour's liftoff, the International Space Station was orbiting 225 statute miles over the south central Pacific Ocean. Aboard the complex was Commander Gennady Padalka and Flight Engineers Michael Barratt, Koichi Wakata of the Japan Aerospace Exploration Agency, Roman Romanenko, Robert Thirsk of the Canadian Space Agency and Frank De Winne of the European Space Agency, equaling the most humans in orbit at the same time – 13.
Kopra will become a station crew member a few hours after docking on Friday, replacing Wakata, who will wrap up his four-month stay in space by returning to Earth aboard Endeavour.
In addition to the crew, Endeavour is carrying a "porch" for the space station, on which the Japanese Aerospace Exploration Agency will be exposing science experiments to the extreme environment of space. Along side of the porch inside the shuttle's cargo bay are the experiments to outfit the porch, as well as several spare parts for the space station. The crew will conduct five spacewalks and operate three different robotic arms as the assembly of the porch and its experiments unfolds.
Shortly after reaching orbit, Endeavour's crew prepared to open the shuttle's cargo bay doors and will unstow equipment prior to testing the ship's robotic arm for work tomorrow to grapple the Orbiter Boom Sensor System crane for the initial inspection of Endeavour's heat shield.
Endeavour's crew heads to sleep just after 11 p.m. CDT with wakeup set for 7:03 CDT Thursday morning. The next shuttle status report will be issued after crew wakeup, or earlier if events warrant.