NASA STS-120 Report #17 12:15 a.m. CDT Wednesday, Oct. 31, 2007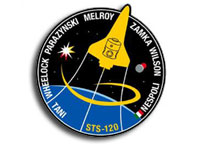 Mission Control Center, Houston, Texas
HOUSTON -Crewmembers on space shuttle Discovery and the International Space Station will spend today preparing for a spacewalk designed to learn more about the joint that rotates the starboard side solar arrays.
The wakeup song, 'Nel Blu Dipinto di Blu' by Domenico Modugno, was played at 11:38 p.m. CDT Tuesday for Mission Specialist Paolo Nespoli, who's scheduled to receive a congratulatory phone call from the president of Italy at 3:13 a.m. today. The song's title translates as 'In the blue (sky), painted blue;' it is widely known as 'Volare.'
Today spacewalkers Scott Parazynski, Doug Wheelock, and spacewalk coordinator Nespoli will review newly written procedures for tomorrow's fourth spacewalk, devoted to examination of the starboard Solar Alpha Rotary Joint. They'll also reconfigure a spacesuit for Parazynski to wear in place of one that was having issues with cooling. Wheelock will use a backup pair of gloves for Thursday's spacewalk in place of a pair that was damaged during EVA 3.
The starboard SARJ has experienced a slight increase in friction during rotation the past month and a half, and metal shavings were found inside the joint during Sunday's spacewalk. During Thursday's spacewalk, the astronauts will remove the covers from the SARJ, inspect the interior, take samples of debris if any is found, and look for clues to the root cause of the friction.
Meanwhile, specialists in Houston are working on their next steps to complete deployment of one of the two solar array wings on the P6 truss. That truss was successfully installed on the P5 element during yesterday's EVA. One of the two solar array wings on P6 was completely deployed, but the other suffered a tear in a solar blanket that prompted a halt to the deploy operations.
International Space Station program officials say the current configuration is safe and note that the array is producing more than 95 percent of the power it would generate if it were fully deployed.
Today station Commander Peggy Whitson and Flight Engineer Dan Tani will work inside the new Harmony module, deploying the Zero Gravity Stowage Rack and removing the anti-vibration mount launch bracket from the common cabin air assembly.
The next STS-120 status report will be issued Wednesday afternoon or earlier if events warrant.