NASA STS-120 FD 02 Execute Package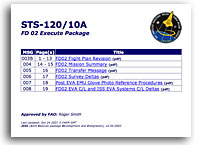 Good Morning Discovery!!!
Your launch was fantastic! All of you did a great job on your first day in orbit. Your troubleshooting of the PGSCs was outstanding! Thank you!
FYI, most of the Planning team went outside to watch both shuttle and station fly over within minutes of each other. Beautiful!
YOUR CURRENT ORBIT IS: 172 X 160 NM
NOTAMS:
EDW – RWY 15/33 ELS ONLY. RWY 18L – CLOSED.
NOR – GREEN.
NTU – RWY 05R/23L CLOSED.
WAL – RWY 04/22 CLOSED.
FFA – ASCENT ONLY.
WAK & AMB – UNUSABLE
JDG – DIEGO GARCIA: OPS HOURS 0100 – 1800Z MON – FRIDAY ONLY.
IKF & AWG – NOT USABLE.
HAO – DME OUT
BEN – POLITICALLY NOT RECOMMENDED/NOT SUPPORTED.
NEXT 2 PLS OPPORTUNITIES:
EDW22 ORB 17 – 1/00:56 (SKC 050/8p14)
EDW22 ORB 33 – 2/01:12 (SKC VRB06)
OMS TANK FAIL CAPABILITY:
L OMS FAIL: YES R OMS FAIL: YES
LEAKING OMS PRPLT BURN:
L OMS LEAK: BURN OUT-OF-PLANE AN+77 <= TIG <= AN+28
OTHERWISE BURN RETROGRADE
R OMS LEAK: BURN OUT-OF-PLANE AN+78 <= TIG <= AN+28
OTHERWISE BURN RETROGRADE
OMS QUANTITIES(%)
L OMS OX = 37.5 R OMS OX = 37.3
FU = 37.1 FU = 37.2
SUBTRACT I'CNCT COUNTER FOR CURRENT OMS QUANTITIES