NASA STS-120 Execute Package FD 06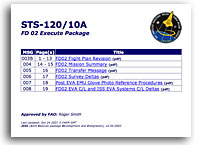 1. Due to a combination of the current attitude and the high Beta angle, the SRMS Shoulder temperatures have been higher than expected. When the SRMS was taken to Pre-cradle on FD5, the temps started a rapid rise and the SP ABE temp came to within 7 deg of the operational limit before we had you maneuver back to the Node 2 Viewing position. Turning off the Port RMS Heaters had no effect on the temperatures (i.e. no heater failure). For today, we will have you maneuver back to Pre-cradle just prior to the start of SSRMS P6 operations and maneuver to the P6 Pre-grapple position as soon as the SSRMS is at P6 Handoff. This is to minimize the time spent at the Pre-cradle position and thus attempt to keep the SRMS Shoulder temps below their operational limits. The RMS MER has approved temps as high as 140 deg, but we do not expect them to get that high.
Although the Shoulder is hot, please take the RMS heaters to Auto so that the rest of the arm does not get too cold:
A8L PORT RMS HTR (two) – AUTO
2. At MET 4/15:15, perform a Waste H2O Dump using SUPPLY/WASTE WATER DUMP 29 (ORB OPS, ECLS), p.5-2. MCC will TMBU limits in steps B and K. 30
For today's activities, we will need to ensure the ISS arrays are in a proper configuration prior to opening the waste dump nozzle in part G step 3. We have added a note in the flight plan details to make sure MCC-H is in the proper configuration prior to performing this step.
Dump the waste tank to 5%. Nozzle open time will be approximately 20 minutes.