NASA Stardust Status Report December 5, 2003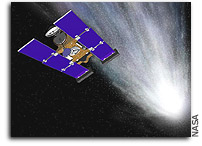 The Stardust team has had daily communications with the spacecraft in the past
week. Telemetry relayed from the spacecraft indicates it remains in very
good shape as it approaches its date with Comet Wild 2 on January 2, 2004.

Trajectory Correction Maneuver 10 was successfully executed on December 3.
The burn duration was 118 seconds. This trajectory correction maneuver
places Startdust on a trajectory that is a little inside the 300 kilometer
flyby distance planned for Comet Wild 2. Three more trajectory correction
maneuvers are planned during the next month to precisely control the
flyby to 300 km +/- 50 km.

On December 4, the seventh and last of the bi-weekly optical navigation
images was taken. Daily optical navigation imaging begins on Monday,
December 8th.

A JPL news release of "NASA Spacecraft Pinpoints Where the Wild Thing Is"
was issued on December 1 which as picked up by other news organziations.
An article was published in the Los Angeles Times in the Kid's Corner section
on November 26 titled "Giant Snowballs in Outer Space! (They're Actually
Comets)".
The Stardust mission was highlighted on Los Angeles KKJC 88.1 Jazz Radio on
December 2. Space Place created an online Stardust activity called "Tails of
Wonder"
which is available here:

http://spacespace.jpl.nasa.gov/stardust

Information on the present position and orbits of the Stardust spacecraft
and comet Wild 2 may be found on the "Where Is Stardust Right Now?" web
page located at:

http://stardust.jpl.nasa.gov/mission/scnow.html

For more information on the Stardust mission — the first ever comet
sample-return mission — please visit the Stardust home page: