NASA Space Station Status Report 6 August 2004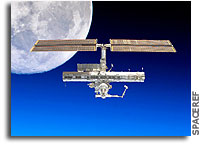 Aboard the International Space Station this week, Expedition 9 Commander Gennady Padalka and NASA ISS Science Officer Mike Fincke resumed scientific investigations, routine maintenance, and preparations for the arrival of a new cargo ship all following a spacewalk on Tuesday.
During the 4 hour Extravehicular Activity (EVA) or spacewalk Padalka and Fincke replaced experiments on the outside of the Zvezda Service Module and installed navigation aids for next year s arrival of a European cargo craft. Their fourth and final planned spacewalk is targeted for early September.
Wednesday, the crew cleaned and stowed their spacesuits and spacewalking tools, recharged batteries, and filled water tanks for the suits' cooling units. They also conducted debriefing sessions with Russian spacewalk specialists. Also Wednesday, ground controllers in Houston repressurized the Station with nitrogen from the High Pressure Gas Tanks on the Quest Airlock after the spacewalk.
Earlier today, the crew started assembling the cover that will protect the new flex hose on the window of the Destiny Laboratory to ensure it will not be inadvertently damaged by crew activity in the research module.
The crew wrapped up its week with Fincke conducting more experiments with the advanced ultrasound equipment as well as updating software for the Station Acceleration Measurement System (SAMS) that collects information on the effect of crew activity on delicate microgravity experiments housed on board the complex.
At the Baikonur Cosmodrome in Kazakhstan, final preparations are under way for next Wednesday s launch of the Russian ISS Progress 15 cargo ship that will transport almost three tons of food, fuel, water and supplies for Padalka and Fincke as well as clothing and supplies for the Expedition 10 crew, Commander Leroy Chiao and Flight Engineer and Soyuz Commander Salizhan Sharipov, who are scheduled to launch to the Station Oct. 9 to replace Padalka and Fincke.
The Progress 15 craft is scheduled to lift off at 12:03 a.m. CDT (503 GMT) Wednesday for a three-day trip to the Station. Docking is scheduled at 12:02 a.m. CDT (502 GMT) Aug. 14. NASA Television will provide live coverage and commentary of the docking beginning at 11 p.m. CDT Aug. 13.
Information on the crew's activities aboard the Space Station, future launch dates, as well as Station sighting opportunities from anywhere on the Earth, is available on the Internet at:
Details on Station science operations can be found on an Internet site administered by the Payload Operations Center at NASA's Marshall Space Flight Center in Huntsville, Ala., at:
The next ISS status report will be issued on Wednesday, Aug. 11, after the launch of the Progress resupply craft, or earlier, if events warrant.