NASA Space Station Status Report 29 March 2006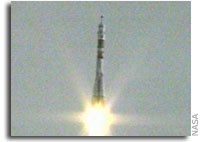 The 13th crew of the International Space Station roared away from Kazakhstan today and into orbit atop a Russian Soyuz rocket.
Expedition 13 Commander Pavel Vinogradov, NASA Science Officer and Flight Engineer Jeff Williams and Brazilian Space Agency Astronaut Marcos Pontes will dock to the station late Friday. Vinogradov and Williams will spend six months on the complex during Expedition 13. Pontes, flying under a commercial agreement with the Russian Federal Space Agency, will stay on the station for eight days.
The 162-foot tall Soyuz rocket launched from the Baikonur Cosmodrome at 8:30 p.m. CST. About 10 minutes later, the Soyuz spacecraft was in orbit with its solar arrays and antennae extended. Docking is planned for 10:19 p.m. CST Friday. Vinogradov, Williams and Pontes will open hatches at about 11:30 p.m. CST Friday to join Expedition 12 Commander Bill McArthur and Flight Engineer Valery Tokarev inside the space complex. NASA Television will broadcast the activities on Friday starting at 9 p.m. CST.
The five space fliers will be available for media questions during a crew news conference at 9:55 a.m. CST Monday. Reporters at NASA's Johnson Space Center, Houston, and Kennedy Space Center, Fla., as well as at the Russian Mission Control Center in Korolev, Russia, may ask questions.
The two crews will spend about a week handing over operations of the orbiting research laboratory. Pontes will conduct a series of research investigations. McArthur, Tokarev and Pontes will leave the station and return to Earth April 8. At landing, McArthur and Tokarev will have spent almost 190 days in space.
Earlier this week, McArthur found an onboard supply of lithium hydroxide canisters that are used to scrub carbon dioxide from the air in Russian space suits during a spacewalk. The find ensures Russian suits can be used for a spacewalk if one is needed, although none is planned in the near future.
Information on the crew's activities aboard the space station, future launch dates, as well as station sighting opportunities from anywhere on the Earth, is available on the Internet at:
The next ISS status report will be issued after the docking on Friday or earlier if events warrant.