NASA Space Station On-Orbit Status 9 March 2006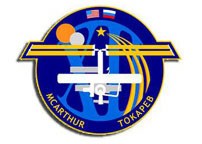 SpaceRef note: This NASA Headquarters internal status report, as presented here, contains additional, original material produced by SpaceRef.com (copyright © 2006) to enhance access to related status reports and NASA activities.
All ISS systems continue to function nominally, except those noted previously or below. 
After the LNS (Lab Nitrogen System) valve in the Lab module was opened by ground command to provide nitrogen gas (N2) for the following calibration session, CDR/SO William McArthur set up the video equipment and began today's FOOT experiment (Foot/Ground Reaction Forces during Space Flight), his fourth and last data collection session, by donning the specially instrumented LEMS (lower extremity monitoring suit) pants garment and performing electromyography (EMG) calibration (i.e., electric muscle currents recording) on the right arm and leg.  With the N2 valve closed again, Bill conducted the data collection session during the course of the day, today focusing on unique physical exercise on the TVIS treadmill.  Halfway through the activity, Bill changed out the tape in the VTR (video tape recorder) and after ~10 hours of activity stowed the equipment again.   [For today's session, McArthur again used the backup pair of LEMS (lower extremity monitoring suit) pants (i.e., black Lycra biking tights with 20 electrodes and shoes fitted with insoles that measure impact forces on the bottom of the foot) and a unique exercise protocol on the TVIS, while also meeting his daily exercise requirements.  The FOOT experiments provide better understanding of the bone loss and muscle mass loss experienced by astronauts in zero-G (recent studies have shown that as much as 1.58% per month of bone mineral is lost from the proximal femur during 4- to 14-month flights and that greater than 20% of knee-extensor strength is lost in 60- to 80-day flights).  The experiment, by the biomedical engineering department at the Cleveland Clinic Foundation in Cleveland, Ohio, was also conducted previously by John Phillips, Mike Foale and Ken Bowersox.]
Valery Tokarev spent several hours today on dismantling the ATV PCE (Automated Transfer Vehicle/Proximity Communications Equipment, MBRL) components after the end-to-end testing during the last three days (which was reportedly successful), by first disconnecting the BKS network cabling and BITS2-12 telemetry connectors, then removing and stowing the boxes. The two Service Module (SM) lockers #226 & #227 were then reconfigured to their initial state.   [The disassembly involved the space-to-space radio "monoblock" (PCE Z0000), the antenna switching control box (BUAP), the ATV control panel (PU) and all their cabling.]
McArthur conducted his weekly audit/inventory of the available CWCs (collapsible water containers) and their contents, to keep track of onboard water supplies.  Activities today also included the periodic inspection of each CWC for its condition.   [Updated "cue cards" based on Bill's water calldowns are sent up every other week.  The current cue card lists two dozen water containers (~391 liters total) for the four types of water identified on board: technical water (for Elektron, flushing, hygiene; some CWCs found leaking), potable water (~180 liters), condensate water (for processing) and other (TCS fluid, EMU waste water).  As of 12/05/05, average water usage rate for Increment 12 is 1.8 liters daily for each crewmember.  Water is re-supplied from processed condensate.]
Bill conducted another periodic atmospheric status check for ppO2 (Partial Pressure Oxygen) and ppCO2 (pp Carbon Dioxide), using the CSA-O2 (Compound Specific Analyzer-Oxygen Sensor).
The CDR completed the daily routine maintenance of the SM's environment control & life support system (SOZh), including its toilet system (ASU), plus the weekly inspection of the air/liquid condensate separator apparatus (BRPK), and he also updated/edited the standard IMS "delta file", including locations, for the regular weekly automated export/import to its three databases on the ground (Houston, Moscow, Baikonur).
Both crewmembers worked out with their regular 2.5-hr. physical exercise program on the TVIS treadmill, RED resistive exerciser and VELO bike with bungee cord load trainer.   [Valery's daily protocol prescribes a strict four-day microcycle exercise with 1.5 hr on the treadmill in unmotorized mode and one hour on VELO plus load trainer (today: Day 3 of the first set).]
Afterwards, the CDR transferred the exercise data files to the MEC (Medical Equipment Computer) for downlink, as well as the daily wristband HRM (heart rate monitor) data of the workouts on RED, followed by their erasure on the HRM storage medium (done six times a week).
Working off his discretionary "time available" task list, Tokarev completed his regular checkup on the Japanese experiment GCF-JAXA (Granada Crystallization Facility) in the Russian TBU incubator, maintained at 20 degC, including a temperature check on its ART (automatic temperature recorder).   [This daily monitoring/temp checking, carried on the Russian voluntary "time available" task list, will continue until 4/30.]
Also on Valery's voluntary list for today was the periodic recharging of the water tank of the BIO-5 Rasteniya-2 ("Plants-2") experiment. [Rasteniya researches growth and development of plants under spaceflight conditions in the Lada-8 greenhouse.  The regular maintenance of the experiment (each Monday, Wednesday, Friday and Sunday) involves monitoring of seedling growth, humidity measurements, moistening of the substrate if necessary, topping off the water tank if ~20-25% of the total amount (4 liters) remains, and photo/video recording.  Once weekly, data from the Lada greenhouse control unit are recorded on floppy disk for weekly downlink via REGUL-Packet or the new BSR-TM at a suitable occasion.]
For Science Officer McArthur's next "Saturday Science" program, ground-suggested activities would involve the CBOSS FDI research complex (Cellular Biotechnology Operations Support Systems: Fluid Dynamics Investigation).   [Possible activities for 3/11 would lead off with FDI activity review, followed by camcorder relocation from Node to Lab, bubble removal/injection rate determination using two techniques for comparison and video recording, plus camcorder return to the Node.]
Today's ground control operations with the SSRMS (Space Station Remote Maneuvering System) were successful.  Preliminary results show that the external CDRA (Carbon Dioxide Removal Assembly) vent appears free of Zeolyte deposit.   Detail analysis is in work.
A ground-commanded power-on checkout of the CDRA was conducted in order to verify that there is no timing issue between the CDRA and the LA3 MDM (Multiplexer/Demultiplexer, computer) following the recent Vacuum System commanding in support of McArthur's MCA (Major Constituents Analyzer) activation and work chamber pump-out.
IMMT (ISS Mission Management Team) today decided that the Campout SDTO (Station Detailed Test Objective) will not be considered for 3/16 (next week).  Instead, planners are looking at scheduling it during the Soyuz joint mission with 2 US crewmembers.
Today's CEO (Crew Earth Observation) photo targets, no longer limited in the current LVLH attitude, were Mt. Kilimanjaro, Kenya (nadir pass. Crew was to attempt to document declining ice masses), and Lake Poopo, Bolivia (water levels in this Andean lake rise and fall on multi-year El Nino periodicities.  It may have begun to respond to the new La Nina by filling.  It is two months since this site has been requested.  Images of the coastline were requested.  Looking at nadir and just right of track).
To date, more than 186,000 of CEO images have been taken in the first five years of the ISS, almost one third of the total number of images taken from orbit by astronauts.
 CEO photography can be viewed and studied at the websites:
See also the website "Space Station Challenge" at:
To view the latest photos taken by the expedition 12 crew visit:
Expedition 12 Flight Crew Plans can be found at http://spaceflight.nasa.gov/station/timelines/
Previous NASA ISS On-orbit Status Reports can be found here. Previous NASA Space Station Status Reports can be found here. Previous NASA Space Shuttle Processing Status Reports can be found here. A collection of all of these reports and other materials relating to Return to Flight for the Space Shuttle fleet can be found here.
ISS Orbit  (as of this morning, 7:03am EST [= epoch]):
Mean altitude — 346.9 km
Apogee height – 352.3 km
Perigee height — 341.6 km
Period — 91.48 min.
Inclination (to Equator) — 51.64 deg
Eccentricity — 0.0007948
Solar Beta Angle — -8.3 deg (magnitude increasing)
Orbits per 24-hr. day — 15.74
Mean altitude loss in last 24 hours — 90 m
Revolutions since FGB/Zarya launch (Nov. 98) — 41744
Events Ahead (all dates Eastern & tentative):
03/10/06 — Soyuz 11S thrusters hot test
03/15/06 — ISS reboost (by SM main prop sys.; mnvr. back to XPOP after burn)
03/20/06 — Soyuz TMA-7/11S relocation (FGB nadir port to SM aft port)
03/30/06 — Soyuz TMA-8/12S launch (Pavel Vinogradov/Russia, Jeffrey Williams/US, Marcos Pontes/Brazil, 9:29pm EST)
04/01/06 — Soyuz TMA-8/12S docking (FGB nadir port, 11:11pm EST; mnvr. to LVLH XVV after dock)
04/09/06 — Soyuz TMA-7/11S undocking (4:15pm EDT) & land (7:40pm); (mnvr. to XPOP after undock)
04/18/06 — Soyuz TMA-8/12S relocation (FGB nadir port to SM aft end port)
04/24/06 — Progress M-56/21P launch
04/26/06 — Progress M-56/21P docking (DC1)
05/03/06 — ULF1.1 launch (NET, not earlier than)
06/15/06 — U.S. EVA (under review)
06/19/06 — Progress M-55/20P undocking & reentry
06/28/06 — Progress M-57/22P launch
06/30/06 — Progress M-57/22P docking
07/01/06 — 12A launch (under review)
07/31/06 — Russian EVA-16 (under review)
09/13/06 — Progress M-56/21P undocking & reentry
09/14/06 — Soyuz TMA-9/13S launch
09/16/06 — Soyuz TMA-9/13S docking (FGB nadir port)
09/24/06 — Soyuz TMA-8/12S undocking & reentry
09/28/06 — Soyuz TMA-9/13S relocation (FGB nadir port to DC1)
10/18/06 — Progress M-58/23P launch
10/20/06 — Progress M-58/23P docking
12/19/06 — Progress M-57/22P undocking & reentry
12/20/06 — Progress M-59/24P launch
12/22/06 — Progress M-59/24P docking

ISS Altitude History
Apogee height — Mean Altitude — Perigee height
For more on ISS orbit and worldwide ISS naked-eye visibility dates/times, see http://www.hq.nasa.gov/osf/station/viewing/issvis.html. In addition, information on International Space Station sighting opportunities can be found at http://spaceflight.nasa.gov/realdata/sightings/ on NASA's Human Spaceflight website. The current location of the International Space Station can be found at http://science.nasa.gov/temp/StationLoc.html at NASA's Marshall Space Flight Center. Additional satellite tracking resources can be found at http://www.spaceref.com/iss/tracking.html.