NASA Space Station On-Orbit Status 7 October 2005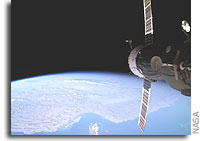 SpaceRef note: This NASA Headquarters internal status report, as presented here, contains additional, original material produced by SpaceRef.com (copyright © 2005) to enhance access to related status reports and NASA activities.
All ISS systems continue to function nominally, except those noted previously or below.   Day 5 of joint Exp.11/Exp.12 operations.  Week 24 of Increment 11.  Day 176 days in space (174 aboard ISS) for Expedition 11, with 3 days to go.  Also: Day 2513 since first ISS launch (FGB/Zarya), and 1801 days of permanent crew occupancy aboard ISS.
After wake-up at a shifted 3:30am EDT, both crews again worked a busy schedule of ISS11-to-ISS12 handovers, which proceeded briskly as planned.   [Most scheduled activities were done jointly to serve as handover demos for the "new" crewmembers ("functional" as opposed to "dedicated" handovers).]
FE/SO John Phillips and CDR-12 Bill McArthur started out with condensate collection and sampling in the Lab, using a CWC (collapsible waster container, #1042) to offload about 20 kg of water from the condensate collection tank and obtaining a sample in a small bag.
FE-12 Valery Tokarev transferred the finished BIO-10 "Intercellular Interaction" experiment in its vacuum box to the Soyuz TMA-6 and stowed it in an AKh ice/frost container.  The activity was supported by specialist tagup.   [The "Fibroblast-1" experiment of the BIO-10 Meshkletochnoe vzaimodeistvie payload evaluates the cytotoxic (destructive) activity in microgravity of isolated lymphocytes from human blood with joint culturing of a myeloblast culture.]
John worked on the SAMS (Space Acceleration Measurement System) on EXPRESS Rack 4, replacing its ICU (interface control unit) laptop with a spare laptop and then activated the system.  [Troubleshooting of the ICU on 9/27 showed that it had a failed video card and a possible bootup problem.]
Phillips and McArthur conducted the periodic inspection of station bacterial filters and smoke detectors in the Airlock (A/L), Lab and Node.   [There is one bacterial filter and smoke detector (SD) in the A/L, plus two SDs and one filter each in the Node and Lab.]
The two U.S. crewmembers also collected the periodic reading of the cabin air's current CO2 concentrations in the SM and Lab, using the U.S. CDMK (Carbon Dioxide Monitoring Kit, #1015), for calldown, along with its battery status, for use in trending analyses.
Another task completed by the two Astronauts was the regular weekly maintenance reboot on the operational PCS (Portable Computer System) laptops and the bi-monthly restart of the OCA comm router SSC (Station Support Computer) laptop. 
Meanwhile, in the Service Module (SM), Tokarev removed a fluid connector from the separator unit of the SRVK-2M condensate water recovery system.  The connector, which had accumulated internal sediments, was then placed into a food waste bag for return to Earth, along with sediment samples and MOK pipeline samples.
Afterwards, Valery conducted the periodic (currently daily) checkout/verification of IP-1 airflow sensors in the various Russian segment (RS) hatchways, including the SM-to-Soyuz tunnel, and the FGB-to-Node passageway.   [This checkup is especially important when the ventilation/circulation system has to cope with a large crew on board.]
Sergei Krikalev prepared the current BIO-5 Rasteniya-2 ("Plants-2") experiment for return to Earth, first performing the regular periodic download of experiment data & imagery to a memory card, then collecting all space-grown plants (except for the smallest one) from the Lada-7 greenhouse in an empty bag for return in 10S.   [Rasteniya researches growth and development of plants (currently horse radish) under spaceflight conditions in the Lada-7 greenhouse.]
SFP (Spaceflight Participant) Gregory Olsen continued his VC-9 program work schedule, again first completing another sampling session (his third) of the ESA-sponsored experiment SAM (Sample).   [SAM evaluates microbial species which might benefit from growth conditions within ISS life support systems, and investigates into the mechanism of microbial adaptation (mutation) to microgravity.]
Later, Olsen filled out the daily log/questionnaires for his experiments MOP (Motion Perception/Vestibular Adaptation to Gravity Changes), and LBP (MYSCUL, low back pain muscle investigation).  The data from his VC-9 experiments were again transferred from FlashCard memory to the removable hard disk drive of the RSE1 laptop.
In Part 2 of the special demo/commercial called SCN (Space Cup Noodles) for Japanese industry, the "taxi" visitor played several carefully scripted scenes involving opening packs of noodles, demonstrating joyful noodle eating in zero-G, floating packs and a fork through the cabin while emphasizing weightlessness of the noodle-taster, etc.  The scenes were filmed by CDR Krikalev with the Japanese Sony HVR-Z1J high-definition camcorder.
Assisted by Sergei, the SFP again had an hour reserved to shoot agreed-upon photo documentation and video footage of ISS onboard crew activities. 
For Olsen, Krikalev also took Earth photography of selected targets, such as the University of Virginia, and Princeton, NJ (zooming in on Olsen's house, his hunting lodge, his company Sensors Unlimited, hisResearch Center, and a friend's summer house).
Krikalev, Tokarev and Olsen had several hours reserved for scheduled commemorative (Russian: "symbolic") activity, a standard tradition for visiting guests and departing expedition crewmembers, usually consisting of signing and stamping envelopes and imaging other memorabilia.    [VC9 items to be returned for Greg are on-orbit-stamped postcards, photos, wine labels, flags, cap, a book prototype, a T-shirt and other items.  The crew also hand stamped non-Olsen envelopes that originally arrived with Progress 10P and in a kit for Roskosmos.  The symbolic activities were photographed and videotaped with the Nikon D1X and Sony DSR PD-150P.]
By way of handover, the McArthur and Tokarev crew conducted a review of the CMS (Crew Medical Systems) Physical Exercise equipment available to them during Increment 12.   [For the TVIS treadmill, they will be using the new design of the U.S. tie-down harness for connecting the SBS (Series Bungee System) bungees, which provide an adjustable load as a percentage of the person's preflight weight (depending on bungee length, which is controlled by adding or removing French clips in series with the bungee eyebolt).  The speed limit for the running belt has been raised from 6 mph to 7 mph as a result of the data received from the last 30 days of the E11 crew.]
Both crews, except for Olsen, completed the regular 2.5-hr. physical exercise program on the TVIS, RED resistive machine and VELO bike with bungee cord load trainer.  For McArthur and Tokarev, these were the first exercise sessions.   [Sergei's daily protocol prescribes a strict four-day microcycle exercise with 1.5 hr on the treadmill and one hour on VELO plus load trainer (today: Day 3 of a new set).]
Afterwards, John and Bill transferred the exercise data files to the MEC (Medical Equipment Computer) for downlink, as well as the daily wristband HRM (heart rate monitor) data of the RED workouts, followed by their erasure on the HRM storage medium (done six times a week).   [For the E12 entries, special procedures were used to establish their accounts.  Their data transfers will become regular after the installation of new, personalized software on the MEC on 10/14, during which MEC will be upgraded from the IBM 760XD to an A31p ThinkPad.]
Valery performed the daily routine maintenance of the SM's SOZh environment control & life support system, including the ASU toilet system and also prepared the regular daily IMS (Inventory Management System) "delta"/update file for automated export/import to the three IMS databases (MCC-H, TsUP, Baikonur).
Still carried by Krikalev's Russian "time available" task list for today was processing of condensate from a U.S. CWC (collapsible water container), to be used in the Elektron.  Also on his task List for today was to search for two "misplaced" kits of the BTKh-12 BIOEKOLOGIYA (Bioecology) payload, for return to Earth.
At ~9:20am EDT, Gregory Olsen, with Krikalev's support and photo coverage, set up the SM's amateur radio equipment (Ericsson VHF transceiver, headset, power supply) for an ARISS session and, at 9:30am, conducted a 10-min. ham radio exchange with his former Alma Mater, Ridgefield Park High School, at Ridgefield Park, NJ, via a South Africa station serving as Telebridge.   [Other famous graduates fromRidgefield High include Ozzie Nelson (of Ozzie & Harriet), and Bud Lewis, co-pilot of the Enola Gay.]
At 5:50pm, Olsen is scheduled to downlink another PAO TV report to TsUP/Moscow via RGS (Russian ground station), with U.S. Ku-band assets as backup in case of RGS unavailability.
Yesterday evening at ~6:01pm EDT the CDRA (carbon dioxide removal assembly) in the U.S. Lab failed Off when ASV (air save valve) 101 did not completely transition between two positions.  The ground moved the valve back and forth "manually" (i.e., by remote command) and successfully restarted the CDRA as the crew slept.   [ASV 101 is the only valve without filter sock protection.  The Russian Vozdukh CO2 scrubber remained activated in Auto mode during the brief CDRA down time.]
The Elektron oxygen generator was successfully activated yesterday and is functioning nominally.
No CEO (crew earth observations) photo targets uplinked today.
  CEO photography can be viewed and studied at the websites:
See also the website "Space Station Challenge" at:
To view the latest photos taken by the expedition 11 crew visit:
Expedition 11 Flight Crew Plans can be found at http://spaceflight.nasa.gov/station/timelines/
Previous NASA ISS On-orbit Status Reports can be found here. Previous NASA Space Station Status Reports can be found here. Previous NASA Space Shuttle Processing Status Reports can be found here. A collection of all of these reports and other materials relating to Return to Flight for the Space Shuttle fleet can be found here.
ISS Orbit  (as of this morning, 7:42am EDT [= epoch]):
Mean altitude — 348.0 km
Apogee height — 349.1 km
Perigee height — 347.0 km
Period — 91.50 min.
Inclination (to Equator) — 51.64 deg
Eccentricity — 0.0001617
Solar Beta Angle — -29.9deg (magnitude decreasing)
Orbits per 24-hr. day — 15.74
Mean altitude loss in last 24 hours — 101 m
Revolutions since FGB/Zarya launch (Nov. 98) — 39335
Expedition 11 Flight Timelines:
Soyuz 10S (Expedition 11+1; Sergei Krikalev, John Phillips, Gregory Olsen):
Undocking from FGB — 10/10 (Mon., Columbus Day), 5:40pm EDT (undock command);
Sep Burn #1 (manual) —  5:46pm;
Deorbiting Burn —  8:18:46 pm (4 min 23 sec; delta-V 115.2 m/s);
Module separation — 8:43pm;
Atmospheric entry — 8:46pm;
Max-G load — 8:53pm;
Parachute open command — 8:55pm;
Landing before dawn — 10/10 (Mon.)  9:09pm EDT;  7:09am (on 10/11) local Kustanai/Kazakhstan;
Sunrise at Kustanai landing site — 7:47am local.  [Note: Kazakhstan remains on Standard Time; thus: local time = GMT+5].
Other Upcoming Events (all times EDT):
10/18/05 — ISS Reboost
10/27/05 – EVA-04 Dry Run
11/03/05 — EVA-4 (U.S.)
11/18/05 — Soyuz TMA-7/11S relocation (from DC-1 to FGB nadir port)
12/20/05 – Progress M-54/19P undocking & reentry
12/21/05 – Progress M-55/20P launch
12/23/05 — Progress M-55/20P docking
01/09/06 — 100 days for Expedition 12.
 

ISS Altitude History
Apogee height — Mean Altitude — Perigee height
For more on ISS orbit and worldwide ISS naked-eye visibility dates/times, see http://www.hq.nasa.gov/osf/station/viewing/issvis.html. In addition, information on International Space Station sighting opportunities can be found at http://spaceflight.nasa.gov/realdata/sightings/ on NASA's Human Spaceflight website. The current location of the International Space Station can be found at http://science.nasa.gov/temp/StationLoc.html at NASA's Marshall Space Flight Center. Additional satellite tracking resources can be found at http://www.spaceref.com/iss/tracking.html.