NASA Space Station On-Orbit Status 7 Apr 2004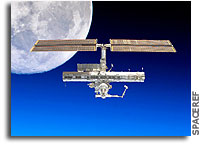 All ISS systems continue to function nominally, except those noted previously or below. 
FE Alexander Kaleri performed his fourth round of the Russian MBI-8 "Profilaktika" (countermeasures) fitness test series, on the VELO stationary bike ergometer (last time done: 3/15).   [There will be two more tests, one with the NS-1 Load Trainer tomorrow, the other with the TVIS treadmill on 4/9.  Test procedure is identical to the Russian MO-5 assessment, but in addition to the nominal procedure, it calls for the use of the TEEM-100M gas analyzer, measurement of the lactate level in the subject's blood with the AccuSport device, and subjective evaluation of physical exertion levels during the test.  Results are entered on a log sheet.  TEEM and ECG (electrocardiograph) data are transferred to the borrowed U.S. SSC6 IBM 760XD laptop, also on a tape cassette ("Cardiocassette-2000"), and prepared for later downlink via Regul-Packet comm.  The lactate levels were called down to specialists standing by at TsUP.]
CDR/SO Michael Foale began today's FOOT experiment (Foot/Ground Reaction Forces during Space Flight), his fourth & final session, by donning the specially instrumented LEMS (lower extremity monitoring suit) pants garment, opening the Lab nitrogen (N2) valve, performing electromyography (EMG) calibration (i.e., electric muscle currents recording) on the right arm and leg, and then conducting the data collection session during the day.  Afterwards, the equipment was stowed at ~2:30pm EDT, and the N2 valve was closed again.    [Wearing the black Lycra biking tights with 20 electrodes and shoes fitted with insoles that measure impact forces on the bottom of the foot for the 12-hr session, Foale completed a typical on-orbit day while his reaction forces against the ISS structure were recorded passively on 14 channels to determine how much stress his legs and feet endure.  This provides better understanding of the bone loss and muscle mass loss experienced by astronauts in zero-G (on Mir, for example, cosmonauts lost as much bone mass in a month as post-menopausal women do in a year).  Prior to and following TVIS exercise he needed to perform a standing calibration with three marker button presses, to allow the ground to identify if sensors have shifted during exercise.  During standing calibration he was to stand up as straight as he would in 1G, keeping knees straight and heels on the footplates.  The experiment, which is led by the biomedical engineering department at the Cleveland Clinic Foundation in Cleveland, Ohio, was also conducted by Ken Bowersox during Increment 6.]
Principal Investigators (PIs) of the BCAT-3 (Binary Colloid Alloy Test-3) experiment are in the process of analyzing the downlinked BCAT files of 4/5.  Planning is underway to schedule an additional photography session prior to hardware removal on 4/9 (Friday).
Alex Kaleri's maintenance & servicing work in the Service Module (SM) today started with a checkup on the water supply system, whose control subsystem has been falsely indicating a full KTV non-potable water container.   [Objective of Alex' task was to verify the adequacy of currently used measures to prevent the false "KTV is Full" indication while the check valves (M3-3, M3-2) on the primary & backup water manifolds from the air/gas separator are open.  The condensate water processor (SRV-K2M) was subsequently reconfigured to its original state.]
Continuing his work on the SM plumbing, the FE removed & replaced the gas-liquid mixture filter (FGS) in the powered-down SRV-K.  The condensate water processor was then reactivated, and the old filter was prepared for disposal on Progress 13P.  For the filter replacement, Sasha also turned off the SKV-1 air conditioner temporarily.   [FGS was replaced last on 4/22/03 by Nikolai Budarin.]
Next, Kaleri switched the Regul-OS radio control & communications system to its second string, which required also swapping the Packet Laptop's connection strings to the Regul.  Afterwards, the laptop, used for Russian "Packet" email. was reactivated to put Regul-Packet back in operation.
In preparation for the upcoming IFM (in-flight maintenance) to recover the #2 air conditioner (SKV-2) in the Russian segment (RS), which has long been inactive due to a misaligned coolant line (which aborted the initial repair attempt on 2/13), the FE today used a hacksaw to make cutouts in two SM wall panels (#402, #404) to accommodate the new coolant line and its interference-causing curvature (100mm radius).   [The panels are made from 8 mm thick foam material, lined on both sides with a 0.3mm-thick aluminum layer and a noise suppressant mat on one side.  To keep resulting cuttings from floating away, Alex used a vacuum cleaner and wet wipes.  The treated panels were then reinstalled and photographed for downlink via OCA for ground review.]
Using the time slot originally intended for "ghosting" another PCS (Portable Computer System) hard disk drive (HDD), Sasha Kaleri worked on restoring an IBM ThinkPad 760XD laptop "shell" to take the place of the MPSD2 (multi-purpose support drive #2), used as one of two IP (Internet Protocol) "home phone" machines, which Mike Foale converted to a PCS yesterday.   [The objective for Sasha today was to troubleshoot shells #6066 (formerly SSC2) and #6057 (formerly OCA Router), which had failed to boot up properly with known good HDDs, to establish whether either one had experienced a hardware failure or could be restored to a functioning MPSD2 machine.] 
Mike Foale performed the regular routine status checkup of autonomous Increment 8 payloads in the Lab, while Sasha Kaleri did the daily routine technical maintenance of the SM's SOZh environment control & life support system, incl. the toilet equipment (ASU), and prepared the daily IMS (inventory management system) "delta" file for automatic export/import to update the database.
The FE performed his regular maintenance on the BIO-5 Rasteniya-2 ("Plants-2") greenhouse.  Replenishment of its water supply as required has now become part of the Russian task list.   [Rasteniya studies growth and development of plants (peas) under spaceflight conditions in the Lada-4 greenhouse.  Regular maintenance involves monitoring of seedling growth, humidity measurements, watering to moisten the substrate if necessary, and photo/video recording.]
Both crewmembers continued initial preparations for their approaching return to Earth.   [Starting today, both have an additional hour per day for coming-home preparations, and their formal workday is accordingly reduced to 5-hrs. 30 min. through 4/20.]
Mike worked out on TVIS treadmill and RED exerciser (Kaleri's exercise being part of MBI-8).
At 4:35am EDT, the crew downlinked two TV messages of greetings on the occasion of Cosmonautics Day on April 12 (Monday), one to the Gagarin Cosmonaut Training Center (GCTC) in Korolev near Moscow, the other to the attendees of a special celebration at the Russian Federal Space Agency (FKA) on Monday.   [Cosmonautics Day observes the date of April 12, 1961, when Yuri Gagarin became the first human in space.  John Glenn followed in February 1962 as first American and Valentina Tereshkova in June 1963 as first woman.  To GCTC: "In 43 years, thanks to the efforts of outstanding designers, engineers and thousands of our country's workers, valor of pilot-cosmonauts, manned flights have become international, long-duration, and have been enriched with experiments in the interest of all humanity.  On behalf of the International Space Station crew, I would like to send our greetings to all of the participants of this Cosmonautics Day celebration and wish you all good health, happiness, continuation of work initiated by Yuri Alexeyevich Gagarin, and training of the crews for space flights."  To FKA:  "We were dreaming about space from childhood, and today we are proud that on Yuri Gagarin's 73rd
Anniversary we have the honor to be on orbit to celebrate Cosmonautics Day.  Happy holiday to all of the participants of this ceremony, to all our colleagues, developers and veterans of space rocket technology.  We wish you optimism, good health and happiness".]
Foale and Kaleri conferred with ground specialists in a first review of the timeline and experiment program of the upcoming joint mission with VC-6 (Visiting Crew #6).   [After launch of 8S/Soyuz TMA-4 (#214) on 4/18 (11:18pm EDT) and docking on 4/21 (1:00am, hatch open 2:25am), the VC-6 crew, of Expedition 9 (Gennady Padalka, Mike Fincke), with FE-1 André Kuipers from ESA, will conduct joint operations with Expedition 8 crew for nine days, until the latter's return to Earth on 4/29 (undock 4:46pm) in 7S/Soyuz TMA-3 (#213) with Kuipers.  ESA's "Delta" science program provides for Kuipers to perform two experiments during the autonomous Soyuz flight and a total of 22 experiments on the station, most of them in the RS.  The three USOS experiments are ARGES and HEAT, currently stowed in the Node, and PromISS-3, already performed by Mike Foale in the Microgravity Science Glovebox.  On 4/19, FE Kaleri is scheduled to prepare the RS workstations for VC-6. ]
Today's CEO (Crew Earth Observations) targets, limited in XPOP attitude by flight rule constraints on the use of the science window, which is available for only ~1/4 of each orbit when not facing forward (in "ram"), were Lagos, Nigeria (this mega city and former capital of Nigeria is situated on a large coastal lagoon), Niokolo-Koba NP, Senegal (crew was to use this nadir pass to map and document this World Heritage Site situated on the Gambia River almost 200 miles inland), Tunis, Tunisia (ISS had a near-nadir pass in good weather over the Tunisian capital.  Looking just left of track for the city and port located on a large bay), High Central Andean Glaciers (this pass may have been early enough in the day to precede the diurnal cloud formations.  Looking right of track down the spine of the Andes to document the location and extent of these small glacial features), Bahamas (400mm-lens: Crew was to continue documenting the details of the visible coral reef structures of this sprawling archipelago, using the long lens in near-nadir views), Pinacates Biosphere (ISS had a nadir pass over this landmark volcanic feature situated just NE of the upper end of the Gulf of California.  A mapping of this area will be used for vegetation studies), and Gardner (400mm-lens:  ISS had a nadir pass over this island in good weather and light, and the crew was to use the long lens to document coral reef structures).
CEO images can be viewed at the websites.
See also the website "Space Station Challenge" at
U.S. and Russian Segment Status (as of today, 1:42pm EDT).
Environmental Control and Life Support (ECLSS) and Thermal Control (TCS):
Elektron O2 generator is On.  Vozdukh CO2 scrubber is On.  U.S. CDRA CO2 scrubber is on Standby (ready in dual-bed mode).  TCCS (trace contaminant control subsystem) is operating.  SM Gas Analyzer has been calibrated and is used for ppO2 and ppCO2 monitoring.  MCA (major constituents analyzer) is in Life Extending Mode (LEM).  BMP Harmful Impurities unit: absorbent bed #1 in Purify mode, bed #2 in Purify mode.  RS air conditioner SKV-1 is On, SKV-2 is Off (repair not completed; to be tested ASAP).  SFOG slot#2 fan suspect (not usable).

SM Working Compartment:  Pressure (mmHg) — 742; temperature (deg C) — 26.1; ppO2 (mmHg) — 160.5; ppCO2 (mmHg) — 3.4;
SM Transfer Compartment:  Pressure (mmHg) — 761; temperature (deg C) — 20.7.
FGB Cabin:  Pressure (mmHg) — 756; temperature (deg C) — 23.3;
Node:  Pressure (mmHg) — 757.88; temperature (deg C) — 24.1 (shell); ppO2 (mmHg) — n/a; ppCO2 (mmHg) — n/a.
U.S. Lab:  Pressure (mmHg) — 759.57; temperature (deg C) — 24.9; ppO2 (mmHg) — n/a; ppCO2 (mmHg) — n/a.
Joint Airlock (Equip. Lock):   Pressure (mmHg) — 759.97; temperature (deg C) — 25.7; shell heater temp (deg C) — 23.8, ppO2 (mmHg) — n/a; ppCO2 (mmHg) — n/a.

(n/a = data not available)

PMA-1:  Shell heater temp (deg C) — 24.4
PMA-2:  Shell heater temp (deg C) — 10.7
Electrical Power Systems (EPS):
Both P6 channels fully operational.  BGA (beta gimbal assembly) 2B and 4B both in Autotrack (solar-tracking, "sun slicer", i.e., drag reduction-biased by 47 deg).
SM batteries:  Battery #1 is in "Cycle" mode; all other batteries (7) are in "Partial Charge" mode.  
FGB batteries:  Battery #6 is off-line (capacity restoration mode, ROM); all other batteries (5) are in "Partial Charge" mode.
Plasma Contactor Unit PCU-1 is in Standby mode; PCU-2 is in Standby mode.
Command & Data Handling Systems:
C&C-1 MDM is prime, C&C-2 is back-up, and C&C-3 is in standby.
GNC-2 MDM is prime; GNC-1 is Backup.
INT-2 is operating; INT-1 is Off.
EXT-1 is On (primary), EXT-2 is Off.
LA-1, LA-2 and LA-3 MDMs are all operating.
PL-1 MDM is Off; PL-2 MDM is Operational.
APS-1 (automated payload switch #1) and APS-2 are both On.
SM Terminal Computer (TVM): 2 redundant lanes (of 3) operational (string 1 dropped out 11/22/03).
SM Central Computer (TsVM): 2 redundant lanes (of 3) operational (string #3 dropped out 10/22/03).
FGB MDM-1 is Off (failed, 11/21/03); MDM-2 is Operational.
Propulsion System:
Total propellant load available: 3926 kg (8655 lb) as of 3/26/04;  [SM(755) + FGB(2512) + Progress M-1(659)].  (Capability: SM — 860 kg; FGB — 6120 kg).
Attitude Control Systems:
3 CMGs on-line (CMG-1 failed, since 6/6/02).
State vector source — U.S. SIGI-1 (GPS)
Attitude source — U.S. SIGI-1 (GPS)
Angular rate source — RGA-1
Flight Attitude:
XPOP (x-axis perpendicular to orbit plane = "sun-fixed" [yaw: 0.5 deg, pitch: -9.0 deg., roll: 0 deg]), with CMG TA (thruster assist), until 4/14.
Communications & Tracking Systems:
FGB MDM-1 is powered Off; FGB MDM-2 is operational.
All other Russian communications & tracking systems are nominal.
S-band is operating nominally (on string 2).
Ku-band is operating nominally (may require a mask).
Audio subsystem is operating nominally (IAC-1 is prime, IAC-2 is off).
Video subsystem operating nominally.
HCOR (high-rate communications outage recorder) is operating nominally.
Robotics:
SSRMS/Canadarm2 based at Lab PDGF/LEE A, operational on redundant string, off on prime.
MBS: KA (keep alive) power on both strings. 
MT: latched and mated at WS4. 
POA: KA power on both strings.
RWS (robotics workstations): Lab RWS is On (DCP connected); Cupola RWS is Off.
ISS Orbit  (as of this morning, 4:41am EDT [= epoch]):
Mean altitude — 364.6 km
Apogee — 371.8 km
Perigee — 357.5 km
Period — 91.84 min.
Inclination (to Equator) —  51.63 deg
Eccentricity — 0.0010642
Orbits per 24-hr. day — 15.68
Mean altitude loss last 24 hours — 150 m
Revolutions since FGB/Zarya launch (Nov. '98)  — 30719
For more on ISS orbit and worldwide ISS naked-eye visibility dates/times, see