NASA Space Station On-Orbit Status 6 May 2004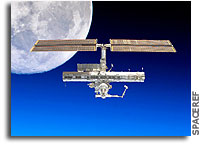 All ISS systems continue to function nominally, except those noted previously or below.
CDR Gennady Padalka had his second session with the European Neurocog experiment, still on board from Pedro Duque's VC5 "Cervantes" program last October, today focusing on virtual rotation in free floating and fixed position passages while recording EEG (electroencephalogram).  [Assisted by FE Michael Fincke, Padalka first activated the EGE-2 computer, then equipped himself with the Halley head electrodes.  After doing the virtual turns and rotations in fixed and free-floating position in zero-G called for by the Neurocog protocol, he downloaded the EEG data to a PCMCIA memory card for eventual return to Earth, and dismantled the equipment.]
On the HRF (Human Research Facility) laptop, Mike Fincke installed the Vers. 2 software for the ADUM OPE (advanced ultrasound/on-board proficiency enhancer) operations during Increment 9. [For the OPE skill training sessions, Mike transferred eight files from the OCA comm machine to the HRF PC via a PuFF (Pulmonary Function in Flight) Flash RAM card, then ran an exe. file to assemble and install the program itself.]
Fincke began the scheduled maintenance of NiMH (Nickel-Metal Hydride) batteries in preparation for the unscheduled spacewalk (E9 EVA#1) on 6/10.  NiMHs are used to power EHIP (EMU helmet interchangeable portable) lights, PGTs (pistol grip tools), and REBAs (rechargeable EVA battery assemblies). [Since the batteries were last used in April 2003, they are in deeply discharged state, which requires special procedures to restore them to proper state of charge.  Because one of the four BC battery chargers is failed (BC1), recovery will proceed in series, with the first round started today, to finish on 5/11 (Tuesday), and the second round beginning on 5/12, to be completed on 5/17.  As of this morning, the first NiMH started charging properly already on the second attempt.]
For the regeneration of EVA Metox (metal oxide) recyclable CO2 absorption canisters, the FE first supported ground-commanded power-up of the CCAA (common cabin air assembly) air conditioner in the Airlock (A/L), then monitored ground-commanded activation of the CDRA (carbon dioxide [CO2] removal assembly) in the Lab.
Regeneration of two (out of four) expended Metox canisters in the A/L began at 1:45pm EDT, with cabin air monitoring for CO2 assigned to the SM gas analyzer (GA). [There are a total of 10 Metox cans on-board, of which six are fully regenerated.  Two will be required for the prebreathe and two for the EVA itself.  All Metox regenerations will be completed prior to 13P, and today Fincke started the procedure, which handles two pairs in series, with the last two cans finishing up over the weekend on 5/9.  After the EVA, additional Metox regenerations are timelined to bring the inventory back to 100% regenerated before Mission LF-1.]
The FE supported another checkout of the MSG (Microgravity Science Glovebox) by the Payload Operations & Integration Center (POIC), required for MSG ops recertification.  Today's activity focused on the MSG's filter bank and work volume delta pressure sensors.  Later, Mike powered down the rack.
Gennady terminated the bake-out cycle on the BMP micropurification system's channel 2, moding the channel back to Purify.  This restored both filter beds to Purify mode.  [The regeneration of the air purifier filter beds is repeated every 20 days.  Each bakeout to space vacuum takes about 24 hours.]
Systems monitoring of the Soyuz TMA-4 continues.  Twice today, the CDR took routine spacecraft parameter readings (Form 03) in the vehicle for calldown to TsUP/Moscow.
Mike Fincke conducted the daily leak check of the Lab window's inter-pane volume, using the "Aeolus" scopemeter with pressure probe.  The reading this morning indicated a pressure of 339.4 Torr (mmHg). [Past readings, dating back to March, have found a steady leak rate of ~27 Torr (0.52 psi) per day from the cabin into the interstitial volume (i.e., not overboard).]
The crew completed their daily 2.5-hr. physical exercise program on TVIS, RED exerciser and VELO cycle with load trainer. [During crew exercise on 5/4, the TVIS experienced several episodes of resetting itself to zero speed when in motorized mode.  While the issue is under investigation, the crew is using the treadmill in passive mode only.]
Mike Fincke completed the regular task of transferring data files from the physical exercise equipment to the MEC (medical equipment computer) via memory card and RED log entries, for downlink on OCA comm.  Later, he performed the periodic transfer of accumulated data files from the wristband HRM (heart rate monitor) receiver stations to the MEC for downlink, then deleting them on the HRM.
Mike also conducted the daily routine maintenance of the SM's SOZh life support system and prepared the daily inventory "delta" file for updating the IMS (inventory management system) database.
The CDR continued the current round of monthly preventive maintenance on Russian segment air ventilation systems, today in the FGB, first changing out the two PS1/PS2 dust collector filters, then cleaning interior closeout panel vent screens.
For the first time, Mike Fincke completed the regular weekly task of filling out the FFQ (food frequency questionnaire), which keeps a log of his nutritional intake over time on special MEC software.
Both crewmembers again had about 45 min. each for general station familiarization and acclimatization, as is standard daily rule for the first two weeks after starting station residency.
Starting this morning at 4:00am EDT and ending at about 11:00am, MCC-H and its support group in Moscow (HSG) performed another BCC (backup control center) activation test, without involving the ISS crew or the vehicle.  Purpose: to demonstrate BCC functionality, provide proficiency training for HSG personnel and perform BCC "thin layer" testing. [BCC utilizes the HSG command server and telemetry server.  In test mode, command function was transferred to HSG (as BCC) for sending a single PPCP (preplanned command packet) with the primary command & control systems (CCS) "No Op Test" command to MCC-M/TsUP.  TsUP activated previously recorded (2/17/04) American contingency telemetry (ACT) via cyclogram for uplinking the PPCP to the ISS with HSG confirming successful receipt.  TsUP commanding to the Russian segment (RS) via U.S. S-band as well as MCC-H-to-TsUP flow of status telemetry were not affected, but MCC-H had no real-time telemetry and command capability via Russian ground stations (RGS) during the periodic testing.]
Service Module (SM) battery #6 continues to be off line, as TsUP is investigating the trip, on 5/3, of its Limit Discharge Sensor (DPR). [SM power is being supplied by the remaining seven 800A batteries and SNTs (voltage & current stabilizers/transformers) until the DPR issue is resolved.]
Update on RPCM Replacement EVA:  The unscheduled spacewalk (designated E9 EVA#1) is planned for 6/10.  Current estimates are that the RPCM R&R will take 2h 45m.  If conducted in U.S. EMUs, additional tasks may be added for a total spacewalk duration of 4h 30m.  They would include LF-1 prep work, CETA light installation on the S1 stanchion that was installed on Expedition 6, and an inspection of a few ammonia fluid QD (quick disconnect) couplings to make sure that their SPDs (spool positioning devices) are actually installed, in particular S15 & S21.
The "Road to E9 EVA#1" currently has the following schedule milestones:
5/6-9 — Metox canisters (4) regeneration
5/6-11 — NiMH batteries restoration (for helmet, PGT, REBA) recovery, first round
5/10 — EVA run (translation & activities) in NBL (Neutral Buoyancy Lab)
5/10 — Failed RPC retesting, to ensure that failure is correctly characterized
5/11-17 — NiMH batteries (for helmet, PGT, REBA) recovery, second round
5/11 — EMU #3011 water tank dump-and-fill
5/11-14 — EXT MDM (2) software transition to vers. EXT R4
5/13 — Prelim. EVA timeline & procedures uplinked to crew
5/18 — ISS reboost (in LVLH YVV)
5/19 — Crew EVA on-orbit dry-run (don/doff, self-test, etc.)
5/21 — SSRMS ops session for external worksite viewing
5/25 — Progress 14P launch
5/27 — Progress 14P docking
6/1 — Ground-based simulations (ext. power reconfigs)
6/2 — Resume on-orbit EVA preps after 14P docking
6/10 — E9 EVA#1
(Note:  Both EMUs selected for the EVA (#3011 & #3005) are fully functional at present, but will again be checked out.  For the EVA, crew will use new hardware (batteries, gloves) arriving on 14P.  If the EMU dry run on 5/19 shows crewmembers unable to self-don/doff (although already demonstrated by other crews), planning will focus on Orlan-based EVA).
Today's CEO targets, in the current LVLH attitude no longer limited by flight rule constraints on the use of the Lab nadir/science window, except for the shutter closure and condensation-prevention plan (limited to 90 min. in 24 hours), were Congo Basin (Dynamic event.  Unusually clear weather persists over the Congo basin.  Suggested were images that include the big Congo and Ubangi rivers, left and right of track [sunglint opportunity left].  ISS passed close to the confluence of these rivers just right of track.  Water color of these rivers differs [as with the Amazon and Negro in Brazil], with muddier, browner water in the Ubangi that drains drier savannas of the southern Sahara.  The Congo water is generally very dark since it drains the rainforest only [equivalent to the Negro], St. Thomas, Caribbean (detailed images of the coral reefs surrounding this island are the object of interest), St. John, Caribbean (detailed images of the coral reefs surrounding this island are the object of interest), St. Croix, Caribbean (detailed images of the coral reefs surrounding this island are the object of interest), California fires (Dynamic event.  Early season burning has already destroyed 13,000 acres in the LA basin.  ISS passed offshore with the wind blowing the smoke offshore, so this should have provided a dramatic oblique view, looking left), and Tokyo, Japan (nadir pass over the planet's largest city).
CEO images can be viewed at the websites.
See also the website "Space Station Challenge" at
U.S. and Russian Segment Status  (as of today, 1:00pm EDT).
Environmental Control and Life Support (ECLSS) and Thermal Control (TCS):
Elektron O2 generator is On.  Vozdukh CO2 scrubber is On.  U.S. CDRA CO2 scrubber is Off.  TCCS
(trace contaminant control subsystem) is operating.  SM Gas Analyzer has been calibrated and is used for ppO2 & ppCO2 monitoring.  MCA (major constituents analyzer) is in Life Extending Mode (LEM).  BMP Harmful Impurities unit: absorbent bed #1 in Purify mode, bed #2 in Purify mode.  RS air conditioner SKV-1 is On, SKV-2 is Off (SM panel mods completed 4/8; SKV-2 activation failed 4/20).  SFOG slot#2 fan suspect (not usable).

SM Working Compartment:  Pressure (mmHg) — 742; temperature (deg C) — 25.4; ppO2 (mmHg) — 155.8; ppCO2 (mmHg) — 2.5;
SM Transfer Compartment:  Pressure (mmHg) — 761; temperature (deg C) — 21.1.
FGB Cabin:  Pressure (mmHg) — 756; temperature (deg C) — 23.0.
Node:  Pressure (mmHg) — 747.71; temperature (deg C) — 22.2 (shell); ppO2 (mmHg) — n/a; ppCO2 (mmHg) — n/a.
U.S. Lab:  Pressure (mmHg) — 749.87; temperature (deg C) — 24.9; ppO2 (mmHg) — n/a; ppCO2 (mmHg) — n/a.
Joint Airlock (Equip. Lock):   Pressure (mmHg) — 750.07; temperature (deg C) — 20.4; shell heater temp (deg C) — n/a, ppO2 (mmHg) — n/a; ppCO2 (mmHg) — n/a.

(n/a = data not available)

PMA-1:  Shell heater temp (deg C) — n/a
PMA-2:  Shell heater temp (deg C) — n/a.
Electrical Power Systems (EPS):
Both P6 channels fully operational.  BGA (beta gimbal assembly) 2B and 4B both in Directed position (blind, dual-angle mode with drag reduction, non solar-tracking).
SM batteries:  Battery #6 is off line; battery #2 is in Cycle mode (RTs); all other batteries (6) are in "Partial Charge" mode.
FGB batteries:  Battery #1 is off-line (capacity restoration mode, ROM); all other batteries (5) are in "Partial Charge" mode.
Plasma Contactor Unit PCU-1 is in Standby mode; PCU-2 is in Standby mode.
Command & Data Handling Systems:
C&C-1 MDM is prime, C&C-2 is backup, and C&C-3 is in standby.
GNC-2 MDM is prime; GNC-1 is backup.
INT-2 is operating; INT-1 is Off.
EXT-1 is On (primary), EXT-2 is Off.
LA-1, LA-2 and LA-3 MDMs are all operating.
PL-1 MDM is Off; PL-2 MDM is Operational.
APS-1 (automated payload switch #1) and APS-2 are both On.
SM Terminal Computer (TVM): 2 redundant lanes (of 3) operational (string 1 dropped out 11/22/03).
SM Central Computer (TsVM): 2 redundant lanes (of 3) operational (string #3 dropped out 10/22/03).
FGB MDM-1 is Off (failed, 11/21/03); MDM-2 is Operational.
Propulsion System:
Total propellant load available: 3725 (8212 lb) as of 5/5/04;  [SM(693) + FGB(2373) + Progress M-1(659)].  (Capability: SM — 860 kg; FGB — 6120 kg).
Attitude Control Systems:
2 CMGs on-line (CMG-1 failed, since 6/6/02; CMG-2 RPC-17 failed 4/21/04).
State vector source — U.S. SIGI-1 (GPS)
Attitude source — U.S. SIGI-1 (GPS)
Angular rate source — RGA-1
Flight Attitude:
LVLH YVV (local vertical/local horizontal = "earth-fixed": z-axis in local vertical, y-axis in velocity vector [yaw: -90 deg, pitch: -9 deg, roll: 1.7 deg]), with CMG/TA (thruster assist) Momentum Management.
Communications & Tracking Systems:
FGB MDM-1 is powered Off; FGB MDM-2 is operational.
All other Russian communications & tracking systems are nominal.
S-band is operating nominally (on string 2).
Ku-band is operating nominally (may require a mask).
Audio subsystem is operating nominally (IAC-1 is prime, IAC-2 is off).
Video subsystem operating nominally.
HCOR (high-rate communications outage recorder) is operating nominally.
Robotics:
SSRMS/Canadarm2 based at Lab PDGF/LEE A, operational on redundant string, off on prime.
MBS: KA (keep alive) power on both strings. 
MT: latched and mated at WS4. 
POA: KA power on both strings.
RWS (robotics workstations): Lab RWS is On (DCP connected); Cupola RWS is Off.
ISS Orbit  (as of this morning, 6:47am EDT [= epoch]):
Mean altitude — 361.1 km
Apogee — 368.4 km
Perigee — 353.8 km
Period — 91.76 min.
Inclination (to Equator) —  51.63 deg
Eccentricity — 0.0010846
Orbits per 24-hr. day — 15.69
Mean altitude loss last 24 hours — 85 m
Revolutions since FGB/Zarya launch (Nov. '98)  — 31176

For more on ISS orbit and worldwide ISS naked-eye visibility dates/times, see