NASA Space Station On-Orbit Status 5 October 2005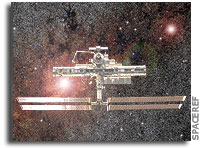 SpaceRef note: This NASA Headquarters internal status report, as presented here, contains additional, original material produced by SpaceRef.com (copyright © 2005) to enhance access to related status reports and NASA activities.
All ISS systems continue to function nominally, except those noted previously or below. Day 3 of joint Exp.11/Exp.12 operations.  Week 24 of Increment 11.  Day 174 days in space (172 aboard ISS) for Expedition 11, with 5 days to go.  Also: Day 2511 since first ISS launch (FGB/Zarya), and 1798 days of cumulative crew time aboard ISS.
After wake-up at a shifted 3:30am EDT, both crews again worked a busy schedule of ISS11-to-ISS12 handovers, which proceeded briskly as planned. [Most scheduled activities were done jointly to serve as handover demos for the "new" crewmembers ("functional" as opposed to "dedicated" handovers).]
With the Elektron still powered down, FE-12 Valery Tokarev, tutored by CDR Krikalev, serviced the Russian BMP harmful impurities removal system, starting the "bake-out" cycle to vacuum on the second absorbent bed of the regenerable dual-channel filtration system.  Before sleep time today, the bake-out will be terminated. [Regeneration of each of the two cartridges takes about 12 hours and is conducted only during crew awake periods.  The BMP currently still uses the same vacuum vent valve for regeneration as the Elektron (the latter for venting hydrogen).  The Elektron will be turned on again tomorrow (10/6).]
For Sergei, it was time for the first part of his final training session in the "Chibis" ODNT suit as standard preparation of cosmonauts for returning into gravity (the second part is scheduled for 10/8).  Since it was outside an RGS (Russian ground site) comm window, with no telemetry downlink, his vital body readings were again obtained with the Tensoplus sphygmomanometer.  A tagup/calldown with ground specialists via US S-band supported the run, which was assisted by Tokarev. [The below-the-waist reduced-pressure device ODNT (US: LBNP) in the "Chibis" garment provides gravity-simulating stress to the body's cardiovascular/circulatory system for reestablishing the body's orthostatic tolerance (e.g., the Gauer-Henry reflex) after the six-month stay in zero-G.  Krikalev's ODNT protocol today consisted of first imbibing 150-200 milliliters of water or juice, followed by a sequence of progressive regimes of reduced ("negative") pressure, set at -15, -25, -35 and -40 mmHg for five minutes each, then at -20, -30, and -40 mmHg, 10 minutes in each mode, and at -30 mmHg for 5 min, while shifting from foot to foot at 10-12 steps per minute. The body's circulatory system interprets the pressure differential between upper and lower body as a gravity-like force pulling the blood (and other liquids) down.]
Valery Tokarev had two hours set aside for unstowing and setting up the equipment for the BTC-10 "Cardiocog" experiment, then performing his first session of the procedure.  CDR Krikalev took photography to document the experiment conditions (subject posture and position). [Originally part of Pedro Duque's VC5 "Cervantes" science program, CARDIOCOG studies changes in the human cardiovascular system in micro-G, expressed in the peripheral arteries, and the vegetative regulation of arterial blood pressure and heart rate.  For the experiment, Valery had to take systolic & diastolic blood pressure measurements and heart rate data manually, using the Tensoplus sphygmomanometer and storing the data on the French EGE-2 laptop.  The experiment also includes a 5-minute cognitive stress test with a numbers table, with the results called out for recording.  Results were later downlinked via Russian BSR telemetry and the EGE2 restored to nominal config.]
SFP (Spaceflight Participant) Gregory Olsen was also tested medically for his heart function today when he undergoes a standard 30-min. session with the cardiological experiment PZEh MO-1 (Study of the Bioelectric Activity of the Heart at Rest), with Krikalev assisting as CMO. [During the 30-min. test, the crew tagged up with ground specialists on a Russian ground site (RGS) pass on Daily Orbit 12 (~3:43pm EST) via VHF and downlink data from the Gamma-1M ECG (electrocardiograph) for about 5-6 minutes.]
An important part of today's handover activities between Bill McArthur, Valery Tokarev and John Phillips were DOUG (Dynamic Operational Ubiquitous Graphics) software installation and a subsequent training run on the Canadian SSRMS (Space Station Remote Manipulator System). [With the UOP-DCP (utility outlet panel-to-display & control panel) bypass power cable hooked up at the Lab RWS (Robotics Work Station) and the MSS (Mobile Service System) and its video equipment powered on by the ground, the crewmembers took the SSRMS through the scheduled handover/familiarization session (half an hour was reserved for setup and review of DOUG and for general preparations, leaving three hours for the actual operations).  The procedure's objective was to provide typical SSRMS stage operations such as Joint OCAS (operator commanded auto sequence) and Single maneuvers, LEE (latching end effector) operations and some DCP switch and MSS camera characterization time. The robotarm was left in Soyuz 10S undock viewing position, and the bypass cable was demated.]
Sergei disassembled and removed the sensor units of the Russian radiobiology experiment RBO-2 "Bradoz-1" in the Service Module (SM), which were installed on 3/23 by Salizhan Sharipov, then transferred the hardware to Soyuz TMA-6/10S for return to Earth.  He also photographed the disassembly activity for ground inspection.  [Bradoz was developed by Moscow's IBMP (Institute of Bio-Medical Problems) to detect integral absorbed doses of ionizing radiation using thermoluminescent detectors.  It also uses plastic track detectors for recording fluxes and spectra of linear energy transfers of heavy charged particles, and utilizes biological objects to detect radiation damage to the genetic system.  Purpose of this research is to develop radiobiological dosimetry methods for more accurate assessment of biologically significant radiation dose commitments for humans during long-term space flight.  Space radiation, even in small doses, can damage not only the somatic but also generative tissues in the human body, making it crucial to quantitatively assess the genetic damage caused by space radiation.  The experiment consists of six assemblies, five Bradoz-1 kits and one Bradoz-2 unit.  They include thermoluminescent dosimeters made of lithium fluoride crystals, R-39-type plastic track detectors made of tissue-equivalent plastic, and packets with biological samples of dry seeds of higher plants.]
FE/SO Phillips, joined by McArthur, performed the weekly spot check on the two new CSA-CP (Compound Specific Analyzer-Combustion Products) units from Progress 19 by measuring the state of their decontamination and comparing them with the active (prime and backup) CSA-CPs.
Sergei conducted the periodic (currently daily) checkout/verification of IP-1 airflow sensors in the various Russian segment (RS) hatchways, including the SM-to-Soyuz tunnel, and the FGB-to-Node passageway.  [This checkup is especially important when the ventilation/circulation system has to cope with a large crew on board.]
SFP Olsen again had an hour reserved to shoot agreed-upon photo documentation and video footage of ISS onboard crew activities, assisted by Sergei where required.  Olsen also used another suitable overflight pass at 2:33pm EDT for digital photography of his Montana ranch, Eagle Nest and the Custer Battlefield in Montana, with the Nikon D1X #2 with Nikkor 80-400mm zoom lens.
The "taxi" visitor also filled out the daily log/questionnaires for his experiments MOP (Motion Perception/Vestibular Adaptation to Gravity Changes), and LBP (MYSCUL, low back pain muscle investigation). 
Working off his discretionary "time available" task list, Krikalev completed the regular daily inspection of the zero-G greenhouse experiment, checking on the water supply in its canister.
Also suggested by the Russian task list for today was processing of condensate from a U.S. CWC (collapsible water container), to be used in the Elektron.
Sergei performed the daily routine maintenance of the SM's SOZh environment control & life support system, including the ASU toilet system and also prepared the regular daily IMS (Inventory Management System) "delta"/update file for automated export/import to the three IMS databases (MCC-H, TsUP, Baikonur).
The E11 crew conducted their daily physical exercise program on the CEVIS ergometer, TVIS treadmill, RED exerciser, and VELO cycle with bungee cord load trainer, with Sergei's session today partially compensated for by the LBNP exercise in the morning.
Afterwards, John transferred the exercise data files to the MEC (Medical Equipment Computer) for downlink, as well as the daily wristband HRM (heart rate monitor) data of the workouts on RED, followed by their erasure on the HRM storage medium (done six times a week).
At ~12:45p EDT, Gregory Olsen, with Krikalev's support and photo coverage, set up the SM's amateur radio equipment (Ericsson VHF transceiver, headset, power supply) for an ARISS session and at 12:55pm conducted a 10-min. ham radio exchange with his former high school at Princeton, NJ.
Later, at ~2:26pm EDT, the five-member crew engaged in a live TV exchange with Associated Press (Marcia Dunn).
For the last two days, SFP Olsen has run into problems with his SoyuzTaxi2 Outlook email account on the SSC (station support computer) set up for him.  After troubleshooting by the ground and the crew, it was determined that it was an access permission problem with the ID account.  Instructions for corrective action were uplinked overnight.  Also, with the increased level of activity onboard during the handover, the crew requested approval to deploy another SSC (as SSC-4) using one of the A31p laptops delivered on Flight LF1.  Flight controllers prepared procedures overnight to properly configure this laptop for use as an SSC client.
No CEO (crew earth observations) photo targets uplinked today.
 
CEO photography can be viewed and studied at the websites:
See also the website "Space Station Challenge" at:
To view the latest photos taken by the expedition 11 crew visit:
Expedition 11 Flight Crew Plans can be found at http://spaceflight.nasa.gov/station/timelines/
Previous NASA ISS On-orbit Status Reports can be found here. Previous NASA Space Station Status Reports can be found here. Previous NASA Space Shuttle Processing Status Reports can be found here. A collection of all of these reports and other materials relating to Return to Flight for the Space Shuttle fleet can be found here.
ISS Orbit  (as of this morning, 6:43am EDT [= epoch]):
Mean altitude — 348.3 km
Apogee height — 349.5 km
Perigee height — 347.0 km
Period — 91.50 min.
Inclination (to Equator) — 51.64 deg
Eccentricity — 0.0001813
Solar Beta Angle — -40.0deg (magnitude decreasing)
Orbits per 24-hr. day — 15.74
Mean altitude loss in last 24 hours — 83 m
Revolutions since FGB/Zarya launch (Nov. 98) — 39303
Expedition 11 Flight Timelines:
Soyuz 10S (Expedition 11+1; Sergei Krikalev, John Phillips, Gregory Olsen):
Undocking from FGB — 10/10 (Mon., Columbus Day), 5:40pm EDT (undock command);
 Sep Burn #1 (manual) —  5:46pm;
 Deorbiting Burn —  8:21pm (4 min 23 sec; delta-V 115.2 m/s);
 Landing before dawn — 10/10 (Mon.)  9:08pm EDT;  7:08am (10/11) local Kustanai/Kazakhstan;
Sunrise at Kustanai landing site — 7:47am local.  [Note: Kazakhstan remains on Standard Time; thus: local time = GMT+5].
Other Upcoming Events (all times EDT):
10/18/05 — ISS Reboost
11/18/05 — Soyuz TMA-7/11S relocation (from DC-1 to FGB nadir port)
12/20/05 – Progress M-54/19P undocking & reentry
12/21/05 – Progress M-55/20P launch
12/23/05 — Progress M-55/20P docking
01/09/06 — 100 days for Expedition 12.

ISS Altitude History
Apogee height — Mean Altitude — Perigee height
For more on ISS orbit and worldwide ISS naked-eye visibility dates/times, see http://www.hq.nasa.gov/osf/station/viewing/issvis.html. In addition, information on International Space Station sighting opportunities can be found at http://spaceflight.nasa.gov/realdata/sightings/ on NASA's Human Spaceflight website. The current location of the International Space Station can be found at http://science.nasa.gov/temp/StationLoc.html at NASA's Marshall Space Flight Center. Additional satellite tracking resources can be found at http://www.spaceref.com/iss/tracking.html.