NASA Space Station On-Orbit Status 5 July 2004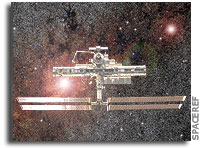 SpaceRef note: This NASA Headquarters internal status report, as presented here, contains additional, original material produced by SpaceRef.com (copyright © 2004) to enhance access to related status reports and NASA activities.
All ISS systems continue to function nominally except those noted previously or below.  Last day of a three-day holiday for the crew.  Underway: Week 10 for Increment 9.
After wakeup and morning inspection, CDR Padalka, working from the Russian task list, unstowed and set up the equipment for another "Cardiocog" experiment, then performed the procedure (last time done: 6/13).   [Originally part of Pedro Duque's VC5 "Cervantes" science program, Cardiocog studies changes in the human cardiovascular system in micro-G, expressed in the peripheral arteries, and the vegetative regulation of arterial blood pressure and heart rate.  For the experiment, the CDR, after removing his antistatic bracelet 12 hours before, had to take systolic & diastolic blood pressure measurements and pulse data manually, using the Tensoplus sphygmomanometer, storing the data on the EGE-2 laptop.  For today's session, Mike Fincke performed video/photo documentation of experiment ops (Gennady's posture and position).]
Also on the Russian task list for Padalka's own time choice is another session (his third) with the European "Neurocog" experiment, still on board from Pedro Duque's VC5 "Cervantes" program last October.   [Neurocog focuses on virtual rotation in free floating and fixed position passages while recording his EEG (electroencephalogram).]
After switching filter bed 1 of the SM's harmful impurities removal unit (BMP) yesterday to Regeneration cycle, the CDR today terminated the bake-out, moding the channel back to Purify.  Later, he initiated regeneration on filter channel 2.  [The regeneration of the air purifier filter beds is repeated every 20 days.  Each bakeout to space vacuum takes about 24 hours.]
Working in the DC1 "Pirs" docking compartment, Gennady terminated the lifetime-preserving discharge procedure on the second 825M3 Orlan backpack battery, started yesterday, then disassembled the battery-charging unit (ZU-S) and stored it with the battery in the Service Module (SM) for the next spacewalk, EVA-10 (scheduled this month, 7/23).
Padalka also uninstalled the portable air repress bottle (BNP) in the DC1 repress lines, returning it to its stowage place in the "divan" of the Soyuz orbital module.
FE/SO Fincke completed the regular daily maintenance/inspection of the SM's environment control & life support systems (SOZh), which today included the regular weekly inspection of the BRPK air/condensate water separator system, and attended to the regular routine status checkup of autonomous Lab payloads (PCG-STES010, MAMS). 
The crew completed a full workout on the TVIS treadmill, RED exerciser and VELO bike with load trainer.
FE performed the weekly maintenance of the TVIS, including the inspection of the TVIS wire ropes for signs of fraying.
After Mike had set up the amateur radio equipment in the SM, the crew at 4:26am EDT engaged in a ham radio exchange with students attending Space Camp Turkey at Izmir, Turkey.   [The event supported a Partner School Project held July 4-10 for about 120 students between the ages of 12-16 and teachers from Turkey and several other countries, including the U.S., Greece and Israel, to meet in the "neutral" environment of a Space Camp for the purpose of promoting friendship and cooperation through space education.]
Later, the crew downlinked a PAO message with cordial birthday greetings for Nikolai Ivanovich Chekin, a veteran of the Soviet Space Program.   [N.I. Chekin was instrumental at Star City's GCTC (Gagarin Cosmonaut Training Center), a "true space flight enthusiast and very reliable hand in resolving many complex issues", particularly in support of the historic Apollo/Soyuz Test Project (ASTP) that set the foundation for the ISS Program.]
Yesterday during crew sleep, the PCS (portable computer system) laptop at the Lab RWS (robotics work station) disconnected from the EXT-1 MDM's circuit breaker.  Several subsequent attempts by Fincke at rebooting failed, also when the hard disk drive (HDD, #6036) was swapped with a known good one (#6029).  This indicates a failed shell for the RTWS laptop and brings the number of currently connected operating PCSs down to two, the Flight Rule-prescribed lower limit.   [Mike re-swapped the HDDs and put #6029 back in its stowage place.]
Also yesterday, a disconnect was noticed between the onboard OCA Router computer and its counterpart on the ground.  After some troubleshooting, operations were restored.   [Without communications between the onboard and ground OCA Routers, there can be no Ku-band file transfer between the ground and the ISS, no videoconferences, no email syncs, and no use of the IP (Internet protocol) phone.  The crew verified that there were no problems with the onboard router or network.  When a reboot of the onboard OCA Router indeed didn't help, flight controllers decided to reboot the ground OCA Router "Delta".  This restored communications.]
Today's CEO (crew earth observations) photo targets, in the current LVLH attitude no longer limited by flight rule constraints on the use of the Lab nadir/science window, except for the shutter closure and condensation-prevention plan (limited to 90 min. in 24 hours), were Puerto Rico (shooting coastal urban development and the reefs offshore.  Urban development is having negative impacts on the coral reefs), Gardner reef, Hawaiian Is. chain (nadir image.  The ground suggested trying for a highly detailed image [with subsequent longer, contextual view]), Necker reef, Hawaiian Is. chain (looking a touch left.  Suggested was to try for a highly detailed image [with subsequent longer, contextual view]), and Internal waves, Mariana Islands (looking left towards to the glint point as it passes over the shallow zones between numerous islands and reefs where internal wave packets can form).
CEO images can be viewed at these websites:
See also the website "Space Station Challenge" at:
To view the latest photos taken by the expedition 9 crew visit:
Previous NASA ISS On-orbit Status Reports can be found here. Previous NASA Space Station Status Reports can be found here. Previous NASA Space Shuttle Processing Status Reports can be found here. A collection of all of these reports and other materials relating to Return to Flight for the Space Shuttle fleet can be found here.
ISS Orbit  (as of this morning, 6:45am EDT [= epoch]):
Mean altitude — 360.0 km
Apogee — 363.7 km
Perigee — 356.3 km
Period — 91.7 min.
Inclination (to Equator) —  51.631 deg
Eccentricity — 0.0005514
Solar Beta Angle — 53.4 deg
Orbits per 24-hr. day — 15.69
Mean altitude loss in last 24 hours — 50 m
Revolutions since FGB/Zarya launch (Nov. '98)  — 32118
ISS Altitude History
Apogee height — Mean Altitude — Perigee height
For more on ISS orbit and worldwide ISS naked-eye visibility dates/times, see http://www.hq.nasa.gov/osf/station/viewing/issvis.html. In addition, information on International Space Station sighting opportunities can be found at http://spaceflight.nasa.gov/realdata/sightings/ on NASA's Human Spaceflight website. The current location of the International Space Station can be found at http://science.nasa.gov/temp/StationLoc.html at NASA's Marshall Space Flight Center. Additional satellite tracking resources can be found at http://www.spaceref.com/iss/tracking.html.