NASA Space Station On-Orbit Status 4 Apr 2004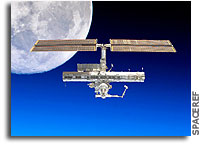 All ISS systems continue to function nominally, except as noted previously.  Sunday — time of rest for the crew, now on their 167th day aboard ISS (169 days in space).
FE Alex Kaleri performed his regular monitoring/servicing of the Rasteniya-2 ("Plants-2") zero-G plant growth experiment, checking water level in the Lada-4 greenhouse water container and seed status.  Replenishment of its water supply as required has now become part of the Russian task list.
Alex also attended to the daily maintenance of the SOZh (ECLSS) environmental control & life support systems in the Service Module (SM).   [This included the weekly data collection of the toilet flush counter readings (with inspection of the SP urine collection & pretreat assembly) and water supply (SVO) status counter readings, both for calldown to TsUP/Moscow.]
Mike and Sasha performed their regular daily physical exercise program of 2.5 hrs on TVIS treadmill, CEVIS bike, RED exerciser and VELO cycle with load trainer.
CDR Foale had his weekly PFC (private family conference) today, via S-band/audio.
Working off the Russian discretionary task list, Sasha performed closeout operations on the Diatomeya ocean research program.   [Activities included an external inspection & performance check of each Nikon-F5 still camera, writing down comments for the attention of the TsUP camera specialists, performing an audit of all photo film & video cassettes exposed during Increment 8, verification of proper Diatomeya labels on them, generating a report capturing the exact quantity of all return data media on the subject, packing all data media into one kit, marking & temporarily stowing it for return, and updating the IMS.]
A resident item on the Russian "job jar" task list is the continuing search, on the crew's free time, for "missing" equipment, including some critical items required to support system operation that may be needed in the nearest future.  [Sasha has an uplinked list of this equipment, with pictures to facilitate search & identification.]
The ISS continues to fly in XPOP attitude (x-axis perpendicular to orbit plane, yaw: 0, pitch: -9, roll: 0 deg), until the Soyuz 7S hotfire test on 4/14.
For CEO (Crew Earth Observations), spring weather conditions in the Northern Hemisphere offer numerous, important visual changes on the Earth including snow and ice melt, vegetation greenup, agricultural activity, flooding and severe weather phenomenon.  Today's optional CEO targets, limited in XPOP attitude by flight rule constraints on the use of the science window, which is available for only ~1/4 of each orbit when not facing forward (in "ram"), were Kabul, Afghanistan (looking carefully for the Afghan capital in a high mountain valley, just left of track), Baghdad, Iraq (weather was expected to improve at the time of this pass for a good view of the Iraqi capital.  Looking just left of track), Aral Sea (good views of the rapidly-shrinking Aral Sea could be found to the left of track this pass), Lake Poopo (ISS had a nadir pass in fair weather.  Documenting the current shoreline of the lake and look for evidence of water [color changes] in the large bright salars to the southwest), St. Croix (with fine weather expected, looking just left of track to document the coral reef structures of this beautiful island), Havana, Cuba (trying for a nadir view of the Cuban capital located on the north coast), Miami, FL (weather should have held for a near-nadir view of this city, just left of track), and Detroit, MI (the Motor City lied just left of track).
CEO images can be viewed at the websites.
See also the website "Space Station Challenge" at
ISS Orbit  (as of this morning, 8:11am EST [= epoch]):
Mean altitude — 365.1 km
Apogee — 372.4
Perigee — 357.8 km
Period — 91.85 min.
Inclination (to Equator) —  51.6302 deg
Eccentricity — 0.0010808
Orbits per 24-hr. day — 15.678
Mean altitude loss last 24 hours — 150 m
Revolutions since FGB/Zarya launch (Nov. '98) — 30675
For more on ISS orbit and worldwide ISS naked-eye visibility dates/times, see