NASA Space Station On-Orbit Status 31 May 2004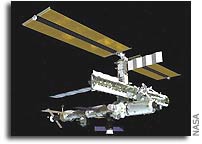 All ISS systems continue to function nominally except those noted previously.  Memorial Day: off-duty for the crew. 
CDR Gennady Padalka and FE/SO Michael Fincke spent several hours with cargo transfer operations from Progress 14P, tracking the movements with the IMS (inventory management system) and referring to a detailed unpack & stowage list uplinked from TsUP/Moscow.   [The unpack list is supplemented by an U.S. list specifying transfers & stowage of CHeCS IMAK (Crew Health Care Systems/ISS Medical Accessory Kit) items intended for the AMP (Ambulatory Medical Pack) and ALSP (Advanced Life Support Pack).]
Fincke completed the microbial analysis of the air and surface swab samples collected last week (5/26) with SSK (Surface Sampler Kit) on slides and MAS (Microbial Air Sampler) in Petri dishes at the T+5d incubation point.  Microbial specimen data were then loaded into the MEC (medical equipment computer) and the analysis hardware taken down and stowed.  [Because of downmass limitations due to the Shuttle stand-down, the samples cannot be returned to the Microbiology Lab for further analysis on the ground, as usual, but are discarded as wet trash after the analysis.]
The FE performed the daily leak check of the Lab window's inter-pane space ("Volume D"), using the "Aeolus" scopemeter with pressure probe.  These tests are to continue through 6/7, at which time the leak testing equipment will be disassembled for leak checks on the equipment itself to characterize the "net" leakage rate of the window.
Gennady completed the daily routine maintenance of the SM's SOZh life support system (including ASU toilet facilities).  He also conducted the preparation of the regular inventory management system (IMS) "delta" file for downlink, while Mike attended to the regular routine status checkup of autonomous Lab payloads (PCG-STES010, MAMS).
At 4:35am EDT, Mike Fincke downlinked a Memorial Day message from ISS for today's observances in Washington, DC, in recognition and remembrance of those who have made the ultimate sacrifice.   [The message was scheduled for the National Moment of Remembrance today at 3:00pm local time throughout the U.S., as an act of national unity to honor America's fallen.  The event is sponsored by the White House Commission on Remembrance, an independent government agency that honors America's fallen and recognizes our veterans and those who continue to serve our country, established by Congress (PL 106-579).]
Both crewmembers completed their daily 2.5-hr. physical exercise program on TVIS, RED exerciser, and VELO cycle with load trainer.  The CDR also performed the weekly maintenance of the TVIS treadmill.
Starting this morning at 8:17am on the Daily Orbit 2 (DO-2) Russian ground sites comm pass, TsUP/Moscow ran the standard leak checks on the propellant couplings and lines between the Progress 14P and Service Module (SM), in preparation for the upcoming remotely-controlled fuel and oxidizer transfer activities.  The standard Progress thruster firing test is scheduled for tomorrow.   [The procedure, which also used the DO-3 comm pass, called for activation of the local signal commutator (LKT 1GZ) for signal transmission/downlink during the checks, opening and closing of pressurization valves, and pressure monitoring in fuel and oxidizer systems for any signs of a leak.]
Update on Onboard U.S. PCS Laptop Situation:    After the shell failure of the Cupola PCS (Portable Computer System) laptop reported by Mike on Saturday (5/29), specialists have tracked the problem to corrupted CMOS (complementary metal-oxide semiconductor) settings.  Byresetting the CMOS, the PCS was recovered to nominal operation.  Additional analysis will attempt to determine why/how the CMOS settings were corrupted.
During Mike Fincke's weekly PFC (private family conference) yesterday, the video teleconference link between MCC-H and the Fincke residence could not be established.  The PFC was performed via S-band with a phone patch.  Troubleshooting is underway.
ISS flight attitude continues in LVLH, until the 14P thruster testing tomorrow.
Today's optional CEO (Crew Earth Observations) photo targets, in the current LVLH attitude no longer limited by flight rule constraints on the use of the Lab nadir/science window, except for the shutter closure and condensation-prevention plan (limited to 90 min. in 24 hours), were Karachi, Pakistan (nadir pass.  Opportunity improves as dust haze is distinctly reduced), Tunis, Tunisia (nadir pass over the city built on the ruins of ancient Carthage.  The international airport is known as Tunis-Carthage Airport), Internal waves, Bahamas (looking near nadir for any internal waves), Internal waves, Tuamotu Archipelago (Eastern Tuamotus.  Looking mainly forward for the glint point and any packets of internal waves), Internal waves, Tuamotu Archipelago (Western Tuamotus.  Looking mainly forward for any packets of internal waves), and Coral reefs, American Samoa (looking at nadir and left for this small series of islands.  Coral reef mapping is the main interest).
CEO images can be viewed at the websites.
See also the website "Space Station Challenge" at
U.S. and Russian Segment Status  (as of today, 1:23pm EDT).
Environmental Control and Life Support (ECLSS) and Thermal Control (TCS):
Elektron O2 generator is On.  Vozdukh CO2 scrubber is On.  U.S. CDRA CO2 scrubber is Off.  TCCS (trace contaminant control subsystem) is operating.  SM Gas Analyzer has been calibrated and is used for ppO2 & ppCO2 monitoring.  MCA (major constituents analyzer) is in Life Extending Mode (LEM).  BMP Harmful Impurities unit: absorbent bed #1 in Purify mode, bed #2 in Purify mode.  RS air conditioner SKV-1 is On, SKV-2 is Off (SM panel mods completed 4/8; SKV-2 activation failed 4/20; now back up).  SFOG slot #2 fan suspect (not usable).

SM Working Compartment:  Pressure (mmHg) — 742; temperature (deg C) — 25.2; ppO2 (mmHg) — 159.4; ppCO2 (mmHg) — 3.7.
SM Transfer Compartment:  Pressure (mmHg) — 747; temperature (deg C) — 20.3.
FGB Cabin:  Pressure (mmHg) — 756; temperature (deg C) — 21.7.
Node:  Pressure (mmHg) — 752.16; temperature (deg C) — 22.6 (shell); ppO2 (mmHg) — n/a; ppCO2 (mmHg) — n/a.
U.S. Lab:  Pressure (mmHg) — 753.91; temperature (deg C) — 24.7; ppO2 (mmHg) — n/a; ppCO2 (mmHg) — n/a.
Joint Airlock (Equip. Lock):   Pressure (mmHg) — 754.01; temperature (deg C) — 22.9; shell heater temp (deg C) — n/a, ppO2 (mmHg) — n/a; ppCO2 (mmHg) — n/a.
        
(n/a = data not available)

PMA-1:  Shell heater temp (deg C) — n/a
PMA-2:  Shell heater temp (deg C) — n/a.
Electrical Power Systems (EPS):
Both P6 channels fully operational.  BGA (beta gimbal assembly) 2B and 4B both in Directed position ("blind", non solar-tracking dual-angle mode with "night glider"/"sun slicer" 60 deg. drag reduction sweep).
SM batteries:  All batteries (8) are on line in "Partial Charge" mode.  
FGB batteries:  Battery #5 is off line; all other batteries (5) are on line in "Partial Charge" mode.
Plasma Contactor Unit PCU-1 is in Standby mode; PCU-2 is in Standby mode.
Command & Data Handling Systems:
C&C-1 MDM is prime, C&C-2 is backup, and C&C-3 is in standby.
GNC-2 MDM is prime; GNC-1 is backup.
INT-2 is operating; INT-1 is Off.
EXT-1 is On (primary), EXT-2 is Off (backup).
LA-1, LA-2 and LA-3 MDMs are all operating.
PL-1 MDM is Off; PL-2 MDM is Operational.
APS-1 (automated payload switch #1) and APS-2 are both On.
SM Terminal Computer (TVM): 2 redundant lanes (of 3) operational (string 1 dropped out 11/22/03).
SM Central Computer (TsVM): 2 redundant lanes (of 3) operational (string #3 dropped out 10/22/03).
FGB MDM-1 is Off (failed, 11/21/03); MDM-2 is Operational.
Propulsion System:
Total propellant load available: 3436 kg (7575 lb) as of 5/20/04;  [SM(552) + FGB(2884) + Progress M-1(0)].  (Capability: SM — 860 kg; FGB — 6120 kg).
Attitude Control Systems:
2 CMGs on-line (CMG-1 failed, since 6/6/02; CMG-2's RPC-17 failed 4/21/04).
State vector source — U.S. SIGI-1 (GPS)
Attitude source — U.S. SIGI-1 (GPS)
Angular rate source — RGA-1
Flight Attitude:
LVLH TEA (local vertical/local horizontal = "earth-fixed"; Torque Equilibrium Attitude [yaw: -10 deg, pitch: -7.2 deg, roll:0 deg]), with CMG/TA (thruster assist) Momentum Management.
Communications & Tracking Systems:
FGB MDM-1 is powered Off; FGB MDM-2 is operational.
All other Russian communications & tracking systems are nominal.
S-band is operating nominally (on string 2).
Ku-band is operating nominally (may require a mask).
Audio subsystem is operating nominally (IAC-1 is prime, IAC-2 is off).
Video subsystem operating nominally.
HCOR (high-rate communications outage recorder) is operating nominally.
Robotics:
SSRMS/Canadarm2 based at Lab PDGF/LEE A, operational on redundant string, off on prime.
MBS: KA (keep alive) power on both strings. 
MT: latched and mated at WS4. 
POA: KA power on both strings.
RWS (robotics workstations): Lab RWS is On (DCP connected); Cupola RWS is Off.
ISS Orbit  (as of this morning, 6:42am EDT [= epoch]):
Mean altitude — 362.9 km
Apogee — 366.9 km
Perigee — 358.9 km
Period — 91.8 min.
Inclination (to Equator) —  51.633 deg
Eccentricity — 0.0005929
Solar Beta Angle — 1.6 deg
Orbits per 24-hr. day — 15.68
Mean altitude loss in last 24 hours — 100 m
Revolutions since FGB/Zarya launch (Nov. '98)  — 31568
For more on ISS orbit and worldwide ISS naked-eye visibility dates/times, see
 http://www.hq.nasa.gov/osf/station/viewing/issvis.html