NASA Space Station On-Orbit Status 30 October 2005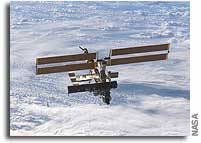 SpaceRef note: This NASA Headquarters internal status report, as presented here, contains additional, original material produced by SpaceRef.com (copyright © 2005) to enhance access to related status reports and NASA activities.
All ISS systems continue to function nominally, except those noted previously or below.  Sunday — off-duty day for Bill McArthur & Valery Tokarev, except for housekeeping and voluntary work.   
As part of his daily morning inspection, the Russian Flight Engineer did the periodic checkup behind panel 139 in the Service Module (SM) on a fluid connector of the urine collection system, checking for potential moisture.
The American Commander/Science Officer performed the daily routine maintenance of the SM's environment control & life support system (SOZh), including its toilet system (ASU) and the regular inspection of the air/liquid condensate separator apparatus (BRPK), plus the weekly collection of the toilet flush (SPKU) counter and water supply (SVO) readings for calldown to TsUP/Moscow.   [These routinely collected data include the fill dates, water source & water quantities for the KPV potable water container of the condensate water processor (SRV-K2M), two EDV containers (for RP and SV), and replacement date & number for the Elektron's EDV (KOV) container, and for the EDV-U liquid-waste and KTO solid-waste containers.] 
After checking out the "Portapress" equipment of the BTC-10 "CARDIOCOG" experiment on 10/28, followed by his second session of the medical test, today Valery Tokarev, working off his discretionary task list, finished up by copying the data, placing the hard disk drive and PCMCIA in storage, then completing the data logs for transmittal to the ground during a RGS (Russian ground station) comm pass.   [Originally part of Pedro Duque's VC5 "Cervantes" science program, CARDIOCOG studies changes in the human cardiovascular system in micro-G, expressed in the peripheral arteries, and the vegetative regulation of arterial blood pressure (BP) and heart rate (HR).  For the experiment, conducted on 10/28 for the second time, Valery put on electrodes for ECG (electrocardiogram) and took his systolic & diastolic blood pressure measurements and heart rate data manually, using the Tensoplus sphygmomanometer and the Portapress BP equipment (the latter consisting of a finger cuff with two photodiodes), all of it connected via data lines to the French EGE-2 laptop for storage.  The experiment also includes a 5-minute cognitive stress test with a numbers table, with the results called out for recording.  Data logs are subsequently downlinked via Russian BSR telemetry and the EGE2 is then restored to nominal config.]
Both crewmembers completed their regular 2.5-hr. physical exercise program on the TVIS treadmill, RED resistive machine and VELO bike with bungee cord load trainer.   [Valery's daily protocol prescribes a strict four-day microcycle exercise with 1.5 hr on the treadmill and one hour on VELO plus load trainer (today: Day 1 of a new set).]
At ~3:30pm EST, Bill McArthur will have his weekly PFC (private family conference) via S-band/audio and Ku-band/MS-NetMeeting video. 
No CEO (crew earth observations) photo targets uplinked for today.
To date, over 177,000 of CEO images have been taken in the first five years of the ISS.
CEO photography can be viewed and studied at the websites:
See also the website "Space Station Challenge" at:
To view the latest photos taken by the expedition 12 crew visit:
Expedition 12 Flight Crew Plans can be found at http://spaceflight.nasa.gov/station/timelines/
Previous NASA ISS On-orbit Status Reports can be found here. Previous NASA Space Station Status Reports can be found here. Previous NASA Space Shuttle Processing Status Reports can be found here. A collection of all of these reports and other materials relating to Return to Flight for the Space Shuttle fleet can be found here. 
ISS Orbit  (as of this morning, 6:21am EST [= epoch]):
Mean altitude — 346.4 km
Apogee height — 347.7 km
Perigee height — 345.2 km
Period — 91.47 min.
Inclination (to Equator) — 51.64 deg
Eccentricity — 0.0001866
Solar Beta Angle — 35.9 deg (magnitude decreasing)
Orbits per 24-hr. day — 15.74
Mean altitude gain in last 24 hours — 87 m
Revolutions since FGB/Zarya launch (Nov. 98) — 39697
Upcoming Events (all dates Eastern):
11/02/05 – Fifth Anniversary of permanent ISS occupancy
11/07/05 — EVA-4 (U.S.; hatch open ~9:30am; hatch closing ~3pm EST)
11/15/05 — ISS Reboost (from 19P; manifold #2)
11/18/05 — Soyuz TMA-7/11S relocation (from DC-1 to FGB nadir port)
12/07/05 — EVA-15 (Russian; under review)
12/20/05 — Progress M-54/19P undocking & reentry
12/21/05 — Progress M-55/20P launch
12/23/05 — Progress M-55/20P docking
01/09/06 — 100 days for Expedition 12.

ISS Altitude History
Apogee height — Mean Altitude — Perigee height
For more on ISS orbit and worldwide ISS naked-eye visibility dates/times, see http://www.hq.nasa.gov/osf/station/viewing/issvis.html. In addition, information on International Space Station sighting opportunities can be found at http://spaceflight.nasa.gov/realdata/sightings/ on NASA's Human Spaceflight website. The current location of the International Space Station can be found at http://science.nasa.gov/temp/StationLoc.html at NASA's Marshall Space Flight Center. Additional satellite tracking resources can be found at http://www.spaceref.com/iss/tracking.html.