NASA Space Station On-Orbit Status 3 November 2005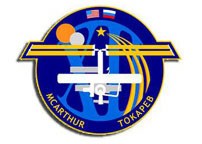 SpaceRef note: This NASA Headquarters internal status report, as presented here, contains additional, original material produced by SpaceRef.com (copyright © 2005) to enhance access to related status reports and NASA activities.
All ISS systems continue to function nominally, except those noted previously or below.
Valery Tokarev transferred potable water from the two Progress 19 "Rodnik" water tanks (BV1 & BV2) to five EDV containers for subsequent removal of air entrapped in the liquid (to prevent water overheating and steam formation when using the BRPM water distribution & heating unit).   [After hooking up the plumbing (hoses, pressure adapter, electrical cable for the compressor) connecting the 19P water tanks to the EDV container, Valery started the transfer using a compressor pump via GZhS gas/liquid separator, to remove air bubbles in the water, closely monitoring the transfer, squeezing bladders, and opening/closing valves depending on observed bubble size.]
Valery also collected the weekly air data with the new GANK-4M Real-Time Harmful Contaminant Gas Analyzer system of the Service Module (SM)'s pressure control & atmospheric monitoring system (SOGS).
CDR Bill McArthur continued the new round of regular monthly preventive maintenance of Russian segment (RS) air ventilation systems, today replacing the filters of the two PS1 & PS2 dust collectors in theFunktsionalnyi-Grusovoi Blok (FGB) and afterwards cleaning the detachable fan screens of the FGB's three SOTR (thermal control system) gas-liquid heat exchangers (GZhT4).
Later, McArthur performed the weekly spot check on the two new CSA-CP (Compound Specific Analyzer-Combustion Products) units from Progress 19 by measuring the state of their decontamination (by "outgassing") and comparing them with the active (prime and backup) CSA-CPs.   [The latter two are approaching the expiration date of their certification, and the two new units were determined to be just about ready to take over their function.]
The CDR conducted the weekly audit/inventory of the available CWCs (collapsible water containers) and their contents, to keep track of onboard water supplies.   [Updated "cue cards" based on Bill's water calldowns are sent up every other week.]
In their final push for Monday's EVA-4, Bill and Valery conducted their fourth and last EVA procedures review, followed by a refamiliarization with & checkout of the PGT (pistol grip tool) and the torquing of its bayonet lock, as well as a tagup with EVA specialists at MCC-H via S-band/audio to discuss open items.   [Both SAFER (Simplified Aid for EVA Rescue) units have been checked out and are Go for EVA.  A few supplementary pages for the crew's cuff checklists will be uplinked on Saturday.  The use of Russian ID-3 and Pille radiation dosimeters in/on Tokarev's EMU/spacesuit has been approved.  On 11/7, EVA preps are planned to start with suit donning at about 2:45am EST, followed by denitrogenation purging beginning at ~4:45am and Airlock depressurization starting at ~9:00am.  In the RS, Elektron, Vozdukh and SKV air conditioner will be turned off before the EVA, and the pressure C&W switches will be set to 510 mmHg.]  
Valery completed the routine SOZh/ECLSS maintenance in the SM, including ASU toilet facilities, while Bill updated/edited the regular IMS (Inventory Management System) delta file for its automated export/import to the three IMS databases (Houston, Moscow, Baikonur).
Both crewmembers completed their regular 2.5-hr. physical workout program on their exercise equipment, Bill on the TVIS treadmill and RED, Valery on TVIS and VELO bike with bungee cord load trainer.  [Valery's daily protocol prescribes a strict four-day microcycle exercise with 1.5 hr on the treadmill and one hour on VELO plus load trainer (today: Day 1 of a new set).]
Afterwards, McArthur transferred the TVIS and RED exercise data files to the MEC for downlink, as well as the daily wristband HRM (heart rate monitor) data of the RED workout, followed by their erasure on the HRM storage medium (done six times a week).
At ~2:47am EST, the crew used the Sputnik-SM Kenwood D700 amateur radio station in the SM to conduct a 10-min. ham radio session with students of the Kawachi Citizen's Committee for Youth at three local elementary schools in the Kawachi area, Miyoshi, Japan (Hirohima Prefecture).   [A second ham radio station, using Ericsson VHF equipment, is located in the FGB.]
After yesterday's close-out of troubleshooting of the U.S. TCCS (Trace Contaminant Control Subsystem) by the crew, the TCCS is back in operation, but at the reduced flow rate observed before the IFM.  [Specialists have recommended that a new sorbent bed be manifested on the next Progress.]
With TCCS and MCA (Major Constituents Analyzer) both working within their limits, Metox (metal oxide) canister regeneration can proceed next week after the EVA. 
After reviewing the state of EVA preparations, including pertinent Flight Rule updates, the IMMT (ISS Mission Management Team) this morning gave the final Go for Monday's spacewalk by McArthur and Tokarev.
The Elektron oxygen generator switched back to the backup pump after its reactivation following yesterday's replacement of the KOB-2 thermal loop pump and is working nominally on it in 24A mode.  Plans are to let it operate until 11/6 and power it up again after the EVA until the Soyuz relocation on 11/18.
The recent swap-out of the SAMS ICU (Space Acceleration Measurement System/Interface Control Unit) laptop's hard drive did not resolve the problem of the system, which locked up.  Both SAMS and MAMS (Microgravity Acceleration Measurement System), while remaining aboard, will no longer be used due to lack of funding for sustaining engineering and operations.   [In their 4½ years of ISS operations, SAMS and MAMS collected more than three terabytes of data helped countless experimenters and systems specialists understand the microgravity environment, and contributed to the success of the ISS Program and the associated science investigations.  Structural vibrations data are currently also being obtained with the U.S. SDMS (Structural Dynamics Measurement System) on the S0 truss plus the Russian ALO Linear Optical Accelerometer and three sets of Russian IMU microaccelerometer sensors (two in SM, one in FGB).]
The ISS reboost with the Progress 19 propulsion system (DPO) is scheduled for the night of 11/10 (Thursday).   [The earlier reboost attempt at 10/18 was aborted after 117 seconds.  A subsequent hot fire test of the four manifold 2 thrusters on 10/26 was nominal.  As originally planned for 10/18, there will be two burns, at 00:23am & 1:42am (both about 16 min 46 sec in duration, yielding 2.20 m/s delta-V each), conducted with the Progress DPO approach & attitude control thrusters for yaw & pitch control from manifold 2, and the SM MNFD thrusters for roll control, from two manifolds.  Main objective of the reboost is to set up the station's proper orbital phasing angle with regard to Baikonur for the 20P launch on 12/21.]
Today's CEO (crew earth observations) photo targets, limited in the current XPOP attitude by flight rule constraints on the use of the Lab nadir/science window, which is available for only ~1/4 of each orbit when not facing forward (in ram), were N Mariana Islands, & Guam (the mapping of coral reef structures is the focus for this target.  Although nadir views may not have been possible, the crew was to practice with the long lens settings to map details of the coral reef structures of the islands in this long North-South archipelago), Muglad Basin fans, SW Sudan (weather satellite imagery suggested that unusually clear skies prevailed over this large target area at the time of ISS overflight.  Trying for broad, oblique, context views to help identify potential megafan features), and Lake Poopo, Bolivia (this was an excellent, fair-weather pass over the Bolivia's Altiplano Basin.  Using the long lens to map details of the lake shoreline and the margins of the large salars in order to help detect changes in water levels).
To date, over 177,000 of CEO images have been taken in the first five years of the ISS.
 CEO photography can be viewed and studied at the websites:
See also the website "Space Station Challenge" at:
To view the latest photos taken by the expedition 12 crew visit:
Expedition 12 Flight Crew Plans can be found at http://spaceflight.nasa.gov/station/timelines/
Previous NASA ISS On-orbit Status Reports can be found here. Previous NASA Space Station Status Reports can be found here. Previous NASA Space Shuttle Processing Status Reports can be found here. A collection of all of these reports and other materials relating to Return to Flight for the Space Shuttle fleet can be found here.
ISS Orbit  (as of this morning, 7:59am EST [= epoch]):
Mean altitude — 346.0 km
Apogee height — 347.3 km
Perigee height — 344.6 km
Period — 91.46 min.
Inclination (to Equator) — 51.64 deg
Eccentricity — 0.000197
Solar Beta Angle — 25.0 deg (magnitude decreasing)
Orbits per 24-hr. day — 15.74
Mean altitude loss in last 24 hours — 110 m
Revolutions since FGB/Zarya launch (Nov. 98) — 39761
Upcoming Events (all dates Eastern):
11/07/05 — EVA-4 (U.S.; hatch open ~9:30am EST; hatch closing ~3pm)
11/10/05 — ISS Reboost (by 19P; manifold #2)
11/18/05 — Soyuz TMA-7/11S relocation (from DC-1 to FGB nadir port)
12/07/05 — EVA-15 (Russian; under review)
12/20/05 — Progress M-54/19P undocking & reentry
12/21/05 — Progress M-55/20P launch
12/23/05 — Progress M-55/20P docking
01/09/06 — 100 days for Expedition 12.

ISS Altitude History
Apogee height — Mean Altitude — Perigee height
For more on ISS orbit and worldwide ISS naked-eye visibility dates/times, see http://www.hq.nasa.gov/osf/station/viewing/issvis.html. In addition, information on International Space Station sighting opportunities can be found at http://spaceflight.nasa.gov/realdata/sightings/ on NASA's Human Spaceflight website. The current location of the International Space Station can be found at http://science.nasa.gov/temp/StationLoc.html at NASA's Marshall Space Flight Center. Additional satellite tracking resources can be found at http://www.spaceref.com/iss/tracking.html.