NASA Space Station On-Orbit Status 3 June 2004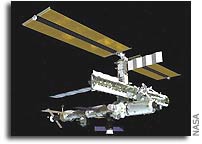 All ISS systems continue to function nominally except those noted previously or below.
Update on Orlan EVA:  The actual date of the spacewalk is still under discussion, with a decision due next Monday (6/7).  Two options are under consideration, both overnight for the U.S.: Tuesday, 6/15, from 9:35pm EDT to 3:05am, and Wednesday, 6/16, from 10:05pm to 3:35am.  A joint US/RS EVA simulation run is scheduled for 6/8, an Orlan suit dry run for 6/11.  The two additional Increment 9 Orlan-EVAs are being planned for 7/22 and 8/24.
In preparation for the upcoming spacewalk, CDR Gennady Padalka installed portable oxygen repress bottles (BNP) in the DC1 docking module and the Service Module (SM)'s work compartment (RO) repress lines.
The crew also prepared the DC1 itself for the EVA, removing temporarily stowed equipment not needed for the spacewalk and recording its interim stowage locations in the station with the IMS (inventory management system).
FE Fincke continued preparing batteries for the EVA.  After reconfiguring an SSC (station support computer) laptop for automated battery maintenance, Mike initiated the discharge/recharge cycle on two EMU batteries (##2047, 2048) in the BSA (battery storage assembly).  The SSC was then reset for nominal ops.  Due to the trip failure of BC2 (battery charger 2), the two remaining charged PGT (pistol grip tool) batteries are meanwhile being discharged in the PGT itself (taking 4-5 hours each), prior to another charging of all three.
FE/SO Michael Fincke completed the periodic one-hour task of inspecting and cleaning hatch seals and hatch plate sealing surfaces in the U.S. segment, working on six hatches, viz., Node (forward, aft & starboard), Lab (aft), and Airlock, in support of regular ACS (atmospheric control system) maintenance.  [Hatch seals are lubricated with Braycote-601, which is also deposited on the sealing surfaces.  Dust and particles (FOD, foreign object debris) can stick to the lubricant and to both seals and sealing surfaces.  These are regularly inspected with a magnifying glass for FOD, nicks, burrs, cuts or gouges that would impair a proper seal, and are cleaned, as required, with brushes, dry wipes and Kapton tape.  (Last time done: 3/15/04).]
In the DC1's caution & warning system (ASS), Padalka installed a spare LKT local temperature sensor commutator (TA251MB) for the BITS2-12 onboard telemetry system, replacing the old unit but retaining its installed ROM (read-only memory) unit (PZU/TA765B).  The work was supported by tagup with a ground specialist, and a test of the LKT was later conducted by TsUP/Moscow remotely via U.S. S-band.
Padalka and Fincke took turns in performing the mandatory Russian pre-EVA MedOps procedure MO-6 (hand-cycle ergometry), each providing pomosh' (assistance) to the other during the individual's 30-min. test run.   [Previous cosmonauts have shown noticeable decrease in arm muscle tone, and TsUP/IBMP (Institute of Biomedical Problems) physical fitness experts have made the tolerance handgrip test analysis (hand ergometry) a standard pre-Orlan EVA requirement.  MO-6 today required the CDR, later the FE, to don the ECG (electrocardiogram) biomed harness, attach three skin electrodes and plug the harness into the PKO medical exam panel on the cycle ergometer.  The exercise itself started after 10 seconds of complete rest, by manually rotating the cycle's pedals, set at 150 W, backwards until "complete exhaustion".  It was supported by tagup with ground specialists.]
Fincke conducted an inventory/audit of ITCS (internal thermal control system) leak safing jumpers and quick disconnect caps and plugs.   [Caps, plugs and jumpers are required to configure the ISS for uncrewed operations (i.e., Soyuz relocation, EVAs, unmanning) and leak safing.  Goal of the audit was to locate and consolidate the ITCS equipment.]
Mike performed the daily leak check on the Lab window pressure test equipment.
The FE also conducted for the third time the regular weekly task of filling out the FFQ (food frequency questionnaire), which keeps a log of his nutritional intake over time on special MEC software.   [From the "job jar" task list.]
 
The CDR completed the daily routine maintenance of the SM's SOZh life support system, and prepared the daily "delta" file for updating the IMS (inventory management system) database(s).
At 9:53am EDT, the station maneuvered from LVLH to XPOP (x-axis perpendicular to orbit plane) attitude.   [Necessary steps leading up to the attitude change included: inhibit RGAC (radiator goal angle calculation) software, reset filters in the U.S. segment (USOS) attitude system from the Russian segment (RS) attitude, update ACS (attitude control system) parameter tables, dump stored CMG (control moment gyro) data to the ground, and hand over attitude control to the RS (at 9:40am).  After the maneuver, the U.S. SAWs (solar array wings) were set to solar autotrack, with a bias of 47 deg for both BGAs (beta gimbal assemblies) to reduce orbital drag, and attitude control authority was returned to U.S. CMGs at 10:25am.]
Full calibration of one (#1010) of the two CSA-CPs (compound specific analyzer-combustion products) that arrived with 14P is scheduled for tomorrow.   [The MCA (major constituents analyzer), to provide calibration reference, will need to operate for ~6 hours prior to the calibration.  It will be activated overnight and configured from LEM (life extension mode) to Operate.]
All U.S. SSC laptops (A31p ThinkPads) and the SSC file server will receive new software loads (version 7.1; plus 3.1 for the server), scheduled on Saturday (6/5) per crew suggestion.
Yesterday's checkout of Backup Control Center (BCC) swing and activation procedures, used in the event of a contingency, was successfully completed, with no crew or station involvement. 
As a test of backup communications the crew's evening DPC (daily planning conference) on Friday (6/4) will be conducted via the U.S. CONUS VHF (very-high frequency) comm stations at Dryden, White Sands and Wallops.
Moscow reported Progress 14P unloading complete.
Progress M1-11/13P did not reenter on 5/24 after separation but continued in free flight for engineering tests conducted by Moscow until today.  Its 79.4 m/s deorbit burn was this morning at 5:50am EDT, and its destructive reentry began at ~6:26am.
Today's CEO (Crew Earth Observations) photo targets, limited in XPOP attitude by flight rule constraints on the use of the science window, which is available for only ~1/4 of each orbit when not facing forward (in "ram"), were Delhi, India (chance for a shot of India's capital.  Nadir pass.  Looking along the Yamuna River at the focus point of several transport routes.  Delhi's population is 13.8 million), Cairo, Egypt (Nadir pass.  Greater Cairo [which includes the city of Giza on the west bank of the Nile opposite Cairo] has an estimated population of 13.1 million [20% of Egypt's population].  More than one 180 mm-image may be needed for this expansive city), Tel Aviv, Israel (nadir pass.  Tel Aviv's population is 369,000.  Looking right for views of the Dead Sea), Aral Sea (pass along the NW shoreline of the sea: this may allow broader views of the sea), and Madrid, Spain (ISS tracked SE of the city.  Looking left.  Madrid proper has a population of 3.3 million).
CEO images can be viewed at the websites.
See also the website "Space Station Challenge" at
U.S. and Russian Segment Status  (as of today, 12:50pm EDT).
Environmental Control and Life Support (ECLSS) and Thermal Control (TCS):
Elektron O2 generator is On.  Vozdukh CO2 scrubber is On.  U.S. CDRA CO2 scrubber is Off.  TCCS (trace contaminant control subsystem) is operating.  SM Gas Analyzer has been calibrated and is used for ppO2 & ppCO2 monitoring.  MCA (major constituents analyzer) is in Life Extending Mode (LEM).  BMP Harmful Impurities unit: absorbent bed #1 in Purify mode, bed #2 in Purify mode.  RS air conditioner SKV-1 is On, SKV-2 is Off (SM panel mods completed 4/8; SKV-2 activation failed 4/20; is now functioning again).  SFOG slot #2 fan suspect (not usable).

SM Working Compartment:  Pressure (mmHg) — 742; temperature (deg C) — 25.6; ppO2 (mmHg) — 157.1; ppCO2 (mmHg) — 3.4;
SM Transfer Compartment:  Pressure (mmHg) — 752; temperature (deg C) — 20.7.
FGB Cabin:  Pressure (mmHg) — 756; temperature (deg C) — 22.3.
Node:  Pressure (mmHg) — 750.89; temperature (deg C) — 23.0 (shell); ppO2 (mmHg) — n/a; ppCO2 (mmHg) — n/a.
U.S. Lab:  Pressure (mmHg) — 752.9; temperature (deg C) — 24.7; ppO2 (mmHg) — n/a; ppCO2 (mmHg) — n/a.
Joint Airlock (Equip. Lock):   Pressure (mmHg) — 753.10; temperature (deg C) — 21.6; shell heater temp (deg C) — n/a, ppO2 (mmHg) — n/a; ppCO2 (mmHg) — n/a.

(n/a = data not available)

PMA-1:  Shell heater temp (deg C) — n/a
PMA-2:  Shell heater temp (deg C) — n/a.
Electrical Power Systems (EPS):
Both P6 channels fully operational.  BGA (beta gimbal assembly) 2B and 4B both in Autotrack (solar-tracking, "sun slicer", i.e., drag reduction-biased by 47 deg).
SM batteries:  Battery #3 is on line in "Cycle" mode.  All other batteries (7) are on line in "Partial Charge" mode.  
FGB batteries:  Battery #5 is off line; all other batteries (5) are on line in "Partial Charge" mode.
Plasma Contactor Unit PCU-1 is in Standby mode; PCU-2 is in Standby mode.
Command & Data Handling Systems:
C&C-1 MDM is prime, C&C-2 is backup, and C&C-3 is in standby.
GNC-2 MDM is prime; GNC-1 is backup.
INT-2 is operating; INT-1 is Off.
EXT-1 is On (primary), EXT-2 is Off (backup).
LA-1, LA-2 and LA-3 MDMs are all operating.
PL-1 MDM is Off; PL-2 MDM is Operational.
APS-1 (automated payload switch #1) and APS-2 are both On.
SM Terminal Computer (TVM): 2 redundant lanes (of 3) operational (string 1 dropped out 11/22/03).
SM Central Computer (TsVM): 2 redundant lanes (of 3) operational (string #3 dropped out 10/22/03).
FGB MDM-1 is Off (failed, 11/21/03); MDM-2 is Operational.
Propulsion System:
Total propellant load available: 3436 kg (7575 lb) as of 5/20/04;  [SM(552) + FGB(2884) + Progress M-1(0)].  (Capability: SM — 860 kg; FGB — 6120 kg).
Attitude Control Systems:
2 CMGs on-line (CMG-1 failed, since 6/6/02; CMG-2's RPC-17 failed 4/21/04).
State vector source — U.S. SIGI-1 (GPS)
Attitude source — U.S. SIGI-1 (GPS)
Angular rate source — RGA-1
Flight Attitude:
XPOP (x-axis perpendicular to orbit plane = "sun-fixed" [yaw: 0.5 deg, pitch: -9.0 deg., roll: 0 deg]), with CMG TA (thruster assist).
Communications & Tracking Systems:
FGB MDM-1 is powered Off; FGB MDM-2 is operational.
All other Russian communications & tracking systems are nominal.
S-band is operating nominally (on string 2).
Ku-band is operating nominally (may require a mask).
Audio subsystem is operating nominally (IAC-1 is prime, IAC-2 is off).
Video subsystem operating nominally.
HCOR (high-rate communications outage recorder) is operating nominally.
Robotics:
SSRMS/Canadarm2 based at Lab PDGF/LEE A, operational on redundant string, off on prime.
MBS: KA (keep alive) power on both strings. 
MT: latched and mated at WS4. 
POA: KA power on both strings.
RWS (robotics workstations): Lab RWS is On (DCP connected); Cupola RWS is Off.
ISS Orbit  (as of this morning, 6:36am EDT [= epoch]):
Mean altitude — 362.7 km
Apogee — 366.6 km
Perigee — 358.8 km
Period — 91.8 min.
Inclination (to Equator) —  51.6337 deg
Eccentricity — 0.0005741
Solar Beta Angle —  -10.1 deg
Orbits per 24-hr. day — 15.69
Mean altitude loss in last 24 hours — 50 m
Revolutions since FGB/Zarya launch (Nov. '98)  — 31615
For more on ISS orbit and worldwide ISS naked-eye visibility dates/times, see
 http://www.hq.nasa.gov/osf/station/viewing/issvis.html