NASA Space Station On-Orbit Status 3 August 2004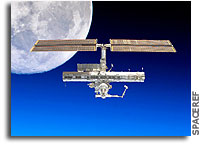 SpaceRef note: This NASA Headquarters internal status report, as presented here, contains additional, original material produced by SpaceRef.com (copyright © 2004) to enhance access to related status reports and NASA activities.
All ISS systems continue to function nominally except those noted previously or below. 
Today's Orlan EVA10 by CDR Padalka and FE/SO Fincke was yet another great success for Expedition 9.  Spending 4.5 hours outside the Russian segment (RS), the two spacewalkers swapped out experiments and installed new hardware associated with Europe's ATV (Automated Transfer Vehicle).  All objectives were accomplished in much less time than expected.   [After DC1 airlock hatch opening at 2:58am EDT, 16 min. earlier than planned, Padalka and Fincke proceeded to the aft end of the Service Module (SM).  There they replaced the SKK-2 materials exposure experiment with SKK-3 and the Kromka-2 contamination-monitoring device with Kromka-3.  They also installed an internal VVT (Visual Video Target) and two antennas (WAS1 & 2) for the PCE (Proximity Communication Equipment) with their cabling, disconnected a cable from a failed outside camera (which will be replaced in the future), replaced three LRRs (Laser Retro Reflectors) for the ATV with newer, improved versions, installed a three-dimensional LRR instead of three older LRRs and removed a Platan-M materials exposure unit. 
On returning to the station, they brought back six old LRRs, Kromka-2, SKK-2 and Platan-M.  During the spacewalk, when the U.S. CMGs approached their momentum saturation level (a condition that had been expected) the ISS was temporarily placed in free drift.  Later, with the spacewalkers keeping a safe distance, SM thrusters fired to desaturate the CMGs, which afterwards resumed station attitude control for improved S-band comm.   DC1 hatch closure occurred at 7:58am, after 4 h 30 min.  This was the 55th EVA in support of ISS assembly/maintenance, the 30th from the station itself, the fifth for Gennady Padalka and the third for Mike Fincke.]
After repressurizing the DC1 airlock, the crew opened hatches and reentered the SM.  ISS total pressure at this time was about 725-727 mmHg (Torr).  According to US/Russian agreement, the compensation for atmosphere losses after the EVA was to be carried out from the US tanks, requiring ~15 kg of nitrogen (N2) to compensate for air losses.  [This brought total pressure back to 750 mmHg, with an oxygen (O2) content of 22,8%.  This post-EVA10 total pressure provides the required conditions to carry out EVA11 next month.  Progress-15 air reserves, after its arrival, shall be used to compensate for atmosphere losses after EVA11, using up the entire amount of air reserves of ~20 kg.]
 
Earlier this "morning", after wakeup at 6:05pm last night, Padalka and Fincke took another MO-9 urine biochemistry test.  A second session with the Urolux equipment was conducted by both crewmembers after the EVA.  The CDR then stowed the gear.
Also before the EVA, Mike Fincke reconfigured the U.S. ITCS (internal thermal control system) in the Lab for unmanned operation.   [The procedure left String 1 of critical USOS flight electronics be cooled by the LTL (low temperature loop) pump and the string 2 cooled by the MTL (moderate temperature loop) pump.  This is done so that an MTL failure does not cause a complete loss of cooling to all USOS avionics.]
Meanwhile, Gennady Padalka made final preparations in the DC1 and SM PkhO compartments.
After the EVA, Padalka reactivated ISS systems, including restored the DC1 and other RS modules to pre-EVA conditions.  He powered up the new Sputnik-SM "Kenwood D700" amateur radio station and reconfigured onboard comm systems for non-EVA activity.  All RS systems were to be restored to pre-EVA conditions,
At ~11:50am Mike began reopening of the USOS transfer hatches from the RS, viz., the hatches between Lab and Node, between Node and Lab, Node Stbd (towards the Airlock), and between Node and PMA.  Subsequently, the FE will restore the TCS and the OpsLAN.
Bunk time begins later this afternoon at 2:00pm, to extend till 2:00am tomorrow morning, to return the crew to their nominal sleep cycle.
At 11:24am, the station maneuvered from LVLH XVV (local vertical/local horizontal — X-axis in velocity vector, i.e. bow forward) to XPOP (X-axis perpendicular to orbit plane), pitch: 0.8 deg, yaw: -8.0 deg, roll: 0 deg.
Major upcoming events:
EVA debrief, etc. — 8/4;
Progress 15P launch — 8/11 (1:01am EDT);
Progress 15P docking — 8/14 (2:05am EDT).
Expedition 9 Flight Crew Plans can be found at http://spaceflight.nasa.gov/station/timelines/
Previous NASA ISS On-orbit Status Reports can be found here. Previous NASA Space Station Status Reports can be found here. Previous NASA Space Shuttle Processing Status Reports can be found here. A collection of all of these reports and other materials relating to Return to Flight for the Space Shuttle fleet can be found here.
ISS Orbit  (as of this morning, 6:33am EDT [= epoch]):
Mean altitude — 357.5 km
Apogee height — 361.6 km
Perigee height — 353.4km
Period — 91.7 min.
Inclination (to Equator) — 51.63 deg
Eccentricity — 0.0006124
Solar Beta Angle — -22.0 deg
Orbits per 24-hr. day — 15.70
Mean altitude loss in last 24 hours — 80 m
Revolutions since FGB/Zarya launch (Nov. '98)  — 32574
ISS Altitude History
Apogee height — Mean Altitude — Perigee height
For more on ISS orbit and worldwide ISS naked-eye visibility dates/times, see http://www.hq.nasa.gov/osf/station/viewing/issvis.html. In addition, information on International Space Station sighting opportunities can be found at http://spaceflight.nasa.gov/realdata/sightings/ on NASA's Human Spaceflight website. The current location of the International Space Station can be found at http://science.nasa.gov/temp/StationLoc.html at NASA's Marshall Space Flight Center. Additional satellite tracking resources can be found at http://www.spaceref.com/iss/tracking.html.