NASA Space Station On-Orbit Status 28 Nov 2003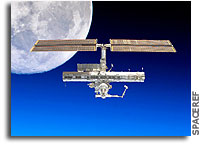 All ISS systems continue to function nominally, except as noted
previously or below.
The crew worked on setting up the payload hardware for the upcoming
PFMI (Pore Formation and Migration Investigation) experiment. [Mike
Foale and Alex Kaleri activated the MSG (Microgravity Science
Glovebox) support systems and installed the PFMI thermal chamber in
the MSG work volume, as well as the PCM (processing chamber module)
and DaqPad.  For the MSG laptop computer (MLC), Mike set up the PFMI
g-LIMIT (Glovebox Integrated Microgravity Isolation Technology) bypass
micro drive assembly.  Preparation of the MSG video/photo equipment
and conducting PFMI documentary photography was deferred due to time
constraints.]
For the upcoming experiment session of FOOT (Foot/Ground Reaction
Forces during Space Flight), Mike Foale transferred his personal
montage file on an HRF (human research facility) flash card to the HRF
PC into a specific directory for all future FOOT activities. [Wearing
specially instrumented garment and shoes, Foale will go through a
typical on-orbit day while reaction forces against the ISS structure
are recorded passively to determine how much stress his legs and feet
endure.  This provides better understanding of the bone loss and loss
of muscle mass experienced by astronauts in zero-G (on Mir, for
example, cosmonauts lost as much bone mass in a month as
post-menopausal women do in a year).]
Planned EPO (Educational Payloads Operation) activities were cancelled
for today due to time limitations.
Alexander Kaleri continued the new round of periodic preventive
maintenance of Russian segment (RS) ventilation systems, today
cleaning the Group B ventilation fans in the Service Module (SM),
including a checkout of the ventilators and a thorough cleaning of fan
screens and flexible air ducts (but not the VV1RO & VV2RO air duct
fans and VOL ventilation grids, as per instruction).
Mike used the CDMK (carbon dioxide monitoring kit) to take a reading
of the CO2 partial pressure, for calldown to the ground (along with
the battery status), used in trending of CO2 levels on board.
The originally planned temporary opening of the MCA (major
constituents analyzer) valve in the Lab (and subsequent closing) by
Foale was deferred to tomorrow (11/29).
Both crewmembers completed physical exercise on CEVIS bike, VELO
ergometer and RED exerciser.  Mike then transferred data files from
the physical exercise equipment to the MEC (medical equipment
computer) via memory card and RED log entries, for downlink on OCA
comm.
Later, the CDR also performed the periodic transfer of accumulated
data files from the wristband HRM (heart rate monitor) receiver
stations to the MEC for downlink, and then deleted them on the HRM.  
TVIS Update:  As of tomorrow, crew exercise will again include use of
the TVIS treadmill, since Moscow has signed off today on its operation
without the VIS (vibration isolation system), valid for a period of
two weeks.  The crew will set up the video equipment for recording
tomorrow's TVIS exercising for ground review.
Sasha Kaleri completed the daily routine maintenance of the SM's SOZh
life support system, including ASU toilet facilities, as well as the
preparation of the "delta" file for updating the IMS, while Mike
performed the regular routine status checkup of running Expedition 8
payloads.
Kaleri also conducted his regular weekly IMS (inventory management
system) tagup with IMS specialists at MCC-M, discussing open issues
concerning identification of equipment and storage locations for the
IMS databases.
Sasha performed the regular once-a-week maintenance reboot on the
operational PCS laptops.  He also rebooted the OCA comm router laptop
(every two weeks).
At dinnertime, the crew is continuing daily to support the Renal Stone
prevention experiment by taking the test medication (either potassium
citrate or placebo tablets) until the next sample collection phase
early next year.
ISS flight attitude continues in LVLH XVV (local vertical/local
horizontal, x-axis in velocity vector, i.e. belly surface always
toward Earth).
 
Because of the Thanksgiving holiday yesterday, there are no CEO (crew
earth observation) targets today.
CEO images can be viewed at the websites.
See also the website "Space Station Challenge" at
U.S. and Russian Segment Status (as of 1:30pm EST).
Environmental Control and Life Support (ECLSS) and Thermal Control
(TCS):
Elektron O2 generator is powered On, 19A.  Vozdukh CO2 scrubber is On
(in Manual Mode 5/3).  U.S. CDRA CO2 scrubber is on Standby (ready in dual-bed mode).  TCCS (trace contaminant control subsystem) is operating.  MCA (major constituents analyzer) is off (in Life Extending Mode).  BMP Harmful Impurities unit: absorbent bed #1 in Purify mode, bed #2 in Purify mode.  RS air conditioner SKV-1 is On; SKV-2 is Off.

SM Working Compartment:  Pressure (mmHg) — 742; temperature (deg C) — 25.9; ppO2 (mmHg) –152.4; ppCO2 (mmHg) — 3.7.
SM Transfer Compartment:  Pressure (mmHg) — 751; temperature (deg C) — 19.5.
FGB Cabin:  Pressure (mmHg) — 752; temperature (deg C) — 21.3.
Node:  Pressure (mmHg) — 740.71; temperature (deg C) — 22.6 (shell);
ppO2 (mmHg) — n/a; ppCO2 (mmHg) — n/a.
U.S. Lab:  Pressure (mmHg) — 742.69; temperature (deg C) — 25.0;
ppO2 (mmHg) — n/a; ppCO2 (mmHg) — n/a.
Joint Airlock (Equip. Lock):   Pressure (mmHg) — 743.90; temperature
(deg C) — 25.1; shell heater temp (deg C) — 22.8, ppO2 (mmHg) — n/a; ppCO2 (mmHg) — n/a.
PMA-1:  Shell heater temp (deg C) — 23.1
PMA-2:  Shell heater temp (deg C) — 20.7
(n/a = data not available)
Electrical Power Systems (EPS):
Both P6 channels fully operational.  BGA (beta gimbal assembly) 2B and 4B both in biased Autotrack mode (suntracking). 
SM batteries:  Battery #8, formerly known as #7, is still in slot #8 for troubleshooting; all other batteries (7) are in "Partial Charge" mode (batteries #1 and #3 are degraded).  
FGB batteries:  Battery #5 is off; battery #3 is in "Cycle" mode; all other batteries (4) are in "Partial Charge" mode.
Plasma Contactor Unit PCU-1 in Standby mode; PCU-2 in Standby mode.
Command & Data Handling Systems:
C&C-2 MDM is prime, C&C-1 is back-up, and C&C-3 is in standby.
GNC-1 MDM is prime; GNC-2 is Backup.
INT-2 is operating; INT-1 is Off.
EXT-2 is On (primary), EXT-1 is Off (both now upgraded to R3).
LA-1, LA-2 and LA-3 MDMs are all operating.
PL-1 MDM is Off; PL-2 MDM is Operational.
APS-1 (automated payload switch #1) and APS-2 are both On.
SM Terminal Computer (TVM): 3 redundant lanes (of 3) operational (all lanes reintegrated 11/5).
SM Central Computer (TsVM): 2 redundant lanes (of 3) operational; string #3 dropped out 10/22.
Propulsion System:
Total propellant load available:3704 kg (8166 lb) as of 11/13 [SM(755) + FGB(2597) + Progress M(352) + Progress M-1(0)].  (Capability: SM — 860 kg; FGB — 6120 kg).
Attitude Control Systems:
3 CMGs on-line (CMG-1 failed).
State vector source — U.S. SIGI-1 (GPS)
Attitude source — U.S. SIGI-1 (GPS)
Angular rate source — RGA-1
Flight Attitude:
LVLH  XVV (local vertical/local horizontal = "earth-fixed": z-axis in local vertical, x-axis in velocity vector [yaw: -10 deg, pitch: -9.4 deg, roll: 0 deg]), with CMG/TA (thruster assist) Momentum Management.
Communications & Tracking Systems:
FGB MDM-1 is powered Off; FGB MDM-2 is operational.
All other Russian communications & tracking systems are nominal.
S-band is operating nominally (on string 2).
Ku-band is operating nominally.
Audio subsystem is operating nominally (IAC-2 is prime, IAC-1 is suspect).
Video subsystem operating nominally.
HCOR (high-rate communications outage recorder) is operating nominally.
Robotics:
SSRMS/Canadarm2 based at MBS PDGF #2/LEE A, with Keep Alive (KA) power on both strings.
MBS: KA power on both strings. 
MT: latched and mated at WS4. 
POA: KA power on both strings.
RWS (robotics workstations): Lab RWS is On (DCP connected); Cupola RWS is Off.
ISS Orbit  (as of this morning, 5:06am EST [= epoch]):
Mean altitude — 373.6 km
Apogee — 377.8 km
Perigee — 369.4 km
Period — 92.0 min.
Inclination (to Equator) —  51.63 deg
Eccentricity — 0.0006217
Orbits per 24-hr. day — 15.65
Mean altitude loss in last 24 hours — 200 m
Revolutions since FGB/Zarya launch (Nov. '98)  — 28667
For more on ISS orbit and worldwide naked-eye visibility dates/times,