NASA Space Station On-Orbit Status 27 Oct 2003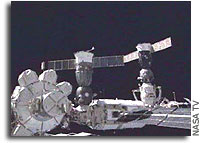 All ISS systems continue to function nominally, except as noted previously or below.  (Today 42 years ago (1961), the first Saturn-1 superheavy launch vehicle thundered into the Florida skies, introducing the world to America's Apollo lunar landing program.   SA-1 was followed by nine more Saturn I missions, then by nine flights of its uprated Saturn IB version, and finally by 13 missions of the giant Saturn V for the lunar landing.  Of the those 32 Saturn missions, not a single one failed).
At the ISS, after hatch closure at ~3:05pm EST and hatch leak checks at 3:25pm, the return to Earth of Soyuz TMA-2/6S with the Expedition 7 crew (Yuri Malenchenko, Edward Lu) and ESA visiting astronaut Pedro Duque is scheduled to proceed along the following events sequence (all times EST):
ISS free drift & FGB nadir port hooks open — 4:42pm (ISS return to attitude control);
ISS maneuvers to 6S undocking attitude — 5:44pm;
Hooks Open command — 6:14pm;
Separation springs action (delta-V ~0.12 m/sec) — 6:17pm;
Separation burn (15 sec, ~.56 m/sec) — 6:20pm;
ISS maneuvers to XPOP attitude — 6:22pm;
ISS maneuvers to Experiment "Relaksatsiya" attitude — 8:20pm;
Deorbit Burn (4 min., delta-V 115 m/sec) — 8:44pm;
ISS maneuvers to XPOP (remaining thru 11/3) — 8:54pm
Module separation — 9:13pm;
Atmospheric entry — 9:17pm;
Parachute deploy command — 9:26pm;
Attitude control is handed back to US — 9:30pm
6S Landing (nominally) — 9:41pm.
Wake-up was back to nominal: at 07:00 GMT (2:00am EST), followed by breakfast, work prep and DPC (daily planning conference).  The crew then had a busy day with final packing, transfers, handovers from Expedition 7 to Expedition 8 and preparations for the undocking.  Sleep period will begin later than usual, at 10:00pm tonight, in consonance with TMA-2 departure and post-departure activities
In regular medical pre-return tradition, before breakfast CDR Yuri Malenchenko "donated" oral samples for the Russian MBI-3 Parodont experiment, stowing the saliva sample test tubes and Parodont kit in Soyuz 6S for return, labeled as "urgent cargo".  [Parodont is an experiment of human periodontal (gum) tissue research.]
Afterwards, Malenchenko also completed the scheduled Russian MedOps (SZM-MO-22) sanitary-epidemiological status experiment, taking samples from cabin surfaces in the SM (6 locations), FGB (5 locs.), and Node (1 loc.), to be returned to the ground on 6S, along with samples from crewmembers, for sanitation and disease studies.
Other Russian and ESA/Cervantes experiments deactivated, closed out, transferred and stowed aboard the TMA-2 Descent Module (DM) were
BIO-10 Intercellular Interaction experiment samples, from the SM's Kriogem-03 freezer;
BTKh-2 MIMETIK-K technology experiment samples (protein crystal growth);
BTKh-11 BIODEGRADATSIYA ("biodegradation") samples; 
BTKh-20 INTERLEUKIN technology experiment samples (protein crystal growth);
BTKh-32 MSK (Mesenchymal Stem Cells) samples, from Kriogem freezer;
AGEING fruit fly biocontainers;
CHONDRO (cartilage tissue and structure growth);
GENETIC EXPRESSION (gene development of Drosophila Melanogaster fly chrysalises);
MSS2/MESSAGES (bacterial mobility and genetic processes);
ROOT (changes in a cell nucleus during growth);
AQUARIUS-B incubator equipment;
SYMPATHO-2 (changes in sympathoadrenal activity);
WINOGRAD (student experiment with growth of Winogradski columns);
NANOSLAB samples were stowed in 6S; equipment was moved from MSG to the RS;
CGBA (commercial generic bioprocessing apparatus), removal of the NASDA/GCF (Granada Crystallization Facility) and stowage in 6S. CGBA will remain powered for a few days for performance evaluation at different temperatures.
 For the PromISS-2 experiment, VCFE Pedro Duque terminated its run in the MSG glovebox, dismantled and stored the equipment, then downloaded its data to a microdisk drive for return and packed up.  [Data received on the ground indicated that the science return is "much better than expected".]
FE-8 Aleksandr Kaleri completed the regular inspection of the BRPK air/liquid condensate separator system in the Service Module (SM).
In the Lab, CDR-8 Mike Foale demated QD connectors in the Node to power down the CDRA (carbon dioxide removal assembly).  [After its temporary drop-out to single-bed mode last Saturday, the U.S. CDRA (carbon dioxide removal assembly) recovered and has since been running nominally.]
Kaleri conducted the routine technical maintenance of the SM's SOZh environment control & life support system, incl. the toilet equipment (ASU), while Foale performed the regular routine status checkup of autonomous Lab payloads.
For observing the Soyuz thruster plumes during the deorbit maneuvers and the Earth's limb, Kaleri installed the geo-physical GFI-1 Relaksatsiya ("relaxation") experiment, reconfiguring the Russian payload laptop 3 for the experiment and mounting the ultraviolet (UV) camera with spectrometer unit at SM window #9, with its cover open.  [Relaksatsiya deals with the study of the chemoluminescent chemical reactions and atmospheric light phenomena (emissions) that occur during high-velocity interaction between the exhaust products from space vehicles and the atmosphere at orbital altitude and during the entry of space vehicles into the Earth's upper atmosphere.  Purpose of the current experiment is to record the TMA-2 thruster plumes (by UV-video) at 8:44pm and the emission layer of the atmosphere at the Earth's limb at 8:47-8:54pm.  After Soyuz' entry, the experiment will be torn down and stowed again.]
At ~1:30pm Yuri Malenchenko and Sasha Kaleri set up and tested the communications configuration (STTS) for Soyuz undocking and descent, followed by Yuri and Pedro activating the TMA-2 spacecraft for the undocking and return.  
 
The returning Expedition 7 crew will enter the Soyuz spacecraft via FGB nadir port tunnel, with the closing ceremony with TV downlink at ~3:05pm, marking the official end of Increment 7.  Next will be leak check operations of about 50 minutes, with 30 minutes of no pressure change of the docking vestibule (transfer tunnel between SM and Soyuz) signifying seal pressure tightness.
After hatch closure. TsUP has the option to shut down the Russian SKV-1 air conditioner and switch the Elektron O2 generator to the lower 18 amps setting, if conditions permit.
Because atmospheric entry interface occurs before Soyuz experiences sunrise and terminator crossing, its plasma trail may be visible over the dark Earth.
For the reentry, all crewmembers will wear the Russian Kentavr anti-G suit.   [The Kentavr garment is a protective anti-g suit ensemble to facilitate the return of a long-duration crewmember into the Earth gravity.  Consisting of shorts, gaiters, underpants, jersey and socks, it acts as countermeasure for circulatory disturbance, prevents crewmember from overloading during descent and increases orthostatic tolerance during post-flight adaptation.  Malenchenko was also advised to ingest fluid-electrolyte additives, viz., three sodium chloride pills during the midday meal and three more during the meal aboard Soyuz 6S before deorbit.]
The 10/25 removal and replacement of the gas trap in EMU #3013 did not help to re-establish proper coolant flow through the spacesuit.  Of three potential items causing the trouble, the gas trap is the only component that could be replaced on orbit.  EMU #3013 continues to be "No Go", and a new plan must be developed.
There are still three open issues in the RS: (1) Lane 3 down in Central Computer TsVM; (2) lane 2 down in Terminal Computer TVM; (3) battery #8 off-line in the SM.  TsUP/Moscow has determined this situation to be stable and fully in support of the undocking.
U.S. TV cannot cover the undocking due to non-availability of Ku-band during this period.  TsUP will have access to the Russian (mostly military) Molniya satellite to relay telemetry and video of the undocking from the Russian ground sites (RGS) to Moscow and thence to MCC-Houston.
On-orbit stowage has been identified as a major concern that must be addressed ASAP in Increment 8 to avoid blocking safety-critical zones, including fireports in console and wall panels.  [Both PMA-2 (pressurized mating adapter #2) and PMA-3 have been found acceptable as potential stowage "warehouses".   Items for stowage are being identified at present both at MCC-H and MCC-M, and 11/4 has tentatively been scheduled for the more important stowage transfers.]
At this time, TsUP has not been able to confirm that the crew was successful in stowing the SSAS (solid sorbent air sampler) in the 6S Descent Module.  At least two GSCs (grab sample containers) will return as high-priority items, in any case.   [SSAS is a battery operated, active air sampler measuring 11.6 x 22.9 x 11.6 cm without packing.  Volatile organic compounds in the air are absorbed onto the resins contained in each sampler tube. The sampling period for the SSAS pump is nominally 24 hours.   On orbit the SSAS is used to collect periodic scheduled archival air samples, which are analyzed postflight on the ground.  SSAS consists of 8 tubes, a diaphragm sampling pump, and a 16-port valve  (2 valves per tube). Each tube contains a dual-sorbent bed consisting of Tenax and Carboxen 569 resins.  GSC is a valve-operated stainless steel container measuring 19.1 x 12.212.7 x 12.28.9 cm, which is evacuated of air during preflight ops and used to collect instantaneous (grab) samples for later analysis on the ground.]
ISS Orbit  (as of this morning, 7:35am EST [= epoch]):
Mean altitude — 379.2 km
Apogee — 383.6 km
Perigee — 374.8 km
Period — 92.1 min.
Inclination (to Equator) —  51.63 deg
Eccentricity — 0.0006528
Orbits per 24-hr. day — 15.63
Mean altitude loss in last 24 hours — 150 m
Revolutions since FGB/Zarya launch (Nov. '98)  — 28168
For more on ISS orbit and worldwide naked-eye visibility dates/times, see http://www.hq.nasa.gov/osf/station/viewing/issvis.html
What will the Soyuz TMA-2/6S crew (Expedition 7 + Pedro Duque) encounter during reentry/descent?
On descent day (10/27):
Special attention will be paid to the need for careful donning of the medical belt with sensors and securing tight contact between sensors and body.
During preparation for descent, before atmosphere reentry, the crew should settle down comfortably in the seat, fasten the belts, securing tight contact between body and the seat liner in he couch.
During de-orbit:
Dust particles starting to sink in the Descent Module cabin is the first indication of atmosphere reentry and beginning of G-load effect.  From that time on, special attention is required as the loads increase rapidly.
Under G-load effect during atmosphere reentry the crew can expect the following sensations:
Sensation of G-load pressure on the body, "burden in the body", labored breathing and speech. These are normal sensations, and the advice is to "take them coolly".  In case of the feeling of a "lump in the throat", this is no cause to "be nervous".  This is frequent and should not be fought.  Best is to "try not to swallow and talk at this moment".  Crew should check vision and, if any disturbances occur, create additional tension of abdominal pressure and leg muscles (strain abdomen by pulling in), in addition to the "Kentavr" anti-G suit .
During deployment of drogue and prime parachutes the impact accelerations will be perceived as a "strong snatch".  No reason to become concerned about this but one should be prepared that during the parachutes deployment and change of prime parachute to symmetrical suspension swinging and spinning motion of the Descent Module occurs, which involves vestibular (middle ear) irritations.
It is important to tighten restrain system to fasten pelvis and pectoral arch.
Vestibular irritation can occur in the form of different referred sensations such as vertigo, hyperhidrosis, postural illusions, general discomfort and nausea.  To prevent vestibular irritation the crew should "limit head movement and eyes movement", as well as fix their sight on motionless objects.
Just before the landing (softened by six small rocket engines behind the heat shield): 
Crew should be prepared for the vehicle impact with the ground, with their bodies fixed along the surface of the seat liner in advance.  "Special attention should be paid to arm fixation to avoid the elbow and hand squat".
After landing:
Crew should not get up quickly from their seats to leave the Descent Module. They are advised to stay in the couch for several minutes and only then stand up.  In doing that, they should limit head and eyes movement and avoid excessive motions, proceeding slowly.  They and their body should not take up earth gravity in the upright position too quickly.