NASA Space Station On-Orbit Status 27 July 2004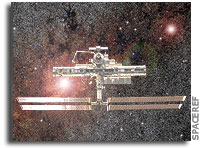 SpaceRef note: This NASA Headquarters internal status report, as presented here, contains additional, original material produced by SpaceRef.com (copyright © 2004) to enhance access to related status reports and NASA activities.
All ISS systems continue to function nominally except those noted previously or below.  
The crew completed another MO-5 MedOps session of Cardiovascular Evaluation During Graded Exercises on the VELO cycle ergometer, a pre-Orlan EVA requirement.  Each crewmember in turn assisted the other as CMO (crew medical officer).   [The assessment uses the Gamma-1 ECG equipment with biomed harness, skin electrodes and a blood pressure and rheoplethysmograph cuff wired to the cycle ergometer's instrumentation panels.  For the graded exercise, the crewmember works the pedals after a prescribed program at load settings of 125, 150, and 175 watts for three minutes each.  All measurements are recorded for downlink to TsUP.  Today's sessions were timed such that they could be supported by tagup with specialists during Russian ground site (RGS) passes.]
Continuing their preparations for the 8/3 spacewalk, the crew activated and inspected the Orlan suits.  Each crewmember gathered, laid out, and installed the replaceable components (OTA) and auxiliary gear for their particular "skaphandr" suits.  The activities were supported by tagup with ground specialists.   [Assembled were portable primary & backup O2 tanks (BK-3), LiOH canisters (LP-9), primary & backup oxygen tanks (BK-3), moisture collectors, KVO liquid cooling garments, ShL-10 headsets, GP-10K gloves, BK-10 undergarments, socks, filters for feedwater lines (FOR), CO2 measuring unit (IK) filter, filtration & separation units (BOS), IK Orlan measurement unit, BOS degassing pump, 825M1 "akkumulyatoriy" (storage batteries), etc.]
Other pre-EVA tasks performed by Padalka and Fincke today included the "degassing" (water separation) of the Orlan BSS water/gas separation systems in the Service Module Transfer Compartment (SM PkhO) and in the DC1 docking compartment/airlock, setup & checkout of communications for the Orlans and BSS interface units, and setting up the gear required for the excursion.
Both crewmembers also worked on the EVA support panels (POV) in the Russian segment (RS) conducting function tests of the hatch KVDs (pressure equalization valves, PEVs) via the POVs, – Mike in the SM PkhO, Gennady in the DC1.
In the SM, Gennady Padalka terminated the bake-out cycle on the BMP micropurification system's channel 2 in the SM, moding the channel back to Purify.  This restored both filter beds to Purify mode.  [The regeneration of the air purifier filter beds is repeated every 20 days.  Each bakeout to space vacuum takes about 24 hours.]
In accordance with the new jointly approved ISS Repress Plan, the crew today was to perform the first of two refreshes with oxygen (O2) from the Progress 14P storage tank, with the MCA (major constituents analyzer) powered up during the operation.  Total stack pressure was to be increased by ~15 mmHg (Torr) of O2, terminated by the crew on the basis of onboard manometer readings.   [MCC-Houston has estimated that the repress will take approximately 70-80 minutes, based on repress rates observed during previous Progress O2 represses.  The second refresh, tomorrow (7/28), will be based upon MCA readings obtained tonight after completion of today's repress.  The estimate for the second repress is2-5 mmHg O2.  The exact amount will be agreed upon by U.S. and Russian life support specialists prior to the actual repress, and based upon MCA accuracies and the actual amount of today's repress as measured by the MCA.]
After the deployment of two passive FMK (formaldehyde monitoring kit) sampling badges in the Lab and SM yesterday, Mike Fincke today sampled the environment for volatile compounds with the (relatively) new DST (Dual Sorbent Tube) equipment.
The Science Officer was provided with a new list of options, at his discretion, for the next "Saturday Science" demo program.  [Suggestions by POIC (Payload Operations & Integration Center) include a CFE (Capillary Flow Experiment) teleconference, a CFE experiment run, software loading of the HRF (Human Research Facility), and an MFMG (Miscible Fluids in Microgravity) honey crystallization check.]
Yesterday, the ISS maneuvered from XPOP (X-axis Perpendicular to the Orbital Plane) to LVLH  +XVV (Local Vertical/Local Horizontal, x-Axis in Velocity Vector), to be maintained until 7/30.  For the maneuver, attitude control was handed over to the RS thrusters.  While on thruster control, Moscow performed purges on the Progress fuel and oxidizer manifolds, and then handed back over to the CMGs for +XVV momentum management.
Gennady worked another task-listed session of the Russian Uragan earth-imaging program, using the Kodak 760 DSC (digital still camera) with 200-, 400- and 800mm-lenses from SM window #9, now available again in LVLH attitude. After the activities, he commanded the external window shutter closed again.  The images were transferred from the camera's PCMCIA memory card to the TP2 laptop.   [Today's task featured imagery of the Caucasus Ridge related to deforestation of precious wood species in the Krasnodar region, and the Grushevskoye settlement in a series of detailed overlapping images right of track.]
After about 25 billion revolutions since its activation during Mission 4A, the P6 module's PFCS EETCS (early external thermal control system/pump & flow control subassembly) pumps are being swapped by MCC-Houston from their 'A' pumps over to their 'B' pumps over the next two days.   [Loop A will be done today, and Loop B tomorrow.  The 'B' pumps will be let running for a year and then swapped back to the 'A's again. This does not require any action on the crew's part.]
In the FGB, TsUP/Moscow today is remotely testing the SPN replaceable pump panel in the VGK internal coolant loop and the ENA electric pump assembly.
The crew performed their regular daily physical exercise on TVIS treadmill, RED resistive exerciser, and VELO stationary bike with load trainer.
Major upcoming events:
Orlan-M leak checks and telemetry checks — 7/28:
EVA procedures review, 14P undock prep — 7/29;
Orlan training run, battery charging, camera prep — 7/30;
Progress 14P undocking — 7/30 (2:06am EDT);
EVA timeline review — 8/1;
OpsLan reconfig, etc. — 8/2;
Orlan EVA-10 from DC-1 — 8/3 (hatch open: 2:50am EDT);
EVA debrief, etc. — 8/4;
Progress 15P launch — 8/11 (1:01am EDT);
Progress 15P docking — 8/14 (2:05am EDT).
Today's CEO (crew earth observation) photo targets, in the current LVLH attitude no longer limited by flight rule constraints on the use of the Lab nadir/science window, except for the shutter closure and condensation-prevention plan (limited to 90 min. in 24 hours), were Typhoon Namtheun, Japan (predicted to be striking the south coast of Japan, this moderate storm [winds 65-80 kts] should haven given a good lightning display.  Looking left for the central zone; feeder bands could have appeared on either side of track about one degree),Alice Springs, Australia(looking just left of track for this desert city),Shark Bay, W Australia(small towns ring the coastline, with Carnarvon, the largest, left of track.  Coastlines are generally visible even in night imagery, which helps locate images),Persian Gulf cities(starting with Kuwait off track left about two degrees, the string of cities along the gulf coast trended closer to track over 1.5 minutes),and Benghazi, Libya(the largest east Libyan city is Benghazi, left of track, the smaller oil-industry city of Ajdabiyah, was at nadir).
CEO images can be viewed at these websites:
See also the website "Space Station Challenge" at:
To view the latest photos taken by the expedition 9 crew visit:
Expedition 9 Flight Crew Plans can be found at http://spaceflight.nasa.gov/station/timelines/
ISS Orbit  (as of this morning, 5:39am EDT [= epoch]):
Mean altitude — 358.0 km
Apogee height — 362.3 km
Perigee height — 353.8km
Period — 91.7 min.
Inclination (to Equator) — 51.63 deg
Eccentricity — 0.0006331
Solar Beta Angle — 7.4 deg
Orbits per 24-hr. day — 15.70
Mean altitude loss in last 24 hours — 150 m
Revolutions since FGB/Zarya launch (Nov. '98)  — 32463
ISS Altitude History
Apogee height — Mean Altitude — Perigee height
For more on ISS orbit and worldwide ISS naked-eye visibility dates/times, see http://www.hq.nasa.gov/osf/station/viewing/issvis.html. In addition, information on International Space Station sighting opportunities can be found at http://spaceflight.nasa.gov/realdata/sightings/ on NASA's Human Spaceflight website. The current location of the International Space Station can be found at http://science.nasa.gov/temp/StationLoc.html at NASA's Marshall Space Flight Center. Additional satellite tracking resources can be found at http://www.spaceref.com/iss/tracking.html.