NASA Space Station On-Orbit Status 27 August 2004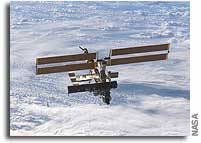 SpaceRef note: This NASA Headquarters internal status report, as presented here, contains additional, original material produced by SpaceRef.com (copyright © 2004) to enhance access to related status reports and NASA activities.
All ISS systems continue to function nominally, except those noted previously or below.
The crew continued preparations for EVA-11 Friday next week (9/3).  Covered by video for ground review, Padalka and Fincke worked on the tools and hardware to be taken out, supported by tagup with ground specialists.  The U.S. DVCAM imagery was downlinked later in the day (12:55pm EDT).   [Main focus today was on the preparation of special wire ties for securing the WAL-1, -2 & -3 antennas at their Service Module (SM) handrail installation positions.  The WAL antennas are part of the PCE (Proximity Communication Equipment) for the European ATV (automated transfer vehicle), for which the crew already installed two antennas (WAS-1 & -2) during EVA-10.  Taking the covers off these five antennas is also part of the EVA-11 tasks.]
FE/SO Fincke started another regular maintenance cycle on EMU batteries #2047 & #2048 by initiating their discharge in the U.S. Airlock's BSA (Battery Storage Assembly).   [For the operation, Mike first reconfigured an SSC (station support computer) laptop for automated battery maintenance.  After end of the discharge/recharge cycle, the SSC will be reset for nominal ops.]
In preparation of an upcoming experiment run of the Russian BTKh-12 "Bioekologiya" payload, CDR Padalka unstowed the BTKh-12 kit and replaced the two batteries of its automatic temperature recorder (APT).   [The BTKh-12 biotechnology experiment investigates the effects of cosmic rays, instantaneous radiation and flows of heavier charged particles on microbiological objects used in the Russian national economy, in an attempt to get high-performance strains of microorganisms for manufacturing petroleum biodegradants, means of plant protection, and exopolysaccharide used in the oil industry.]   
Padalka's scheduled periodic replenishing of the Elektron water supply with purified (deionized) water from the BKO multifiltration/purification column unit was deferred.
Later tonight (3:20pm), both crewmembers will engage in session of MO-5 MedOps/Cardiovascular Evaluation During Graded Exercises on the VELO cycle ergometer, a pre-Orlan EVA requirement.  Each crewmember in turn will assist the other as CMO (crew medical officer).   [The assessment uses the Gamma-1 ECG equipment with biomed harness, skin electrodes and a blood pressure and rheoplethysmograph cuff wired to the cycle ergometer's instrumentation panels.  For the graded exercise, the crewmember works the pedals after a prescribed program at load settings of 125, 150, and 175 watts for three minutes each.  All measurements are recorded for downlink to TsUP.  As usual, today's sessions are timed such that they can be supported by tagup with specialists during Russian comm passes via VHF (3:37pm/Daily Orbit 15 & 5:13pm/DO 16).]
Gennady performed the daily routine inspection of the SM's SOZh life support system (including replacement of ASU toilet facility inserts), while Mike took on the preparation of the regular IMS (inventory management system) "delta" file for export/import to the IMS databases and conducted the routine status checkup of the autonomous PCG-STES010 (Protein Crystal Growth-Single Locker Thermal Enclosure System) payload in the Lab (done every Monday, Wednesday and Friday).
The CDR also held his weekly IMS tagup with ground specialists, discussing open issues concerning identification of equipment and storage locations for IMS updating.   [Today's topics included the stowage locations of condensate samples for return on Soyuz 8S and an adapter unit, as well as the origin of PF1-4 filters used in yesterday's ventilation system maintenance.]
Mike Fincke took the periodic (weekly) reading of the cabin air's current CO2 partial pressure in the SM and Lab, using the U.S. CDMK (CO2 monitor kit), for calldown (along with the battery status) for use in trending analyses.
Padalka completed another daily inspection of the BIO-5 Rasteniya-2 ("Plants-2") plant growth experiment in the Lada-5 greenhouse.
The crew completed their daily physical exercise program on TVIS treadmill, RED (resistive exercise device) with the new canisters, and VELO ergometer plus load trainer, with part of it performed for the MO-5 cardiovascular test.  The periodic inspection of the RED (every other week) and monthly RED bolt tightening (as required) was completed yesterday, working off the "job jar" task list.
Mike Fincke set up the SM's amateur radio equipment and at 9:45am EDT engaged in a ham radio exchange with students at Upper St. Clair High School, Upper St. Clair, Pennsylvania.   [The contact school, which is located 12 mi. south of Pittsburgh, PA, was picked by Fincke.  With approximately 1400 students, the school is both a "Blue Ribbon" school and a "New American High School", and the students have won many national awards.]
For his "Saturday Science" program tomorrow, the Science Officer has selected CFE (Capillary Flow Experiment) tests, to be conducted in the Lab MWA (Maintenance Work Area).
In preparation for the EVA next week, the ITCS (Internal Thermal Control System) in the Lab will be transitioned today to DLM (dual loop mode) for unmanned operation.   [This leaves string 1 of critical U.S. flight electronics be cooled by the LTL (low temperature loop) pump and the string 2 cooled by the MTL (moderate temperature loop) pump.  This is done so that in the absence of a crew an MTL failure does not cause a complete loss of cooling to all USOS avionics.  DLM is considered a nominal mode, but whenever possible ITCS is operated in single loop mode (nominally LTL) to prolong the life of the ITCS pumps (PPA, pump package assembly).]
Update on laptop management:   Three new IBM ThinkPad A31p laptops (with their power supplies) will be manifested on Progress 16 to replace the U.S. IBM 760XDs currently stationed in the Russian segment (SSC Router, SSC1, SSC2).  The 760s will be kept in stowage to be used as replacements for future PCS (portable computer system) failures.  It is anticipated that the new A31p's will be certified as PCS machines some time in 2005.  Also, SSC1 (shell #6011) and SSC Router (shell #6007) have expired CMOS (complementary metal-oxide semiconductor) batteries, which the crew will replace on 9/1 (there are six sets of replacement CMOS batts on board).
Correction:   The report on 8/25 that the failed SM printer is the only printer on board was in error.  The crew has a second (functioning) printer in the Lab.
Major upcoming events:
EVA-11 — 9/3 (hatch open 12:50pm EDT);
Soyuz 9S launch — 10/9;
Soyuz 9S dock — 10/11;
Soyuz 8S undock/land — 10/19;
Soyuz 9S relocate — 11/18;
Progress 16P launch — 11/24.
Expedition 9 Flight Crew Plans can be found at http://spaceflight.nasa.gov/station/timelines/
Previous NASA ISS On-orbit Status Reports can be found here. Previous NASA Space Station Status Reports can be found here. Previous NASA Space Shuttle Processing Status Reports can be found here. A collection of all of these reports and other materials relating to Return to Flight for the Space Shuttle fleet can be found here.
Today's CEO photo targets, in the current LVLH attitude no longer limited by Flight Rule constraints on the use of the Lab nadir/science window, except for the shutter closure and condensation-prevention plan (limited to 90 min. in 24 hours) were Saharan dust, Canary Islands (Dynamic Event.  A dust plume was visible in weather satellite imagery off of the Sahara.  Looking to the left of track, dust should have been visible to the NE of the Canary Islands), Internal waves, Amazon River mouth (the ISS overpass gave the crew an opportunity for internal waves relatively close to the South American coastline.  The sunglint point was slightly to the left of track), and Land cover change, Red River Basin (weather should have been relatively clear during the overpass. The majority of the basin was visible to the left of track).
CEO images can be viewed at these websites:
See also the website "Space Station Challenge" at:
To view the latest photos taken by the expedition 9 crew visit:
U.S. & Russian Segment Status  (as of today, 12:49pm EDT)
Environmental Control and Life Support (ECLSS) and Thermal Control (TCS):
Elektron O2 generator is On.  Vozdukh CO2 scrubber is On.  U.S. CDRA CO2 scrubber is Off.  TCCS (trace contaminant control subsystem) is operating.  SM Gas Analyzer has been calibrated and is used for ppO2 & ppCO2 monitoring.  MCA (major constituents analyzer) is in Life Extending Mode (LEM).  BMP Harmful Impurities unit: absorbent bed #1 in Purify mode, bed #2 in Purify mode.  RS air conditioner SKV-1 is Off, SKV-2 is Off (SM panel mods completed 4/8; SKV-2 activation failed 4/20; is still considered failed).  SFOG slot #2 fan suspect (not usable).

SM Working Compartment:  Pressure (mmHg) — 738; temperature (deg C) — 26.4; ppO2 (mmHg) — 161.0; ppCO2 (mmHg) — 3.5.
SM Transfer Compartment:  Pressure (mmHg) — 736; temperature (deg C) — 21.1.
FGB Cabin:  Pressure (mmHg) — 744; temperature (deg C) — 24.7.
Node:  Pressure (mmHg) — 738.1; temperature (deg C) — 23.7 (shell); ppO2 (mmHg) — n/a; ppCO2 (mmHg) — n/a.
U.S. Lab:  Pressure (mmHg) — 740.0; temperature (deg C) — 24.5; ppO2 (mmHg) — n/a; ppCO2 (mmHg) — n/a.
Joint Airlock (Equip. Lock):   Pressure (mmHg) — 740.2; temperature (deg C) — 23.4; shell heater temp (deg C) — n/a, ppO2 (mmHg) — n/a; ppCO2 (mmHg) — n/a.

(n/a = data not available)
Electrical Power Systems (EPS):
Both P6 channels fully operational.  BGA (beta gimbal assembly) 2B and 4B both in Autotrack (solar-tracking, "sun slicer", i.e., drag reduction-biased by 47 deg angle (2B: +47, 4B: -47).
SM batteries:  All batteries (8) are on line in "Partial Charge" mode.
SM batteries:  All batteries (8) are on line in "Partial Charge" mode.  
FGB batteries:  Battery #3 is off line.  All other batteries (5) are on line in "Partial Charge" mode.
Plasma Contactor Unit PCU-1 is in Standby mode; PCU-2 is in Standby mode.
Command & Data Handling Systems (C&DH)
C&C-1 MDM is prime, C&C-2 is backup, and C&C-3 is in standby.
GNC-2 MDM is prime; GNC-1 is backup.
INT-2 is operating; INT-1 is Off.
EXT-1 is On (primary), EXT-2 is Off (backup).
LA-1, LA-2 and LA-3 MDMs are all operating.
PL-1 MDM is Off; PL-2 MDM is Operational.
APS-1 (automated payload switch #1) and APS-2 are both On.
SM Terminal Computer (TVM): 3 redundant lanes (of 3) operational.
SM Central Computer (TsVM): 3 redundant lanes (of 3) operational.
FGB MDM-1 is Off (failed, 11/21/03); MDM-2 is Operational.
Propulsion System (PS):
Total propellant load available: 4239 kg (9345 lb) as of 8/26/04;  [SM(552) + FGB(3407) + Progress M(280)].  (Capabilities: SM — 860 kg; FGB — 6120 kg).
Attitude Control Systems (ACS):
3 CMGs on-line (CMG-1 failed, since 6/6/02; CMG-2's RPC-17 failed 4/21/04; was replaced 6/30/04).
State vector source — U.S. SIGI-1 (GPS)
Attitude source — U.S. SIGI-1 (GPS)
Angular rate source — RGA-1
Flight Attitude:
XPOP (x-axis perpendicular to orbit plane = "sun-fixed" [yaw: 0.5 deg, pitch: -7.0 deg., roll: 0 deg]), with CMG TA (thruster assist) until 9/2 for EVA-11, then back to XPOP until next reboost (9/22).
Communications & Tracking Systems (C&T):
FGB MDM-1 is powered Off; FGB MDM-2 is operational.
All other Russian communications & tracking systems are nominal.
S-band is operating nominally (on string 2).
Ku-band is operating nominally.
Audio subsystem is operating nominally (IAC-1 is prime, IAC-2 is off).
Video subsystem operating nominally.
HCOR (high-rate communications outage recorder) is operating nominally.
Robotics:
SSRMS/Canadarm2 based at Lab PDGF/LEE A, operational on redundant string, off on prime.
MBS: KA (keep alive) power on both strings. 
MT: latched and mated at WS4. 
POA: KA power on both strings.
RWS (robotics workstations): Lab RWS is On (DCP connected); Cupola RWS is Off.
ISS Orbit  (as of this morning, 7:01am EDT [= epoch]):
Mean altitude — 361.6 km
Apogee height — 365.2 km
Perigee height — 358.0 km
Period — 91.8 min.
Inclination (to Equator) — 51.64 deg
Eccentricity — 0.0005373
Solar Beta Angle — 16.5 deg (magnitude increasing)
Orbits per 24-hr. day — 15.7
Mean altitude loss in last 24 hours — 75 m
Revolutions since FGB/Zarya launch (Nov. '98)  — 32951
ISS Altitude History
Apogee height — Mean Altitude — Perigee height
For more on ISS orbit and worldwide ISS naked-eye visibility dates/times, see http://www.hq.nasa.gov/osf/station/viewing/issvis.html. In addition, information on International Space Station sighting opportunities can be found at http://spaceflight.nasa.gov/realdata/sightings/ on NASA's Human Spaceflight website. The current location of the International Space Station can be found at http://science.nasa.gov/temp/StationLoc.html at NASA's Marshall Space Flight Center. Additional satellite tracking resources can be found at http://www.spaceref.com/iss/tracking.html.