NASA Space Station On-Orbit Status 26 July 2004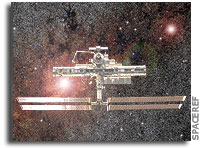 SpaceRef note: This NASA Headquarters internal status report, as presented here, contains additional, original material produced by SpaceRef.com (copyright © 2004) to enhance access to related status reports and NASA activities.
All ISS systems continue to function nominally except those noted previously or below.   Underway: Week 13 of Increment 9.
After morning inspection, before breakfast and first exercise, CDR Padalka and FE/SO Fincke performed their sixth session of the periodic Russian biomedical assessments PZEh-MO-8 (body mass measurement) and PZEh-MO-7 (calf volume measurement).  [Padalka set up the BMM mass-measuring device, which uses calibrated springs to determine the subject's mass in weightless space, and stowed it away after the tests.  Calf measurements (left leg only) are taken with the ISOG device, a custom-sewn fabric cuff that fits over the calf, using the knee and lower foot as fixed reference points, to provide a rough index of deconditioning in zero-G and effectiveness of countermeasures.]
Most of today's crew work hours were scheduled for EVA preparations, i.e., searching for and gathering equipment & tools required for the EVA-10 spacewalk on 8/3, bundling them on the standard Russian EVA integrated equipment carrier (KPU).  The activities are being supported by tagup with ground specialists and recorded on videotape, which is to be downlinked later in the day for review and discussion with the crew.
Both crewmembers are also scheduled to work on the EVA support panels (POV) in the Russian segment to set them up and check them out for the training run and EVA, Mike in the Service Module Transfer Compartment (SM PkhO), Gennady in the DC1.  Tomorrow's activities will concentrate on suit preparation and "degassing" of the Orlan BSS water/gas separation systems at both locations.   [The CDR will be wearing Orlan #25 (red markings) with BRTA radio telemetry unit #13 installed, while the FE's suit will be #26 (blue markings) with BRTA #18.]
In the Service Module (SM), Gennady switched channel #1 of the BMP harmful impurities unit from Regeneration back to Purify mode.  Later, he started the regeneration cycle on absorbent bed #2.  [The "baking-out" of the filter beds is repeated every 20 days.  Each bakeout to space vacuum takes about 24 hours.]
Mike will perform the regular routine status checkup of autonomous Lab payloads, currently consisting of PCG-STES010 (Protein Crystal Growth-Single Locker Thermal Enclosure System #10).  He also conducts the daily maintenance of the SM's life support system (SOZh) and the preparation of the daily "delta" file for updating the IMS (inventory management system) database(s).
The FE deployed two passive FMK (formaldehyde monitoring kit) sampling badges in the Lab (below CEVIS) and SM (most forward handrail), to catch any atmospheric formaldehyde on a sampling substrate for subsequent analysis.  (Last time done: 6/11).
The crew will perform their regular daily physical exercise on TVIS treadmill, RED resistive exerciser, and VELO stationary bike with load trainer.
Working off the Russian task list, the CDR is conducting another run of the Russian Uragan earth-imaging program, using the Kodak 760 DSC (digital still camera) with 800mm-lens from SM windows #9.   [Today's observation features imagery of the Amur river-valley, including Khabarovsk and Komsomolsk-on-Amur, the East Coast of the Far East, the Sakhalin East and West Coast, water flooding in a desert near Syr-Darya, Samarkand, Dzhizak, Tashkent, Chervak reservoir, Pskem river-valley, Kirghiz ridge view, etc., glaciers to the North of the ridge, and other views.]
Major upcoming events:
MO-5, Orlan-M suit prep, water sep in PkhO and DC1 — 7/27;
Orlan-M leak checks and telemetry checks — 7/28:
EVA procedures review, 14P undock prep — 7/29;
Orlan training run, battery charging, camera prep — 7/30;
Progress 14P undocking — 7/30 (2:06am EDT);
EVA timeline review — 8/1;
OpsLan reconfig, etc. — 8/2;
Orlan EVA-10 from DC-1 — 8/3 (hatch open: 2:50am EDT);
EVA debrief, etc. — 8/4;
Progress 15P launch — 8/11 (1:01am EDT);
Progress 15P docking — 8/14 (2:05am EDT).
Today's CEO (crew earth observation) photo targets, limited in the current XPOP attitude by flight rule constraints on the use of the science window, which is available for only ~1/4 of each orbit when not facing forward (in "ram"), were Big island, Hawaii (looking right about one degree),Kwajalein Atoll, Hawaii(nadir pass.  Viewing may have been possible between the predicted scattered thunderstorms.  Lights on this small atoll, the location of the rocket launch site [Reagan Test Site], may be visible.   This overflight is the time of closest approach to Kwajalein),Jakarta, Indonesia(looking 1.5 degrees right),Suez Canal, Egypt(nadir pass over Poet Said at the north end of the Suez Canal, with Cairo 3 degrees off track to the right.  Objects off track will appear to move more slowly than nadir targets and should be easier to photograph),and Medina, Saudi Arabia(nadir pass. Then, 1 minute later, looking for Mecca and its port, Jidda, on the Red Sea to the right).
CEO images can be viewed at these websites:
See also the website "Space Station Challenge" at:
To view the latest photos taken by the expedition 9 crew visit:
Expedition 9 Flight Crew Plans can be found at http://spaceflight.nasa.gov/station/timelines/
ISS Orbit  (as of this morning, 3:26am EDT [= epoch]):
Mean altitude — 358.3 km
Apogee height — 362.6 km
Perigee height — 354.0 km
Period — 91.7 min.
Inclination (to Equator) —  51.63 deg
Eccentricity — 0.0006368
Solar Beta Angle — 12.1 deg
Orbits per 24-hr. day — 15.70
Mean altitude loss in last 24 hours — 175 m
Revolutions since FGB/Zarya launch (Nov. '98)  — 32446
ISS Altitude History
Apogee height — Mean Altitude — Perigee height
For more on ISS orbit and worldwide ISS naked-eye visibility dates/times, see http://www.hq.nasa.gov/osf/station/viewing/issvis.html. In addition, information on International Space Station sighting opportunities can be found at http://spaceflight.nasa.gov/realdata/sightings/ on NASA's Human Spaceflight website. The current location of the International Space Station can be found at http://science.nasa.gov/temp/StationLoc.html at NASA's Marshall Space Flight Center. Additional satellite tracking resources can be found at http://www.spaceref.com/iss/tracking.html.