NASA Space Station On-Orbit Status 26 February 2006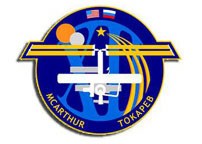 SpaceRef note: This NASA Headquarters internal status report, as presented here, contains additional, original material produced by SpaceRef.com (copyright © 2006) to enhance access to related status reports and NASA activities.
All ISS systems continue to function nominally, except those noted previously or below. Sunday — off-duty day for Bill McArthur & Valery Tokarev, except for housekeeping and voluntary work. Ahead: Week 21 for Expedition 12.
With the Elektron still deactivated, Flight Engineer Tokarev serviced the Russian Harmful Impurities Removal System (BMP), starting the "bake-out" cycle to vacuum on absorbent bed #2 of the regenerable dual-channel filtration system. Before sleep time today, the bake-out will be terminated. [Regeneration of each of the two cartridges takes about 12 hours and is conducted only during crew awake periods. The BMP currently still uses the same vacuum vent valve for regeneration as the Elektron (the latter for venting hydrogen). Replacement of the Elektron's external vent valve has been deferred to a later Russian EVA.]
Afterwards, the FE performed the daily routine maintenance of the Service Module (SM)'s environment control & life support system (SOZh), including its toilet system (ASU) and the weekly inspection of the air/liquid condensate separator apparatus (BRPK), as well as the weekly collection of the toilet flush (SP) counter and water supply (SVO) readings for calldown to TsUP/Moscow.
Tokarev worked on the ALTCRISS (Alteino Long Term monitoring of Cosmic Rays on the ISS) hardware in the SM, installing the new shielding on the ACT spectrometer (to keep out particles coming from undesired directions). [The ESA/RSC-Energia experiment ALTCRISS, currently in the SM, uses the ACT spectrometer employed by VC8 guest cosmonaut Roberto Vittori earlier this year in the DC1 for the Italian experiment LAZIO (Low Altitude Zone/Ionization Observatory). Progress 20 delivered a new Nomex shielding belt containing the polyethylene shielding tiles ("bricks") and two new dosimeters in a dedicated pocket.]
CDR/SO William McArthur ran another periodic atmospheric status check for ppO2 (Partial Pressure Oxygen) and ppCO2 (pp Carbon Dioxide), using the CSA-O2 (Compound Specific Analyzer-Oxygen Sensor).
Both crewmembers completed their regular 2.5-hr. physical exercise program on the TVIS treadmill, RED resistive exerciser and VELO bike with bungee cord load trainer. [Valery's daily protocol prescribes a strict four-day microcycle exercise with 1.5 hr on the treadmill in unmotorized mode and one hour on VELO plus load trainer (today: Day 4 of the first set).]
Working off his discretionary "time available" task list, Tokarev completed his regular checkup on the Japanese experiment GCF-JAXA (Granada Crystallization Facility) in the Russian TBU incubator, maintained at 20 degC, including a temperature check on its ART (automatic temperature recorder). [This daily monitoring/temp checking, carried on the Russian voluntary "time available" task list, will continue until 4/30.]
A second discretionary task on the Russian work list for Valery was the daily status check of the BIO-5 Rasteniya-2 ("Plants-2") experiment and water tank recharge. [Rasteniya researches growth and development of plants under spaceflight conditions in the Lada-8 greenhouse. The regular maintenance of the experiment (each Monday, Wednesday, Friday and Sunday) involves monitoring of seedling growth, humidity measurements, moistening of the substrate if necessary, topping off the water tank if ~20-25% of the total amount (4 liters) remains, and photo/video recording. Once weekly, data from the Lada greenhouse control unit are recorded on floppy disk for weekly downlink via REGUL-Packet or the new BSR-TM at a suitable occasion.]
According to pre-programmed schedule, at ~11:50am EST station attitude control was handed over to Russian MCS (Motion Control System) for about 2.5 hrs to allow the regular pre-undocking purging of Progress 19 propellant transfer lines. Control will return to U.S. CMG momentum management at ~2:15pm. 19P is docked at the SM aft docking port. [The standard vacuum purging of the fuel (ZUG) and oxidizer (ZUO) lines is commanded by prestored (time-tagged) commands of the automated onboard sequencing program (SPP), to vent prop residuals in the plumbing between Progress and SM into space. Fuel purge (unsymmetrical dimethyl hydrazine, UDMH) and oxidizer purge (nitrogen tetroxide, N2O4 each takes about 15 minutes.]
No CEO (Crew Earth Observation) photo targets uplinked today.
To date, more than 186,000 of CEO images have been taken in the first five years of the ISS, almost one third of the total number of images taken from orbit by astronauts.
CEO photography can be viewed and studied at the websites:
See also the website "Space Station Challenge" at:
To view the latest photos taken by the expedition 12 crew visit:
Expedition 12 Flight Crew Plans can be found at http://spaceflight.nasa.gov/station/timelines/
Previous NASA ISS On-orbit Status Reports can be found here. Previous NASA Space Station Status Reports can be found here. Previous NASA Space Shuttle Processing Status Reports can be found here. A collection of all of these reports and other materials relating to Return to Flight for the Space Shuttle fleet can be found here.
ISS Orbit (as of this morning, 10:25am EST [= epoch]):
Mean altitude — 347.9 km
Apogee height — 353.5 km
Perigee height — 342.4 km
Period — 91.50 min.
Inclination (to Equator) — 51.64 deg
eccentricity — 0.0008276
Solar Beta Angle — 34.9 deg (magnitude decreasing)
Orbits per 24-hr. day — 15.74
Mean altitude loss in last 24 hours — 90 m
Revolutions since FGB/Zarya launch (Nov. 98) — 41573
Events Ahead (all dates Eastern & tentative):
03/03/06 — Progress M-54/19P undocking & reentry (mnvr. to LVLH XVV after undock)
03/06/06 — Repair of MCA in US segment
03/10/06 — ISS reboost (by SM thrusters; mnvr. back to XPOP after burn)
03/16/06 — Airlock Campout SDTO (overnight)
03/20/06 — Soyuz TMA-7/11S relocation (FGB nadir port to DC1)
03/30/06 — Soyuz TMA-8/12S launch (Pavel Vinogradov/Russia, Jeffrey Williams/US, Marcos Pontes/Brazil)
04/01/06 — Soyuz TMA-8/12S docking (SM aft end port; mnvr. to LVLH XVV after dock)
04/09/06 — Soyuz TMA-7/11S undocking (4:15pm EDT) & land (7:40pm); (mnvr. to XPOP after undock)
04/18/06 — Soyuz TMA-8/12S relocation (SM aft end port to DC1)
04/24/06 — Progress M-56/21P launch
04/26/06 — Progress M-56/21P docking (SM aft end port)
05/03/06 — ULF1.1 launch (NET, not earlier than)
06/15/06 — U.S. EVA (under review)
06/19/06 — Progress M-55/20P undocking & reentry
06/28/06 — Progress M-57/22P launch
06/30/06 — Progress M-57/22P docking
07/01/06 — 12A launch (under review)
08/01/06 — Russian EVA-16 (under review)
09/12/06 — Progress M-56/21P undocking & reentry
09/14/06 — Soyuz TMA-9/13S launch
09/16/06 — Soyuz TMA-9/13S docking (FGB nadir port)
09/24/06 — Soyuz TMA-8/12S undocking & reentry
09/28/06 — Soyuz TMA-9/13S relocation (FGB nadir port to DC1)
10/18/06 — Progress M-58/23P launch
10/20/06 — Progress M-58/23P docking
12/19/06 — Progress M-57/22P undocking & reentry
12/20/06 — Progress M-59/24P launch
12/22/06 — Progress M-59/24P docking

ISS Altitude History
Apogee height — Mean Altitude — Perigee height
For more on ISS orbit and worldwide ISS naked-eye visibility dates/times, see http://www.hq.nasa.gov/osf/station/viewing/issvis.html. In addition, information on International Space Station sighting opportunities can be found at http://spaceflight.nasa.gov/realdata/sightings/ on NASA's Human Spaceflight website. The current location of the International Space Station can be found at http://science.nasa.gov/temp/StationLoc.html at NASA's Marshall Space Flight Center. Additional satellite tracking resources can be found at http://www.spaceref.com/iss/tracking.html.