NASA Space Station On-Orbit Status 25 August 2004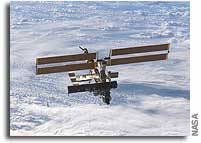 SpaceRef note: This NASA Headquarters internal status report, as presented here, contains additional, original material produced by SpaceRef.com (copyright © 2004) to enhance access to related status reports and NASA activities.
All ISS systems continue to function nominally, except those noted previously or below.
The crew was congratulated on yesterday's successful repair of the #3013 EMU/spacesuit, which remedied the problem that had been traced to impeller fouling.   [All electric current readings for the water pump with the newly installed rotor were "as expected for a normal operating pump", both without and with water flowing through it.  No leaks were found.  This unprecedented level of on-orbit repair on an EMU, a pioneering feat that finally regained cooling after over a year (!), is an important milestone: Its "lessons learned" greatly advance engineers' understanding of how these spacesuits operate after being in zero-G over extended periods, and that clearly impacts our preparation for future long duration space missions.]
FE/SO Fincke today performed more work on the EMU in accordance with the ground-developed workflow logic.  Afterwards, the Airlock CCAA (common cabin air assembly) air conditioner was turned off.   [Mike removed and replaced the pump inlet filter between the EMU feedwater circuit and the cooling loop water circuit.  Future tasks will consist of EMU water maintenance and EVA recertification tests (after it has been determined how this first-of-a-kind in-space repair can be certified properly for operational use).  Work on the second EMU, #3005, is also in planning, if possible before the arrival of Expedition 10.  The third on-board EMU, #3011, was fine when last inspected but has not been tested in some time. ]
The crew's schedule today allowed for 3.5 hours of joint review of the preliminary timeline of EVA-11 and relevant ODF/Flight Rules, including a tagup with specialists (via S-band).   [The Orlan EVA is currently set for 9/3 (Friday), to last ~5h 49m starting with DC-1 hatch open at 12:56pm EDT and ending at 6:45pm.  Its objectives include: replacement of a flow control panel (RRZh) on the FGB (~1.5 hrs.), installation of three antennas (WAL-1, -2, -3) for the European ATV (automated transfer vehicle) on the SM aft end, photography of the Japanese payload MPAC/SEEDS panel #3, and installation of bracket protections on ring handrails at the DC-1 hatch #2.  Because of power limitations from FGB solar array positioning, egress will be preceded by some selected power downs (by ~2 kW, from the current 9 kW station usage), which have no major impacts on users.  SM thrusters will be inhibited during activities on the "Zvezda" module, but would not have to be inhibited for the work on the FGB.  However, for purposes of engineering characterization in light of the events of EVA-10, CMG Momentum Management will remain in control for the FGB too.  In the event that the gyros again reach saturation, desat inhibits are in place.  The station would go to free drift for no longer than one orbit, and the crew would withdraw from Flight-Rule-imposed "keep out zones" at sunset.  Special procedures are also in place for the crew to act autonomously in case of temporary S-band comm dropout during the one orbit drift.]
After the review, Padalka and Fincke had another two hours for locating and marshalling all necessary EVA hardware and tools, assisted by uplinked listings and tagup with specialists (via S-band).   [Their tool & hardware search list contains such items as the pressurized container with the RRZh flow control panel to be installed on the FGB in lieu of the old one, transfer & installation devices with the WAL antennas, the KPU tool carrier, the Nikon F5 still camera, hammer, power screwdriver, cutters, crow bar, handholds, tethers, and fairleads (which are clever spiral-shaped tether holding fixtures to be locked to handrails for temporarily stringing tethers through the spirals).]
The CDR performed the periodic cleaning of the VTR-2 (Video Tape Recorder #2) tape heads, after the ground had remotely activated the machine to enable the cleaning.  It was subsequently turned off again.  [VTR head cleaning is required after 250 hours operational (power-on) time.  It is done sparingly to prevent unnecessary wear on the heads.]
Padalka completed another daily inspection of the BIO-5 Rasteniya-2 ("Plants-2") plant growth experiment in the Lada-5 greenhouse.
Gennady also did the daily routine inspection of the SM's SOZh life support system, which today included the BRPK air/liquid condensate separator apparatus, and prepared the regular IMS "delta" file for export/import to the IMS databases (from the discretionary task list), while Mike conducted the routine status checkup of the autonomous PCG-STES010 (Protein Crystal Growth-Single Locker Thermal Enclosure System) payload in the Lab (done every Monday, Wednesday and Friday).
At specific times during the day, as time permitted, Padalka again worked a task-listed run of the Uragan ("hurricane") earth-imaging program, using the Kodak 760 DSC (digital still camera) with 800mm-lens from SM windows.  [Today's targets for his photo imagery were landscape imagery of the South Carpathians, the city of Bucharest, the city of Warna on the Black Sea, searching for and photographing petroleum product fires, Abu Dhabi in the United Arab Emirates, the S bank and coastline of the Straits of Gibraltar, and the Kuril Islands.] 
Both crewmembers completed their daily 2.5-h program of physical (aerobic & anaerobic) exercise, on CEVIS bike (Mike wearing his heart rate watch and the chest strap gage), TVIS treadmill, RED resistive expander and VELO cycle ergometer with load trainer.   [After the installation of the new SchRED canisters on 8/23, the crew reported them to be smooth and quiet, with no binding or scraping.  Full calibration verification of the new cans will be performed next week.]
At ~6:00am, the MSS (mobile service system), with CUP RWS (cupola robotic workstation), MBS (mobile base system and SSRMS (Space Station Remote Manipulator System), was powered up from the ground for about eight hours of testing on the SSRMS and MBS cameras without crew involvement.   [Prime test objective was to characterize the zoom, focus, and iris mechanisms and their interactions, gathering data that provide better understanding of some zoom/focus interactions observed in the past and of the impact of changing the zoom on the focus of the image.  Also collected were data to test updates being planned to improve the camera models used on the ground to generate camera positions and pictures.  In the past, slight discrepancies were noted on the ground between the images generated with the simulators and the images received from downlink video, particularly when the cameras are zoomed in. The model updates will help to generate more accurate camera positions for SSRMS ops as well as surveys and EVA viewing operations.  Data were also collected to investigate an SSRMS joint angles anomaly, which shows itself in a slight difference in the reported joint angles between the prime and redundant strings (on the order of 0.12 degrees at the shoulder roll joint).]
Before sleep time tonight, Mike Fincke will hold a teleconference with COSS (Crew Operational Support Systems) lab personnel to clarify questions on CPSD (crew personal support disk) issues.
The second ISS reboost is scheduled for this evening at 8:32pm EDT.   [The single-burn maneuver of 15P thrusters (with two SM thrusters for roll control and two Progress thrusters each for pitch and yaw control) is planned for ~8 min, producing a delta-V of 2.45 m/s, under a 15 deg yaw angle to adjust orbit inclination.  ISS mean altitude will be raised by ~4.2 km.  Attitude control authority will be handed over to the Russian MCS (motion control system) at 5:20pm and returned to U.S. CMG/Momentum Management at 9:50pm, after the station was maneuvered from LVLH to XPOP attitude.  The change to XPOP is done at a solar beta angle of +11 deg in order to optimize the U.S. solar array BGA (beta gimbal assembly) 2B and 4B rotations, along with other factors.]
Early in the morning yesterday (8/24) the Elektron O2 generator again shut down due to pump failure.  The crew completed troubleshooting and restart of the unit.  Elektron (Liquid Unit BZh-7) is currently failing at a rate of once every three days.  Russian specialists have developed troubleshooting procedures for the older BZh-5 unit, to be completed the week following the EVA.
Yesterday, the crew reported that the SM printer stopped working.   [After Russian ground controllers verified good power source in the SM, the crew moved the printer to the Node where it failed to power up.  This is the only printer on board, and ground teams are developing additional troubleshooting steps.]
Mike Fincke's reloading of the SSC (station support computer) file server laptop and six NGSDs (Next Generation Support Discs) with new post-15P software yesterday was successful and drew acclaim from the ground.   [The A31p Clients are now upgraded for Russian docking video routing, IWIS (internal wireless instrumentation system), digital video capturing, upcoming payloads, and BCR (barcode reader) updates.]
This morning, a new era of automated ISS operations was ushered in when MCC-H successfully conducted DTO (Detailed Test Objective) checkout/verification of the command & control capability of the new Timeliner system.   [Timeliner has been developed as a tool to automate procedural tasks.  These tasks may be sequential tasks that would typically be performed by a human operator, or precisely ordered sequencing tasks that allow autonomous execution of a control process.  The Timeliner system is both a specialized computer language and an execution environment.  When fully operational, it will also have an Automated Procedure Viewer (APV) that allows the crew, if they so chose, to view and use the sequencer.  As an example, configuring the backup C&C (command & control) MDM for C&W (caution & warning) will go from a 20+ hours of continuous commanding to a mere 4 hours of Timeliner processing, with the ground only monitoring execution.]
Yesterday morning, the PL-1 MDM (payload computer #1) transitioned to Diagnostic mode when POIC (Payload Operations & Integration Center) downlinked payload files.  It has now been recovered and is in Standby.   [The cause could either be a procedural error or a software problem; it occurred when a downlink of a large file was requested a second time before the first request cleared.]
TsUP/Moscow has requested that consideration be given to use U.S. IWIS hardware inside the Soyuz TMA-4 Descent Module for measuring the level of vibrations generated by the operation of various electrical and mechanical systems under the conditions of an orbital flight.   [The testing would take place in the period of 9/7-27, and the IWIS sensors would be installed in the area of couches and command & control panels.]
Major upcoming events:
EVA-11 — 9/3 (hatch open 12:56pm EDT);
Soyuz 9S launch — 10/9;
Soyuz 9S dock — 10/11;
Soyuz 8S undock/land — 10/19;
Soyuz 9S relocate — 11/18;
Progress 16P launch — 11/24.
Expedition 9 Flight Crew Plans can be found at http://spaceflight.nasa.gov/station/timelines/
Previous NASA ISS On-orbit Status Reports can be found here. Previous NASA Space Station Status Reports can be found here. Previous NASA Space Shuttle Processing Status Reports can be found here. A collection of all of these reports and other materials relating to Return to Flight for the Space Shuttle fleet can be found here.
Today's CEO photo targets, in the current LVLH attitude no longer limited by Flight Rule constraints on the use of the Lab nadir/science window, except for the shutter closure and condensation-prevention plan (limited to 90 min. in 24 hours) were Tigris-Euphrates, Turkey (this region is experiencing dynamic land cover and land use change due to ongoing dam construction by Turkey.  A series of detailed images along both the Tigris and Euphrates Rivers would be useful), Pittsburgh, Pennsylvania (opportunity for Mike Fincke to photograph his hometown.  Pittsburgh was to the left of track under somewhat hazy conditions), Lisbon, Portugal (nadir pass provided an excellent opportunity to capture the Lisbon metropolitan area.  Researchers are interested in the data for mapping of urban spatial structure and geohazard assessment), and Internal waves, Amazon River mouth (clear weather and a near-vertical sunglint point gave the crew a good opportunity to capture internal waves).
CEO images can be viewed at these websites:
See also the website "Space Station Challenge" at:
To view the latest photos taken by the expedition 9 crew visit:
U.S. & Russian Segment Status  (as of today, 12:49pm EDT)
Environmental Control and Life Support (ECLSS) and Thermal Control (TCS):
Elektron O2 generator is On.  Vozdukh CO2 scrubber is On.  U.S. CDRA CO2 scrubber is Off.  TCCS (trace contaminant control subsystem) is operating.  SM Gas Analyzer has been calibrated and is used for ppO2 & ppCO2 monitoring.  MCA (major constituents analyzer) is in Life Extending Mode (LEM).  BMP Harmful Impurities unit: absorbent bed #1 in Purify mode, bed #2 in Purify mode.  RS air conditioner SKV-1 is On, SKV-2 is Off (SM panel mods completed 4/8; SKV-2 activation failed 4/20; is still considered failed).  SFOG slot #2 fan suspect (not usable).

SM Working Compartment:  Pressure (mmHg) — 738; temperature (deg C) — 25.2; ppO2 (mmHg) — 161.0; ppCO2 (mmHg) — 3.4.
SM Transfer Compartment:  Pressure (mmHg) — 736; temperature (deg C) — 19.8.
FGB Cabin:  Pressure (mmHg) — 744; temperature (deg C) — 22.0.
Node:  Pressure (mmHg) — 736.2; temperature (deg C) — 22.5 (shell); ppO2 (mmHg) — n/a; ppCO2 (mmHg) — n/a.
U.S. Lab:  Pressure (mmHg) — 737.9; temperature (deg C) — 24.8; ppO2 (mmHg) — n/a; ppCO2 (mmHg) — n/a.
Joint Airlock (Equip. Lock):   Pressure (mmHg) — 738.1; temperature (deg C) — 22.1; shell heater temp (deg C) — n/a, ppO2 (mmHg) — n/a; ppCO2 (mmHg) — n/a.

(n/a = data not available)
Electrical Power Systems (EPS):
Both P6 channels fully operational.  BGA (beta gimbal assembly) 2B and 4B both in directed position (dual angle/"blind" mode, non solar-tracking, biased for drag reduction).
SM batteries:  All batteries (8) are on line in "Partial Charge" mode.  
FGB batteries:  Battery #3 is off line.  All other batteries (5) are on line in "Partial Charge" mode.
Plasma Contactor Unit PCU-1 is in Standby mode; PCU-2 is in Standby mode.
Command & Data Handling Systems (C&DH)
C&C-1 MDM is prime, C&C-2 is backup, and C&C-3 is in standby.
GNC-2 MDM is prime; GNC-1 is backup.
INT-2 is operating; INT-1 is Off.
EXT-1 is On (primary), EXT-2 is Off (backup).
LA-1, LA-2 and LA-3 MDMs are all operating.
PL-1 MDM is Off; PL-2 MDM is Operational.
APS-1 (automated payload switch #1) and APS-2 are both On.
SM Terminal Computer (TVM): 3 redundant lanes (of 3) operational.
SM Central Computer (TsVM): 3 redundant lanes (of 3) operational.
FGB MDM-1 is Off (failed, 11/21/03); MDM-2 is Operational.
Propulsion System (PS):
Total propellant load available: 4432 kg (9771 lb) as of 8/19/04;  [SM(552) + FGB(3516) + Progress M(441)].  (Capabilities: SM — 860 kg; FGB — 6120 kg).
Attitude Control Systems (ACS):
3 CMGs on-line (CMG-1 failed, since 6/6/02; CMG-2's RPC-17 failed 4/21/04; was replaced 6/30/04).
State vector source — U.S. SIGI-1 (GPS)
Attitude source — U.S. SIGI-1 (GPS)
Angular rate source — RGA-1
Flight Attitude:
LVLH XVV (local vertical/local horizontal = "earth-fixed": z-axis in local vertical, x-axis in velocity vector [yaw: -10 deg, pitch: -7.2 deg, roll: 0 deg]), with CMG/TA (thruster assist) Momentum Management.  Will go to XPOP tonight.
Communications & Tracking Systems (C&T):
FGB MDM-1 is powered Off; FGB MDM-2 is operational.
All other Russian communications & tracking systems are nominal.
S-band is operating nominally (on string 2).
Ku-band is operating nominally.
Audio subsystem is operating nominally (IAC-1 is prime, IAC-2 is off).
Video subsystem operating nominally.
HCOR (high-rate communications outage recorder) is operating nominally.
Robotics:
SSRMS/Canadarm2 based at Lab PDGF/LEE A, operational on redundant string, off on prime.
MBS: KA (keep alive) power on both strings. 
MT: latched and mated at WS4. 
POA: KA power on both strings.
RWS (robotics workstations): Lab RWS is On (DCP connected); Cupola RWS is Off.
ISS Orbit  (as of this morning, 8:54am EDT [= epoch]):
Mean altitude — 357.5 km
Apogee height — 362.9 km
Perigee height — 352.1 km
Period — 91.7 min.
Inclination (to Equator) — 51.63 deg
Eccentricity — 0.0007967
Solar Beta Angle — 7.5 deg (magnitude increasing)
Orbits per 24-hr. day — 15.70
Mean altitude loss in last 24 hours — 88 m
Revolutions since FGB/Zarya launch (Nov. '98)  — 32921
ISS Altitude History
Apogee height — Mean Altitude — Perigee height
For more on ISS orbit and worldwide ISS naked-eye visibility dates/times, see http://www.hq.nasa.gov/osf/station/viewing/issvis.html. In addition, information on International Space Station sighting opportunities can be found at http://spaceflight.nasa.gov/realdata/sightings/ on NASA's Human Spaceflight website. The current location of the International Space Station can be found at http://science.nasa.gov/temp/StationLoc.html at NASA's Marshall Space Flight Center. Additional satellite tracking resources can be found at http://www.spaceref.com/iss/tracking.html.